This Dhanbad Puja goes with Covid as pandal theme
Organisers aim to create awareness about the significance of observing social distancing norms among other safety measures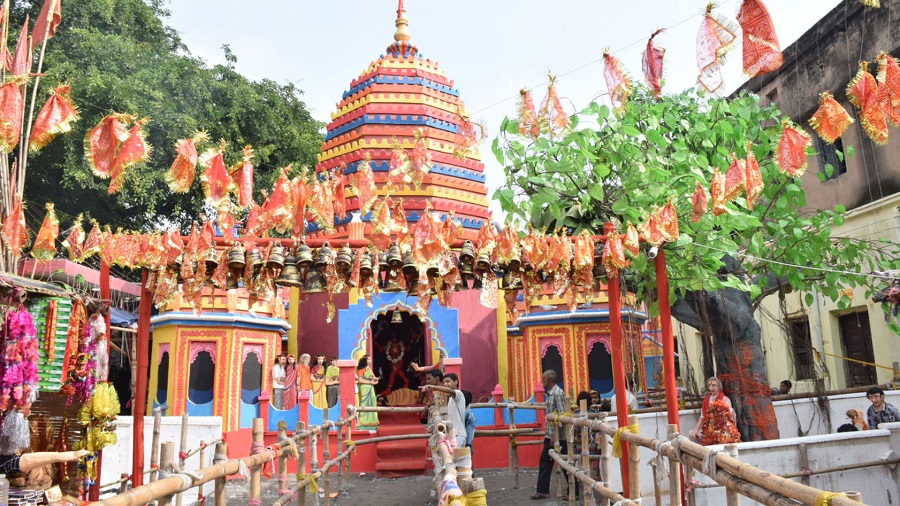 ---
|
Dhanbad
|
Published 16.09.20, 07:42 PM
---
The pandemic has caught the imagination of Puja committees with one of the most well known pujas of Dhanbad deciding to build a pandal based on the coronavirus theme.
The pandal this year will be smaller compared to the last year's pandal of 40 feet.But it will be studded with a large number of posters intended at creating awareness about the significance of adhering to safety norms, including social distancing.
Notably, the Puja will be held on a smaller scale this year with low-height pandals, smaller idols and without elaborated immersion ceremonies as per the decision taken last week by organisers of over 250 pujas.
Divulging details, Shyamal Sen, a renowned artist of Dhanbad who is one of the founder member of Navyuvak Sangharsh Samiti that organises the Puja at Manaitand , said, "After much pondering over various themes we decided to make the pandal on the real issue affecting humanity now. Instead of a Utopian theme, the padal will be based on the shape of the coronavirus and will be equated with a demon."
"The virus has changed the life of human beings, whether on the socio economic front or on the professional front. So, we can't remain aloof from it. Hence, we decided to lend the opportunity to visitors to interact with the truth and get prepared for the fight. We must arm ourselves with necessary gear like masks, sanitizers, gloves and make changes in our behaviour by adopting social distancing as a way of life," said Sen.
He said this year, they will not allow devotees to offer pushpanjali as a social distancing measure. Instead, volunteers deputed outside the puja pandal will collect flowers from devotees and offer them before the idol.
"We have also decided to instal two sanitization chambers at the entry point so that all visitors get sanitized before the entering the pandal," said Sen, adding that since the income of everyone has been hit, they will be not be collecting donations from visitors. Instead, they will manage through contributions of committee members.
Navyuvak Sangharsh Samity has been organising Pujas every year since 1972. Every year, the pandal is based on a theme. Last year, the theme was based on the Chinnmastika temple of Rajrappa.