Ten persons injured in three separate road accidents in Dhanbad
In the Topchanchi accident, the driver of a tanker was critically injured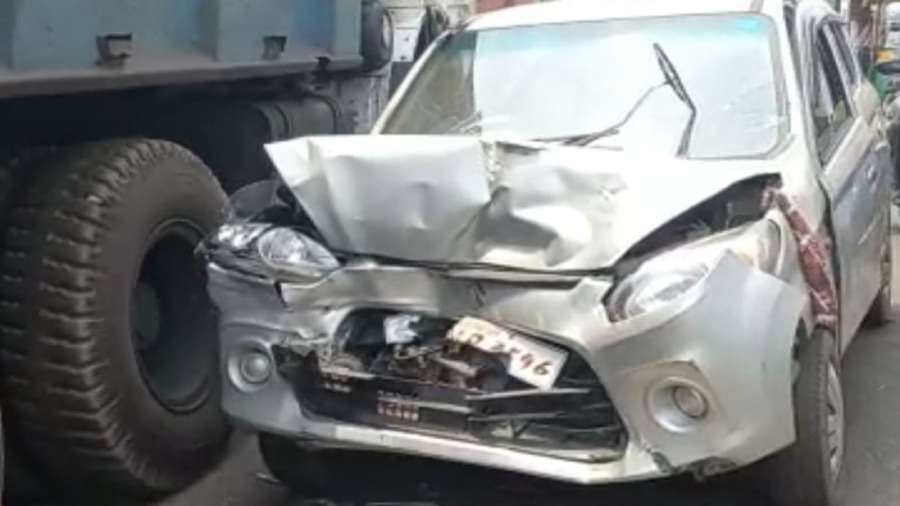 The illfated Alto Car after the accident with a pickup van at Jharia-Sindri main road near the Bhaga Mining College under Jharia police station in Dhanbad today.
Gautam Dey
---
Dhanbad
|
Published 17.04.22, 07:58 PM
|
---
Altogether 10 persons were injured in three separate road accidents that took place in three different parts of Dhanbad including one in Kachchi Balihari area of Putki and two others in Topchanchi and Jharia area.
In Topchanchi, the driver of a tanker was critically injured this morning when the tanker bearing registration number (NL 01 AA 4082) rammed into a static truck near Bara Gurudwara on National Highway 2 around 35 km from Dhanbad district headquarters.
Local residents said that the impact of the accident was such that the front portion of the tanker got entangled in the rear side of the truck and the driver of the tanker remained trapped in the mangled driver's cabin for more than three hours.
A team from Topchanchi police station led by the officer in charge, Sonu Pathak, reached the site after being informed. A gas cutter was called after which the entangled portion of the tanker was removed and the trapped driver was rescued and rushed to Sahid Nirmal Mahto Medical College and Hospital where he is undergoing treatment in ICU.
Local residents said, though the cleaner of the tanker was also injured in the accident he escaped from the site as he received minor injury.
In the accident which took place at Husain Nagar area of Baniahir locality of Jharia, 12 km from Dhanbad this morning at around 11.30 AM, a pick up van heading from Dhanbad towards Sindri collided with a car running in opposite direction.
Officer in Charge of Jharia Police station Pankaj Jha, who reached the site along with a team of police said, three persons in the car received minor injury and are undergoing treatment in a private clinic of Jharia.
In the accident which took place at Kachchi Balihari area of Putki on Putki Bhagabandh road, five persons were injured when two bikes running in opposite direction collided this morning in which five persons including a two year child were injured.
Local residents said that the accident took place near a sharp curve this morning.
Officer in Charge of Putki Police station, Chunnu Murmu, who reached at the site said, "Though, we have seized both the vehicles the injured persons are yet to be identified as they were admitted in some local clinics by their family members."