Techex 2020, organised by Tata Steel's Capability Development Division, begins in Jamshedpur
Innovative minds showcase ideas that have the potential to make a difference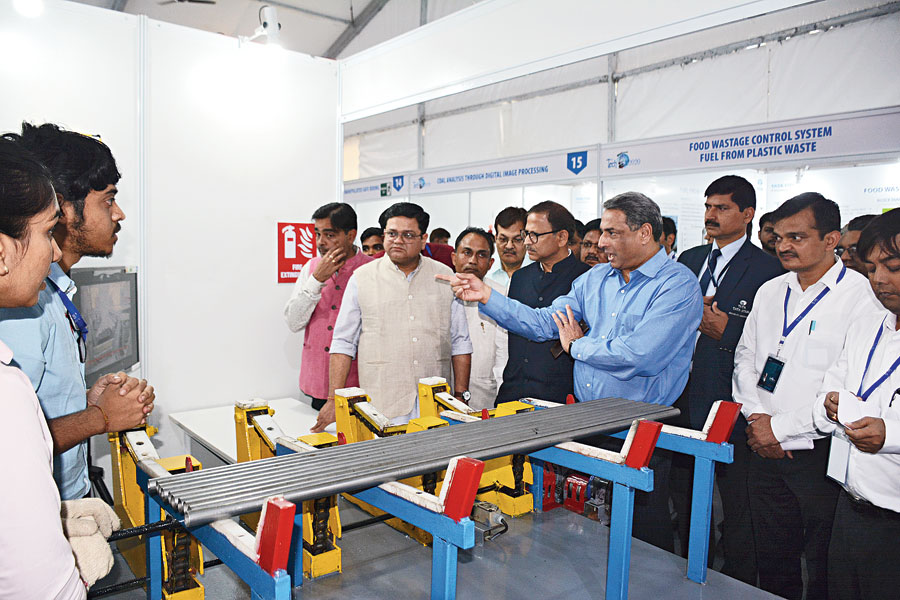 Tata Steel global CEO and managing director TV Narendran (in blue shirt) visits kiosks at Techex at SNTI in Bistupur, Jamshedpur, on Monday.
Picture by Bhola Prasad
---
Jamshedpur
|
Published 02.03.20, 07:36 PM
|
---
Innovative and functional ideas not only make lives better but also help industries save cost and energy.
Techex 2020, organised by Tata Steel's Capability Development Division, began on the SNTI (Shavak Nanavati Technical Institute) campus on Monday to showcase ideas that have the potential to make a difference.
Junior engineer trainees from Shavak Nanavati Technical Institute and NTTF along with employees of Tata Steel and Tata group of companies showcased innovative models based on scientific and engineering principles.
Tata Steel chief executive officer (CEO) and managing director T.V. Narendran inaugurated the exhibition that will continue till March 5.
Narendran visited the kiosks that displayed about 66 creative ideas with a potential of widespread application in various manufacturing industries across the country.
Rupam Bej and his team from SNTI innovated an auto-dimming night visor for commuters who are blinded by high beam lights while driving. The team invented a screen with LDR (light dependent resistor) sensor that prevents excessive light from passing through the visor, making driving in the night a lot less risky.
"A large number of road accidents are caused by high beam lights. The gadget that we have devised cuts out excessive light and help you clsee everything clearly," Bej said.
Amrit Pal Singh, also from SNTI, showcased a face-recognition device for the visually impaired. "We have fixed a raspberry camera with pre-fed information. The camera matches the person in front of the user with the data and sends a signal on whether the person is known or unknown to the user," Singh said.
Junior engineer trainee of Tata Chemicals Adarsh Patra and his team came up with a model to recycle phosphogypsum, an industrial waste that is generated in the process of manufacturing fertilisers. Patra showed how phosphogypsum can be treated and re- used to make tiles and chalks.