Tata climber gearing up for Mount Everest challenge
Asmita Dorjee training hard at Kaflo, base camp of the adventure foundation outfit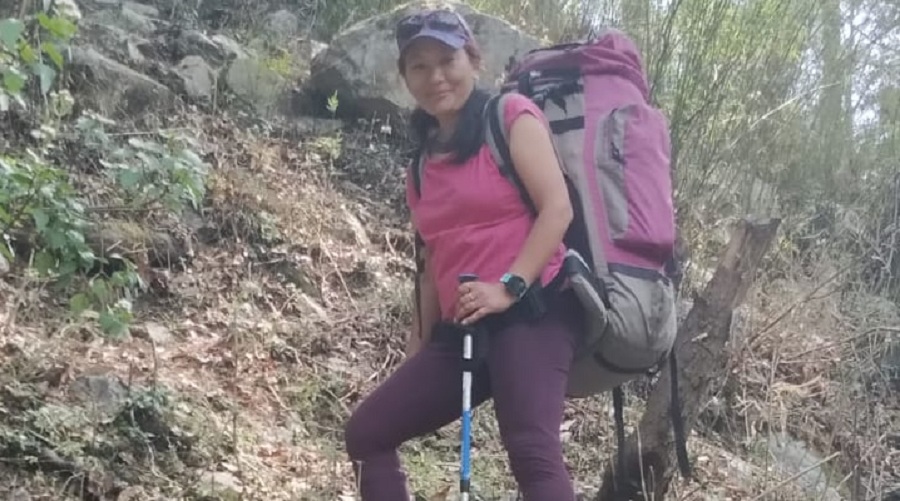 Asmita Dorjee climbs a mountain in Uttarakhand earlier this week.
Telegraph picture
---
Jamshedpur
|
Published 16.04.21, 05:57 PM
|
---
Climbing mountains, running and stretching exercises at a height of 4,500 ft above sea level is a daily routine for Asmita Dorjee as she prepares for a Herculean task.
The 37-year-old Jamshedpur-based climber has been selected by Tata Steel Adventure Foundation (TSAF) for next year's Mount Everest expedition. She is training hard at Kaflo, the base camp of the premier adventure outfit, near Uttar Kashi in Uttarakhand.
Asmita is aware that the Everest expedition would be a tough task and she will come across challenges. But training and confidence boosting talks from legendary mountaineer Bachendri Pal is helping her to keep her moral high.
"I am training alone at the base camp.  Climbing nearby mountains with a load of 20 kg, running and a bit of stretching exercises make up my day's routine.  The training starts at 7 am and concludes by 9 am. I will gradually start taking extra load while climbing mountains," Asmita said over phone from Kaflo.
Asmita is the daughter of Sherpa Ang Dorjee who was part of Bachendri Pal's Everest expedition in 1984.
Asmita is working as a senior instructor at the TSAF in Jamshedpur.
"I would shortly start training under the guidance of my mentor madam (Bachendri Pal). Her (Pal) guidance is necessary when you prepare for a challenging task," the Everest-bound climber said, adding though taking on the 29,029 ft was tough but she was confident of reaching the peak.
"I will have to deal with heavy snowfall and wind during the Everest expedition.  And, of course, I will also need luck to achieve success. Climbing is in my blood and I am aware about technique involved in it. This makes me confident," she explained.
Asmita, however, said the second wave of pandemic has forced her to keep fingers crossed.  The Everest expedition is scheduled next year and she has ample time to prepare herself. TSAF, her employers, will also be organising expeditions once the Covid-related situation improves.
"I think the pandemic should be a thing of the past before I proceed for the Everest expedition. I will continue with my training and hope for the best. I need to be physically and mentally fit to take on the challenge. In fact, I am excited and looking forward to climbing the world's tallest peak," Asmita said.
Asmita has been part of  summer and winter outdoor expeditions organised by TSAF in the Garhwal Himalayas. She was also one of the members of all women team comprising employees of Tata Steel and Steel Authority of India Limited (SAIL) which went for an expedition to Kedarkantha (12,500 ft) in Gahwal Himalayan range of Uttarakhand in early March last year.
She was also a part of an expedition to Leh-Ladakh organised by TSAF in 2018.
So far, 11 TSAF candidates have climbed Mount Everest. They include Bachendri Pal, Premlata Agarwal, Rajender Singh Pal, Binita Soren, Meghlal Mahto, Susen Mahto, amputee Arunima Sinha, Hemant Gupta, Sandeep Tolia, Swarnalata Dalai and Poonam Rana.