Taking swachh mission to a new level
Dhanbad man Uttam Sinha on a drive to remove lewd scribblings in loos on trains, bus stations and public places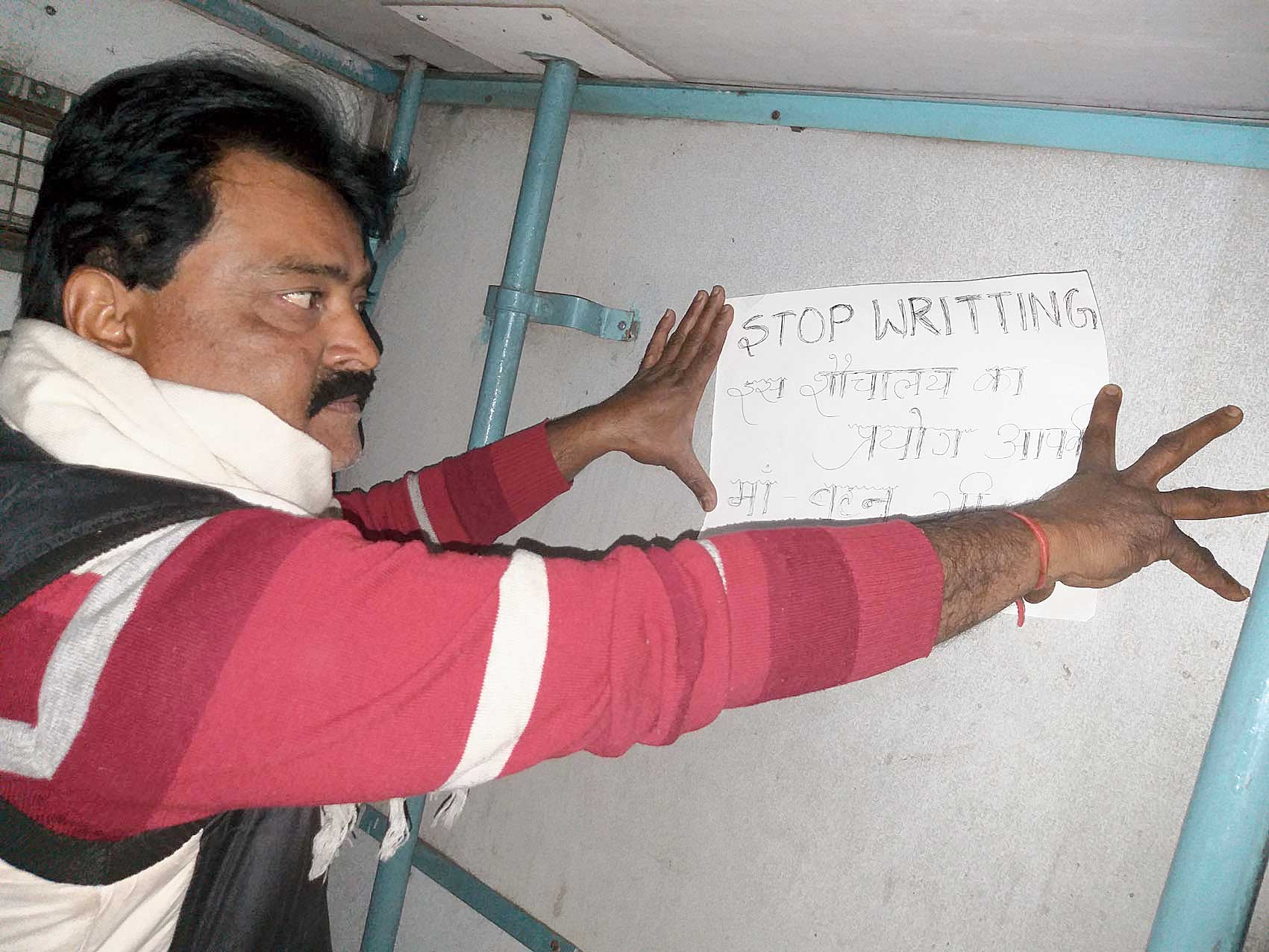 Uttam Sinha pastes a handwritten message inside the toilet of Ganga-Satlej Express in Dhanbad station earlier this week.
Picture by Gautam Dey
---
Dhanbad
|
Published 05.01.19, 06:09 PM
|
---
Keep it clean. Comments that are obscene, vulgar or sexually oriented will be removed.
Meet Uttam Sinha of coal town's Gandhi Nagar who has taken up the responsibility of erasing pornographic and indecent graffitis painted or written in public toilets.
Armed with an eraser and a cloth to wipe off such filthy scribblings in public loos, this 43-year-old has taken the government's swachh mission to an altogether new dimension. Sinha feels that people who are involved in such dirty acts should be ashamed of themselves.
Sinha, who is just a matriculate and hardly manages to make ends meet through his part-time transporting business, has been into this cleaning drive for more than a year. He said it was his social responsibility.
"I was shaken when my nine-year-old daughter Varsha Sinha, a class II student of DAV-Kusunda, asked the meaning of an x-rated lewd comment scribbled on the wall of a toilet in the Coalfield Express while we were returning from Calcutta," he said, adding that his wife Aparna and 13-year-old son Manav, a class VIII student in the same cradle, were also present."
"Although I was embarrassed by her question, I decided to address the issue," he added.
"Now, whenever I have some free time, I visit the train station or the bus depot to erase the filthy writings inside public toilets. I also board trains like Coalfield Express, Black Diamond Express, Khanoodih-Bhojudih MEMU passenger and Ganga Damodar Express to remove vulgar scribblings," Sinha added.
Do people laugh at you? "No, so far nobody laughed at me. Moreover, it doesn't matter if somebody laughs at me. I know I am doing the right thing and I don't need anybody certificate. In fact, I feel more people should join me and carry out this work," he added.
Does your family support your drive? "Yes. My wife and children are my source of strength. They whole heartedly back me."
Do you think you can make a change? "I may not be able to completely eliminate the problem, but will be an eye-opener. Those who scribble and draw these nasty and vile graffitis should be ashamed of their act," he added.