Tabrez's teen widow demands insaaf
Shaista Parveen is performing the Iddat, a custom of seclusion followed by a Muslim widow, at Tabrez's home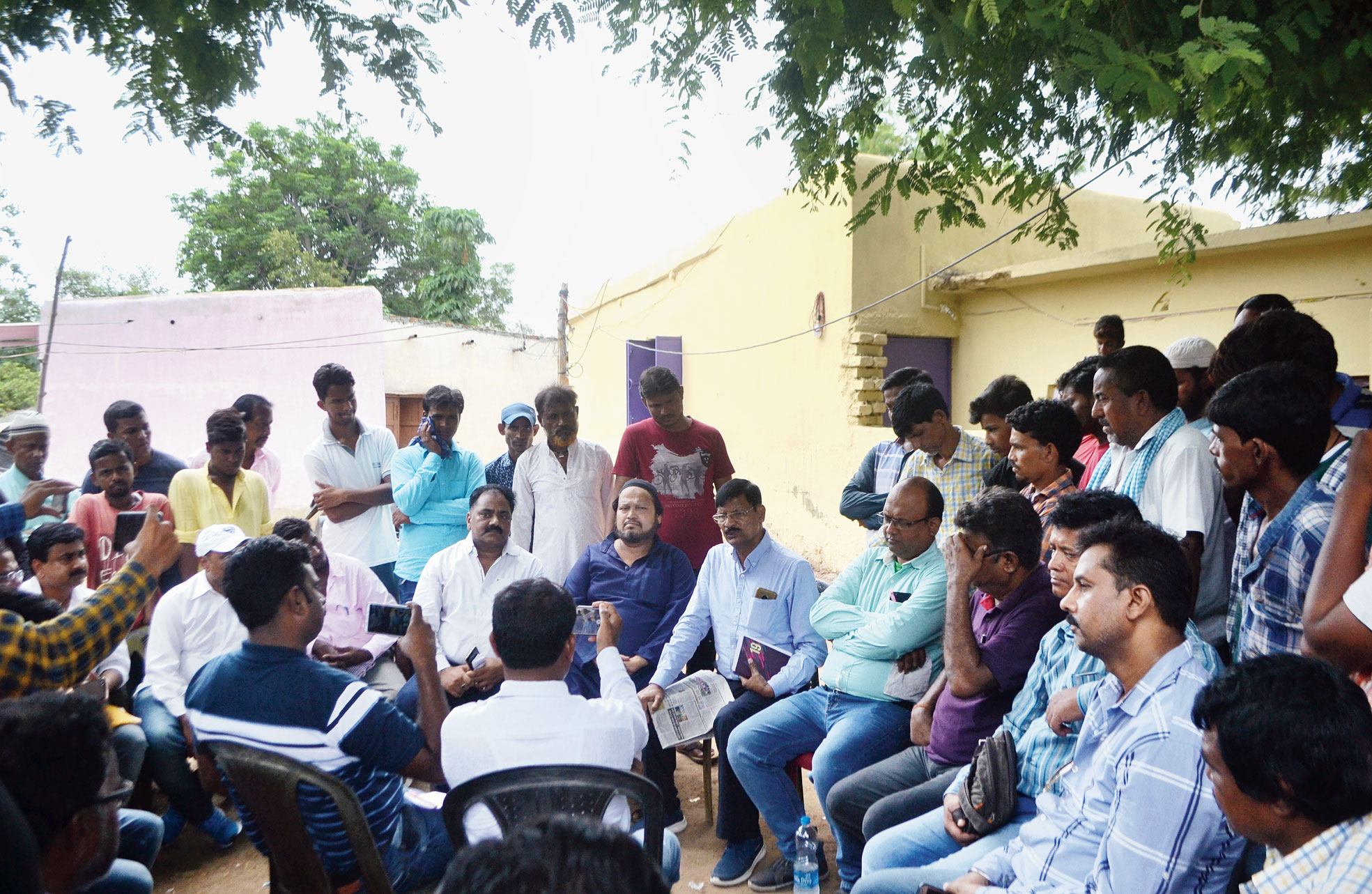 Ajsu Party members outside Tabrez Ansari's house at Kadamdih, 55km from Jamshedpur, on Saturday.
(Animesh Sengupta)
---
Kharsawan
|
Published 29.06.19, 06:44 PM
|
---
She is barely 19, was married in April and widowed a week ago, when 24-year-old welder Tabrez Ansari succumbed to injuries inflicted on him by a murderous mob on June 18 on the suspicion that he was a thief while forcing him to chant Jai Shri Ram and Jai Hanuman.
Shaista Parveen is performing the Iddah or Iddat, a custom of seclusion followed by a Muslim widow, at Tabrez's modest single-storey, whitewashed home in Kadamdih village, 6km from Dhaktidih, where he was fatally beaten up. She stays inside the house with her mother Shehnaz Begum and uncle-in-law Maqsood Alam even as some 60-odd men — extended members of the family and friends — sit in front.
One of them told The Telegraph team on Saturday that Shaista was unwell and would not be able to meet anyone, but promised to arrange a brief conversation on the phone with her.
"Log mere bekasoor shauhar ko mar diya. Mujhe insaaf chahiye (People have killed my innocent husband. I want justice)," a frail voice, claiming to be Shaista, said over the phone to this reporter around 1pm.
Not much is known about Shaista, but a resident said the teenager had been looking forward to accompanying her husband to Pune where he worked, little knowing he would be dead in a hate crime.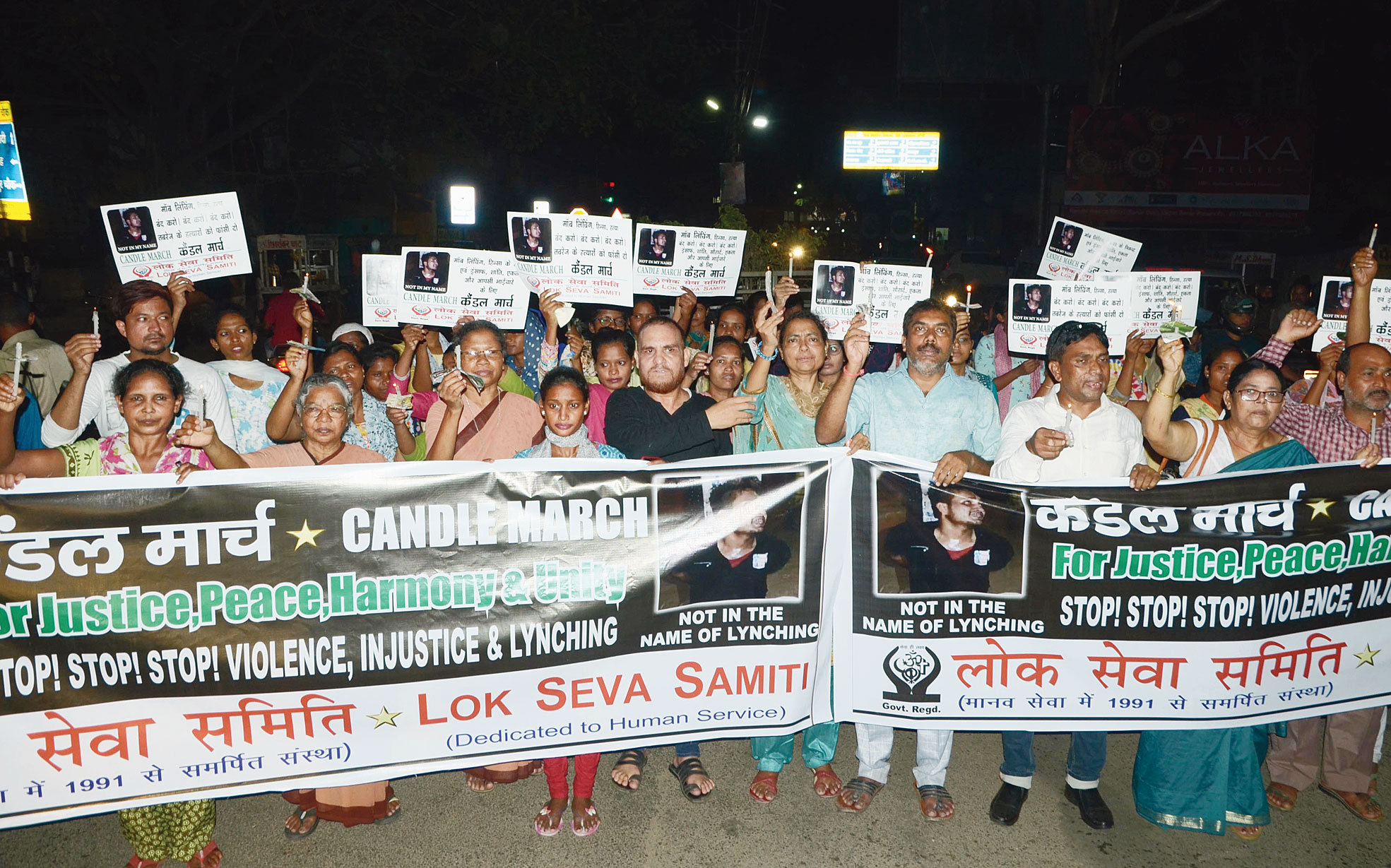 A team of Ajsu Party, the BJP's ally, also came to meet Tabrez's relatives at 12.30pm.
Afterwards, Ajsu Party state unit president (discipline committee) Subodh Prasad, who was part of the visiting delegation, told this reporter that it seemed the police investigation — 11 lynch accused have been arrested by a special investigation team — had been proceeding in the right direction.
"We hope the police and administration will carry out an impartial probe into this unfortunate incident," Prasad, a retired deputy inspector-general of police, said.
Lynch village angry
Six kilometres from Kadamdih, the village where Tabrez was lynched on June 18 was on the boil on Saturday.
Around 30 Vishwa Hindu Parishad members visited Dhatkidih, where on June 24, two days after Tabrez's death at the Seraikela government hospital, 34 women of the village had filed an FIR to allege that women and girls there had been threatened with rape that afternoon by a group of youths to "avenge Tabrez".
Dhatkidih on Saturday was swarming with policemen at three points at least.
Since June 25 morning, police are checking every "outsider", assistant sub-inspector of police Kamal Murmu, posted there, told this reporter.
But a woman at Dhatkidih, Durgamuni Mahali, said they were all angry and unhappy with the police.
"They are picking up people, young and old alike, accused of lynching a man caught stealing (Tabrez), but they can't arrest a group of eight-nine men who threatened us with rape?" she said.
Durgamuni added police had not yet arrested the "two thieves" with Tabrez. "They had committed serial thefts at Murup and Mahalimurup villages and finally reached Dhatkidih," she claimed. VHP members also demanded to know why youths making rape threats were spared.
Seraikela-Kharsawan SP Karthik S. confirmed he had received a written complaint from Dhaktidih women about the rape threat but had deployed security in the village. "The village has had security since June 23," he claimed, but The Telegraph, on June 24, had not seen police there.