Suicide linked to lockdown-induced depression
A 38-year-old mother of five children immolated herself while having an altercation with her husband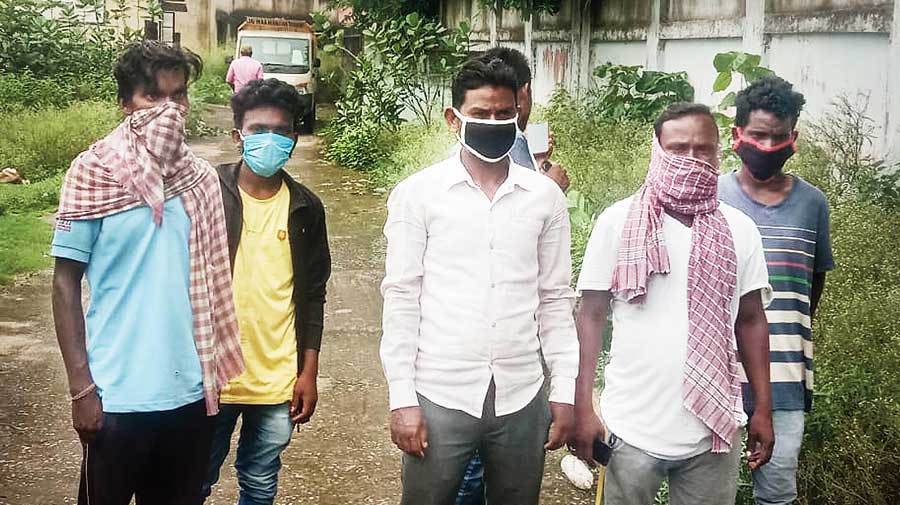 ---
---
Lockdown induced depression continues to take its toll.
A 38-year-old mother of five children, Bimla Tanti, immolated herself while having a verbal altercation over phone with her husband working as a labourer in a firm engaged in erecting base transceiver station (BTS) at Visakhapatnam in Hardunga village in Seraikela-Kharsawan district, some 147 km south-west of Jharkhand's capital Ranchi on late Monday night.
Village chowkidaar, Mahendra Naik, speaking to The Telegraph, said that they had seen Bimla Tanti going to the State Bank of India Pathanmara branch on Monday morning to withdraw money.
"We had seen her going to the bank to withdraw an amount which was sent by her husband from Visakhapatnam. She looked depressed while returning from the bank. In the night at around 10 pm we heard shrieks and saw Bimla engulfed in flames outside her house. She had locked her three daughters in a room before dousing herself with kerosene and setting herself on fire outside her rickety house while speaking with her husband. We called the police and also tried to douse flames by pouring water. However, she was dead by the time police arrived around 30 minutes later. ," said Mahendra Naik.
According to villagers, Bimla Tanti's husband Durga Charan Tanti (42) had been working in Visakhapatnam company for the past one year as a civil labourer with a monthly salary of around Rs 12,000 out of which he used to send nearly Rs 8,000 every month.
"During the lockdown he could not send that much amount probably because of the shut down leading to financial constraints. She was depressed as they had to look after one son and three daughters (eldest daughter had got married over a year back). The poor financial condition forced their minor son (13 years) to also go for work to Hyderabad nearly 10 days back with few other village youths," added Mahendra Naik.
The shocked daughters aged 10 years, 8 years and three years are too shocked to speak and are presently under care of their eldest sister who returned to their village on Tuesday morning after hearing about the tragic incident from her in-laws house in Chaibasa.
"We rushed to the place immediately after getting the news but unfortunately she was dead. We took the body to the Seraikela Sadar Hospital where an autopsy was carried out on Tuesday morning and later handed over to the relatives of the deceased woman. We have lodged a case of unnatural death. The last rites were conducted by the villagers at the village itself as her husband and son would take time to return to the village," said Seraikela police station OC Navin Pandey.
The police officials refused to draw any conclusion behind the incident.
"We cannot ascertain the reason behind the suicide but prima facie it appears that woman had a tiff with her husband while speaking on mobile phone and later locked her children in a room and set herself on fire. Villagers claim that the poor family were under financial constraints which led to frequent quarrels between the woman and her husband for the last few days," added Navin Pandey.