Steel city's veteran athlete gears up for national meet
68-year-old Achinto Pramanik to participate in 1500, 5000 and 10,000 metre disciplines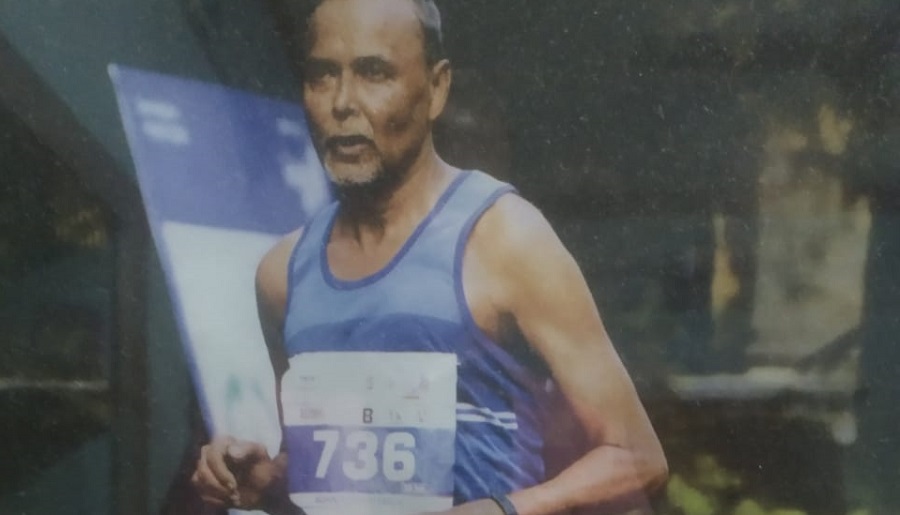 ---
---
Veteran athlete Achinto Pramanik is all set to zoom into the 39th Masters National Athletics Championship starting next month.
The national meet is scheduled at Dalli Rajhara in Chhattisgarh between March 20 to 24.
The 68-year-old is covering a distance of 20 km daily in the morning before practicing stretching exercises at his home in Gamharia.
The sexagenarian wishes to compete in 1500 m, 5000 m and 10000 m disciplines.
Talking about his routine, he says, "I leave home at 5 am sharp. I take the new Domuhani bridge and preceed towards the NH 33. Keeping my age in mind, I vary my pace and try to take things easy. I run alone and enjoy it to the fullest. I want to bag medals in all the three disciplines I'm competing in and bring laurels for Jharkhand," Pramanik, who won the second slot in the 65 years and above age category at the fifth edition of the Tata Steel Kolkata 25k run-a-thon in December, 2018, said.
This will be the first Masters National Athletics Championship after the pandemic.
Pramanik also finished second, behind Singapore's Peter Allen, in the Delhi half-marathon (21 km) by clocking 1 hr 51 minutes. The event was held virtually in November last year.
"Running comes naturally to me. I think age should not be a barrier for pursuing any sporting activity. In fact, I don't feel tired running. I want to continue it till my body permits," the veteran athlete said, adding he has already sent his entry fee for the Chhatisgarh national meet.
Pramanik said he felt completely out of shape during the lockdown. Though he exercised daily at home, but missed running. "I started feeling fit only after the lockdown was lifted. Fitness is of paramount importance while participating in competitive events," he said. He has won medals for Jharkhand in national masters athletic meets.
According to him, he wants to compete in as many marathons as possible and fulfil his dream of representing the country in world championships. "I have made it to the national masters athletics teams for international competitions on more than one occasion. The goal is to win the prize money since nobody comes forward to sponsor my trips. I have been selected in the Indian team for world competitions but had to back out due to paucity of funds," he added.
He missed a chance to represent India at the World Masters Athletics Championship in Lyon, France held in August 2015. He managed to send an entry to participate in the 2000m steeplechase, but could not afford the trip as Rs 1.5 lakh was needed to go to France.
The Masters Athletics Federation of India doesn't sponsor athletes for international competitions.
Pramanik, who runs a grocery shop near his home, stays with his family.
He has won one gold (200m steeplechase), one silver (800m), and a bronze (1500m) at the national event held in Panjim, Goa in 2015. He also bagged three gold medals (200m steeplechase, 800 m and 1500 m) and a silver medal (4x400 m relay) at the national meet held in Hyderabad in 2017.