States's idol height curbs irk Jharkhand puja organisers
Puja samitis in the capital Ranchi and Jamshedpur are planning to submit a memorandum for relaxation in the guidelines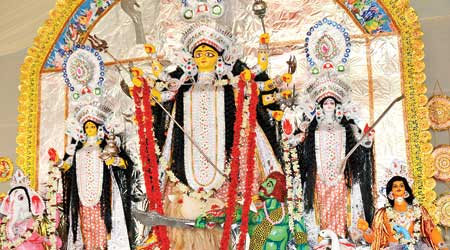 ---
Jamshedpur
|
Published 16.09.21, 12:06 AM
|
---
Durga puja organisers in Jharkhand find the state government's directive of restricting idol height at 5 feet as impractical and illogical.
Puja samitis in the capital Ranchi and Jamshedpur are planning to submit a memorandum for relaxation in the guidelines on Durga Puja issued on Tuesday late evening by the government after a meeting of the state disaster management authority chaired by chief minister Hemant Soren.
"The directive should have come earlier. With only 24 days left for Durga Puja most of the artisans with whom we had placed orders have already finished the idols and only finishing touches to Goddess Idols are being given. It is next to impossible to alter the size of the idol at this juncture. We will hold a meeting on Wednesday and seek an early appointment with the chief minister and apprise him about our predicament. It is illogical to issue such a directive at this time," said convenor of Ranchi zilla (district) Durga Puja Samity, Munchun Rai.
Jamshedpur Kendriya Durga Puja Samity (JKDPS), which hosts nearly 350 Durga Puja pandals — largest in Jharkhand, has refused to adhere to several provisions of the guidelines.
"We will be submitting our memorandum addressed to the chief minister through East Singhbhum deputy commissioner about 'impractical' restrictions imposed on puja by the government," said general secretary of the JKDPS, Rambabu Singh.
The Jamshedpur outfit senior functionary apart from the restriction on idol's height is also annoyed at government restriction on bhog distribution and not allowing children to the pandals.
"Bhog preparation is an integral part of puja ritual, how can we not distribute it to devotees who wait for it anxiously. The restriction on those under-18 from entering pandals is also impractical and an unjustified as large number of minors want to pay obeisance before Maa," said Singh.
The Jharkhand government allowed devotees inside after a meeting on Tuesday.
However, priests and clerics of the religious places should have mandatorily taken at least one jab of Covid vaccine. At important religious places earmarked by the district administration (like Baba Baidyanath Dham in Deoghar) a maximum of 100 devotees would be allowed for an hour through e-pass provision to be issued by the district administration while at other religious places 50 per cent of the capacity of the religious place will be allowed to worship with strict compliance of Covid appropriate behaviour.
Devotees, less than 18 years have be strictly prohibited from entering religious places.
The government has allowed the construction of Durga Puja pandals but the entry of devotees would be prohibited at pandals and inside pandals, a maximum of 25 persons (or 50 per cent of capacity) would be allowed at one point in time. Fairs, welcome gates, illumination with fancy lights, cultural programs, distribution of bhogs and theme-based pandals have been strictly prohibited. There will be no immersion procession. Dhaks have been permitted for the puja. Idols of Durga would have to be within 5 feet.
Schools have been allowed to conduct offline classes for Classes between six and eight. Incidentally, classes nine, 10 and 11 are already having offline classes since August.
Sports competitions have been allowed but without spectators. Bars and restaurants have been allowed to operate till 11 pm.
The order will be applicable within immediate effect.
Ranchi auxiliary Bishop Theodore Mascarenhas said that they will discuss before starting offline services of masses in churches while online services would continue as usual.
While Eqra Masjid chief imam, Maulana Obaidullah Qasmi said that will follow the government guidelines during namaz at all mosques.
Significantly, there have been demands from shrine priests for reopening of religious places for devotees after cases of Covid infection decreased in Jharkhand.
Active caseload of Covid in Jharkhand on Tuesday was 111 with a total of 5,133 casualties.