Dhanbad: Sikh organisations in the coal town, today hailed the government's decision to withdraw the farm bills by the Union government on the occasion of Gurupurnima. They celebrated the occasion by distributing sweets. The Sikh Welfare Committee Jharkhand, led by its state president, Sewa Singh, the octogenarian former public relation officer of Fertilizer Corporation of India factory at Sindri hosted a sweet distribution programme in Sindri Gurudwara.
Talking to The Telegraph Online, Singh who is also the president of All India FCI VSS Employees Association said, " Various organisations from across the country have extended help to the farmers in their struggle and as the government announced the withdrawal of the bill we welcome the initiative. The black laws have been withdrawn by the government due to the unbreakable unity of the different organisations over the issue."
Meanwhile, Satpal Singh Broka, member of Gurudwara Prabandhak Committee, Bara Gurudwara, Dhanbad said, "The announcement has added to the joy of devotees celebrating the Guru Purnima."
Broka, who is also the district general secretary of the Congress, added, "We welcome the initiative but at the same time also demand that the government complete the formalities in the parliament and also hold a meeting with the farmers on other issues.
Meanwhile, district Congress members celebrated the occasion by bursting crackers and distributing sweets near the district headquarters at Randhir Verma Chowk.
Praduman Choubey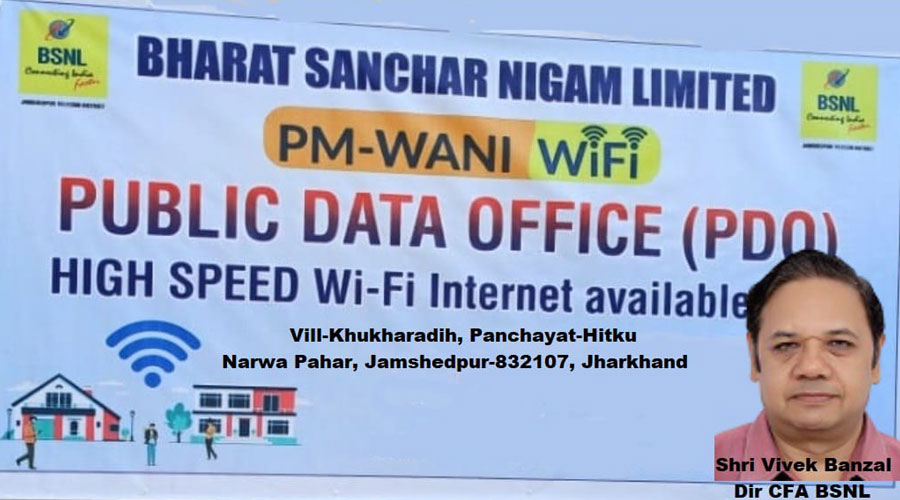 A poster on BSNL's Public Data Office, an economical wi-fi service for rural hinterland Bhola Prasad
BSNL rolls out state's first public data office
Jamshedpur: It was a proud moment for BSNL's Jamshedpur Business Area (BA) which on Friday launched its first BSNL Public Data Office in the state. The Public Data Office ( PDO), an economical wi-fi service for rural areas came up at Khukradih under Hitku panchayat at Narwa pahar in East Singhbhum district. The service was inaugurated online by Vivek Banzal, director Consumer Fixed Access (CFA), BSNL Board, New Delhi.

BSNL is delivering high-speed internet data through Wi-fi Access Network Interface (WANI) in those areas where high-speed internet is not available. The PM-WANI Scheme announced by the department of communication was introduced to increase wi-fi access throughout the country at an affordable price to bridge the digital divide between urban and rural populations.

General manager of BSNL's Jamshedpur Business Area Sanjeev Verma said Public Data Office is a retail hotspot location where good numbers of footfall are involved and users can walk in and use high-speed internet service connectivity through Wi-Fi. The Wi-Fi service will be available in a radius of 100 to 150 meters from the hotspot which is located in PDO.

"PDO may be a retailers shop, grocery store or even tea stalls, " he said adding that the next PDO in East Singhbhum district will soon come up at Baharagora. According to Verma, several other rural blocks under the Jamshedpur Business Area of BSNL will come up in different phases. BSNL also announced the tariff plans wherein 1 GB data will be available at Rs 9 for a day's validity while 3 GB data for three days will be available at Rs 19.

Pinaki Mazumdar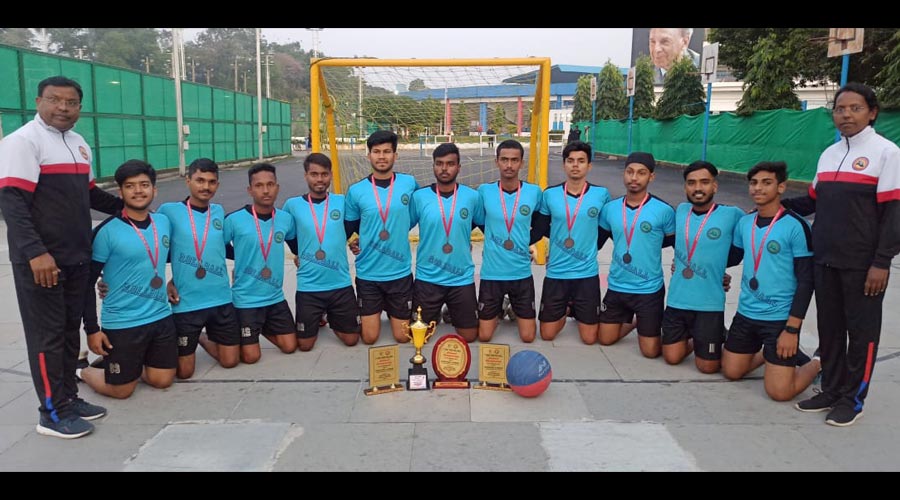 The bronze winning team The Telegraph Picture
East Zone roll ball meet: Jharkhand men bag bronze
Jamshedpur: The Jharkhand men's team bagged the bronze at the inaugural East Zone Senior Roll Ball Championship which concluded at Bhilai in Chattisgarh on November 18.

The women's side, however, settled for the fourth spot at the zonal meet which saw participation from six states including hosts Chhattisgarh, Bihar, Jharkhand, Bengal, Assam and Odisha.

Chhatisgarh emerged champions in the men's and women's categories, defeating Assam in both sections. Bihar finished with the bronze in the women's category.

The men's side started on a positive note by posting wins against Bihar, Bengal and Odisha. However, they lost to ultimate champions Chhattisgarh and managed a draw against Assam. Jharkhand played the semi-finals against Chhattisgarh and for the third spot against Bihar.

The women were on a high initially winning against Bihar, Bengal and Odisha but lost to Chhattisgarh and Assam. The state tasted defeat versus Bihar while playing for the bronze.

Meanwhile, the Tata Steel sports wing chief Farzan Heerji, head Ashish Kumar, Olympian Anand Menezes, Jharkhand Roll Ball Association president Manoj Yadav and secretary Chandeshwar Kumar congratulated the men's side and encouraged them to perform better in the future.

Jayesh Thaker