'Starving' teachers fast on big day in Morabadi
Bystanders sympathised with the teachers on hunger strike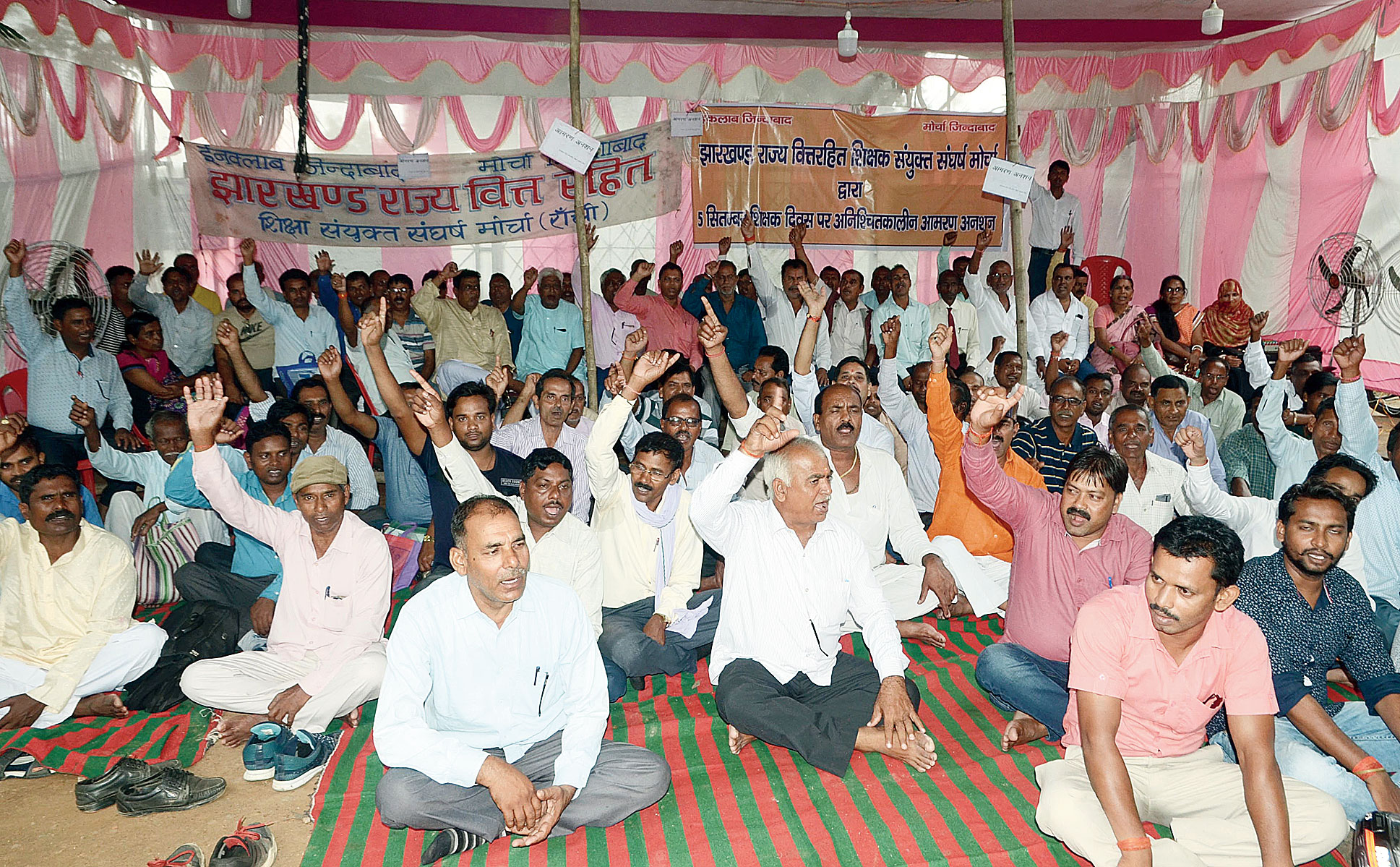 ---
Ranchi
|
Published 05.09.19, 09:38 PM
|
---
Over 200 teachers started their fast-unto-death near Bapu Vatika in Morabadi here on Thursday, even as the nation celebrated Teachers' Day to mark the birth anniversary of Sarvepalli Radhakrishnan, second President of India and teacher par excellence.
These teachers on hunger-strike belonged to Jharkhand Rajya Vittarahit Shiksha Sanyukt Sangharsh Morcha, an organisation of around 20,000 teachers who teach students from deprived sections in 1,250 secondary, higher secondary, Sanskrit and Urdu schools across Jharkhand on a nominal state government grant of Rs 85 crore per year.
This fiscal, only Rs 33 crore was given as grant, president of the Morcha Raghunath Singh said before starting the fast, explaining the reason for their extreme measure on a day the nation paid homage to teachers.
He said the teachers in these schools were on the verge of starvation.
"An amount of Rs 85 crore was allotted for grants to over 1,250 secondary and intermediate colleges running under the non-finance education policy of the state government under which government gives nominal grant to educational institutions that provide education to poor students in remote areas. The grant, depending on the number of students, ranges between Rs 16.80 lakh and Rs 60 lakh for higher secondary schools, and Rs 7.40 lakh and Rs 14.60 lakh for high schools. This time, the government gave only Rs 33 crore overall. The reason cited was that the grant was given according to pass percentage of the students in educational institutions," he said.
Immediately, as a ripple effect, the teachers in these schools, who got salaries ranging between Rs 3,000 and Rs 15,000 per month, started getting half the amounts, Singh said. "We have no option left but go on strike," he added.
Morcha member Surendra Jha said they had a nine-point charter of demands about which the state government was doing nothing and only claiming big achievements in the field of education.
"Our nine-point charter of demands include immediate forming of a high-level committee to end the non-finance education policy, payment of deficit grant to recognised schools and inter-colleges, direct transfer of grant in the account of teachers as is done in other welfare schemes, referring the service conditions of intermediate teachers to the cabinet, among others," Jha said.
School education and literacy department secretary Amrendra Pratap Singh rubbished the allegations of the teachers.
"It is absolutely wrong to blame the government for this situation," the secretary said. "There are too many irregularities in the functioning of schools and intermediate colleges running under the non-finance scheme. When we started checking the irregularities, many shocking facts emerged. For instance, a school with only four rooms will show 2,000 students on its rolls," he said.
Bystanders at Morabadi grounds sympathised with the teachers on hunger strike.
"It's sad that teachers are being forced to resort to fasting on such a day. The government is not handling teachers associated with it properly. Some are getting huge salaries without work and others are getting a pittance despite heavy work. This strike is a live example of government failure," Hatma resident Deepak Kumar said.