Speeding oil tanker kills mom of baby girl, cyclist in Mango
If the fuel had caught fire, liquid foam would have been used instead of water jets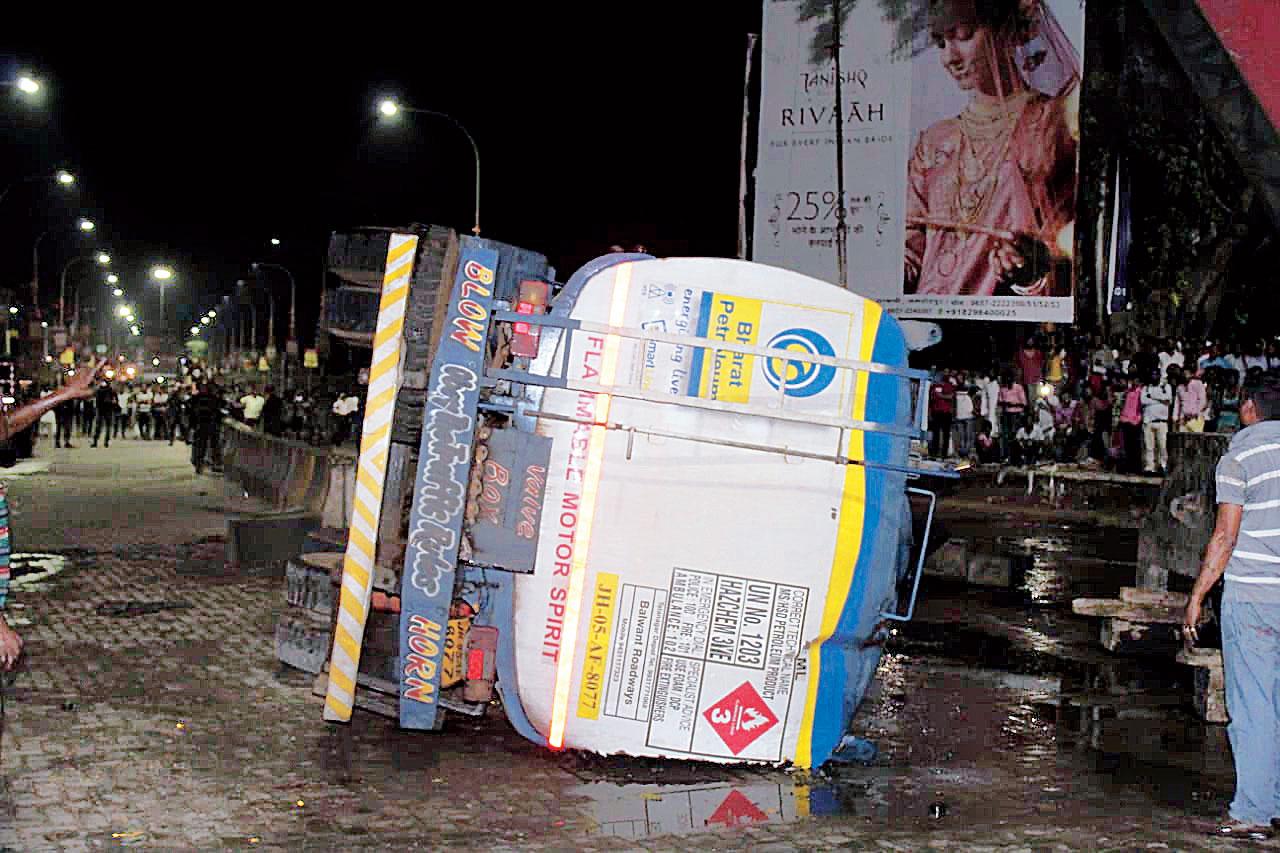 The oil tanker after the mishap near Mango bus terminus in Jamshedpur on Friday.
Picture by Bhola Prasad
---
Jamshedpur
|
Published 29.06.19, 06:43 PM
|
---
The mother of a nine-month-old and another man were killed and nine others, including the baby, were injured when a speeding diesel tanker hit commuters and flipped sideways near a roundabout not far from Mango bus stand on Friday around 10pm.
As crowds jammed Mango bridge, 500m from the mishap site, to protest unchecked speeding, diesel spilled from the overturned tanker, posing the threat of a monster blaze.
Acting swiftly, police led by SSP Anoop Birtharay and city SP Prabhat Kumar pacified the crowd and told people to stay at least 50 metres from the diesel-spilling tanker for their safety, even as fire tenders of the government and Tata Steel sprayed jets of water under high pressure to wash out the diesel in the wee hours of Saturday. The tanker was removed by cranes.
Jharkhand fire station (Golmuri) officer Gopal Yadav said if the fuel had caught fire, liquid foam would have been used instead of water jets.
The casualties were Azadnagar Road 11 resident Khadija Khatoon (37) and Mango Sankosai Road 1 resident Maheshwar Kumar (42). Khadija riding pillion on husband Md Iqbal's bike, was holding nine-month-old daughter Anija. Maheshwar had been cycling. The tanker, heading to Balguma along the NH-33 after re-filling diesel from the Burmamines depot, hit them both from behind, killing them instantly.
Anija is battling for her life at Tata Main Hospital. Iqbal and other injured — including pedestrians, bikers and cyclists — are at MGM hospital. The tanker driver, also injured, managed to flee from MGM without giving his name. Eye-witnesses said it seemed the driver had been drunk.