Special athletes mentored on mini javelin in Jamshedpur
Avatar Singh, a former university champion, aims to win more medals for state through his wards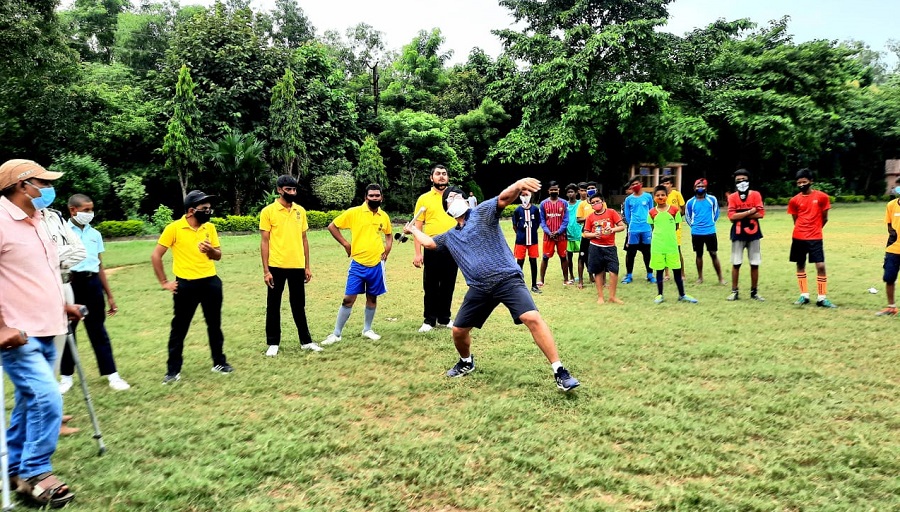 Avtar Singh shows a demo for mini javelin during the training programme in Jamshedpur on Tuesday.
Bhola Prasad
---
Jamshedpur
|
Published 29.09.20, 07:22 PM
|
---
Intellectually-impaired athletes of the state on Tuesday took part in the maiden training session of mini-javelin throw at Joggers' Park in Sonari, maintaining all social distancing norms.
Training for this sport has been introduced in Jharkhand for the first time, though it is also underway in a few other affiliated states of Special Olympics Bharat.
Avtar Singh, a former university champion in javelin throw and founder of Jeevika, a Jamshedpur-based organisation, has taken the onus to train the specials.
"I have taken pains to procure plastic mini javelins as per prescribed weight and size. Each javelin weighs between 300 gram to 600 gram and length is between 27 inches to 44 inches. Hard rubbers have been inserted on the rear for making javelin travel like an arrow," Singh, who is an NIS (National Institute of Sports, Patiala)-accredited coach said.
The Jeevika students who underwent training included N. Sai Krishna, Pankaj Kumar, Ankit Mukherjee, Ashish Kumar and Ryan Francis. "It was a new and exciting experience for me," said Krishna, who won two medals (in athletics) in the Special Olympics International World Summer Games held in Abu Dhabi last year.  
Singh had been to Washington in 2007-08 on his own expenses to gain knowledge under experts involved in introducing mini javelin among special athletes globally. "It was a learning experience for me as I picked up some vital lessons. I was very keen to train my wards in mini javelin. It has materialised now," he added. He explained that since the event is new from the Special Olympics point of view, it would take time for his wards to get adjusted. "I had started the training process a week back by experimenting with wood used for floor hockey . The effort was just to make the wards have a feel about the upcoming training process. The actual training only started on Tuesday," Singh, a resident of Sonari said.
He also informed that the training will be conducted twice a week. "It would not be wise to put too much load on our students. Let the students enjoy the new event," he added   
Thomas Alan Petranof of the US is the founder of throwing zone athletics and inventor of Turbojav. He represented the US in three Olympic Games and is among the top 5 javelin throwers in the world. He is currently working on grassroots track and field development in Los Angeles.
The Special Olympics Bharat (SOB) is conducting training webinars on mini javelin across its state chapters, including Jharkhand. Ten candidates from the state were part of the online training held recently. The SOB will start onfield training once the Covid-related situation improves.
Singh, who has produced 10 medal-winning special athletes in Special Olympics International competitions, said he was looking forward to adding more to the numbers. "I have the required experience in mini javelin training and am optimistic of preparing more medal-winning special athletes," he added.
The training programme was inaugurated by Sonari police station OC Renu Gupta in presence of State Disability Commission advisor Arun Singh .