Son takes on his 'father's killers'
Peter and Pahan are contesting from behind bars as the nominee of the NCP and Jharkhand Party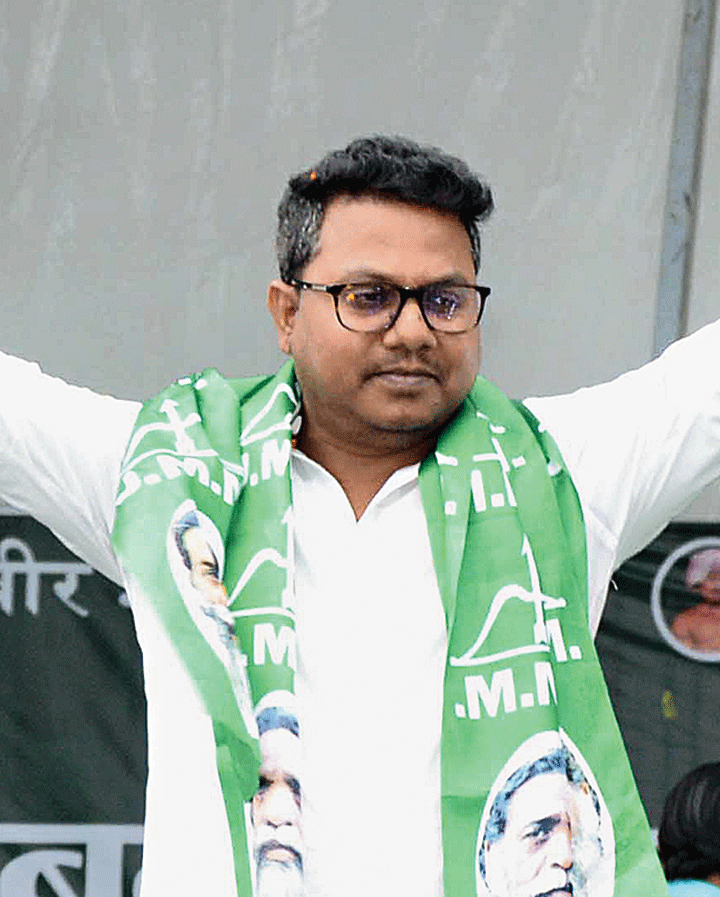 ---
|
Ranchi
|
Published 02.12.19, 08:49 PM
---
In what can be straight out of a movie script, a bereaved son is fighting the polls against the alleged killers of his father.
One of the most interesting battlefields this state elections is Tamar, an Assembly seat in Ranchi district that is famous for off and on news of gold deposits, a self-styled Robin Hood named Gopal Krishna Patar a.k.a. Raja Peter who defeated the then invincible JMM Shibu Soren in a bypoll 10 years ago, and a Maoist leader who announced he was giving up the bullet for the ballot.
In 2019, Raja Peter is still a political force, though a tainted one. Now, Vikas Kumar Munda, son of slain MLA Ramesh Singh Munda, is fighting Raja Peter and dreaded former Maoist Kundan Pahan who are facing trial before a special NIA court in Ranchi for Munda senior's murder.
Vikas, who had won the 2014 Assembly election from Ajsu Party, is contesting this time on a JMM ticket.
Peter and Pahan are contesting from behind bars as the nominee of the NCP and Jharkhand Party, respectively. The BJP has fielded its party worker Rita Devi.
Tamar had changed the dynamics of Jharkhand politics in 2009. Soren, then the Dumka MP, had just grabbed the CM's chair by toppling the Madhu Koda government. Tamar was the only seat that he could contest for a berth in the state Assembly as it was left vacant owing to the July 2008 murder of its MLA Ramesh Singh Munda.
Seasoned politician Soren lost at the hands of Peter, a rookie who contested from Jharkhand Party as a modern-day Robin Hood. That same year, 2009, when Jharkhand's Assembly elections were held, Peter again won as the JDU nominee by defeating Ajsu Party's Vikas, the slain MLA's son.
Vikas's luck changed in 2014. Peter, hoping for a BJP ticket, joined the saffron party. But Peter had to contest as an Independent when the BJP handed out the Tamar seat to its then ally, the Ajsu Party. No surprises, Ajsu Party fielded Vikas who won.
Things changed swiftly for Tamar again in May 2017, when absconding Maoist zonal commander Pahan surrendered before the police and announced loudly that he was hoping for a political career.
The rousing reception that Pahan got from the state police prompted Vikas to protest in Ranchi. "The warmth accorded to a murderer, rapist and criminal like Kundan was outrageous," he had said, urging CM Raghubar Das to recommend a CBI probe into his father's murder.
Soon, the state government recommended an NIA probe. The NIA was quick to lodge an FIR on June 30, 2017, and arrested Peter in October of the same year and booked him as an accused along with Pahan and several other Maoists. The NIA claimed that Peter hired Pahan to eliminate the MLA for a hefty sum of money.
Vikas, who is campaigning in his constituency, said he was still in shock over his "father's murder and subsequent events". "I was not even 18 when my father was shot dead. When I see the faces of these alleged assassins, it pinches me. But I can't pick up a gun in revenge. There is God and court and people who will punish criminals," Vikas said.
He said that people like Pahan did not deserve to be a part of society leave alone become lawmakers. "Can you think any gentleman and law-abiding citizen would like to share the dais with people like Pahan?" Vikas asked.
There was massive uproar in Jharkhand Party when party chief Anosh Ekka decided on Pahan's name from Tamar. Ekka hurriedly said he was withdrawing Pahan's candidature, but Jharkhand Party did not inform the retuning officer in writing about it. "Pahan stayed on as Jharkhand Party's nominee," said a political watcher. "Call it a faux pas or a deliberate game plan."
A Tamar resident said it terrifies them that a brutal murderer was dreaming of being an MLA. "God save our democracy," he added.
Another resident wondered who were the people who campaigned for Pahan. "They're all strangers. I'll vote Nota if I have to, not Pahan."
Peter's supporters, on the other hand, are campaigning for him. His wife Arti Devi is managing the campaign.
One of his supporters said that people of Tamar, out of affection, named Peter Robin Hood. "He always helped the poor and oppressed. He became a victim of a political conspiracy. The NIA claims Peter paid the Maoists in crores (to kill MLA Munda) but the NIA can't answer what was the source of Peter's funds. Peter was never a rich man. Then Ranchi SSP Praveen Kumar Singh who had probed this case found nothing against Peter. After Singh joined the NIA as DIG, the case went to the NIA which concocted evidence against Peter. But he will come out clean."
lTamar votes on December 7