12 feared trapped after coal mine collapses in Jharkhand
Local residents claim the incident took place during 8.30 when the roof of a illegal mining tunnel caved in.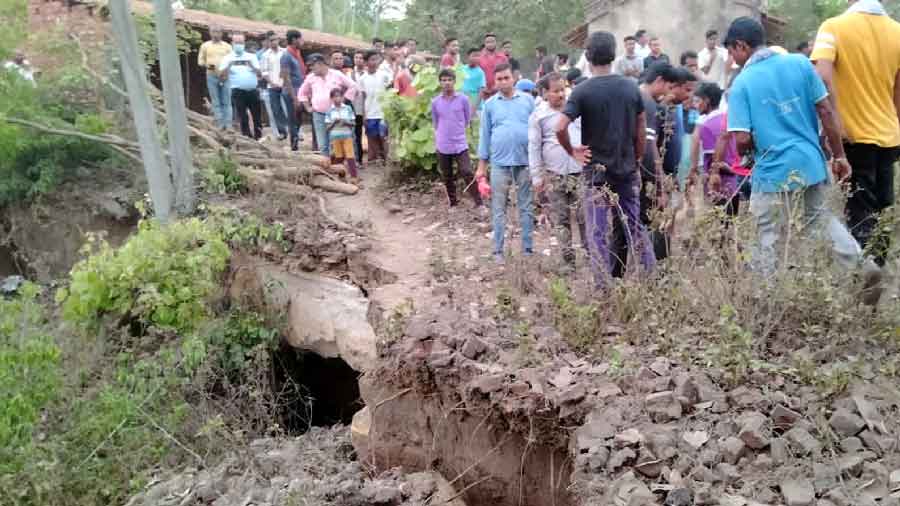 Several people are feared trapped in a coal mine collapse which took place in Jharkhand on Thursday
Gautam Dey
---
Dhanbad
|
Published 21.04.22, 02:18 PM
|
---
Around 12 people have been feared trapped in a roof collapse at an illegal mining site of Dumrijor forest area of  Nirsa block of Dhanbad about 45 km away from Dhanbad district headquarters this morning..
Local residents claimed the incident took place during 8.30 when the roof of a illegal mining tunnel caved in.  
A team of Nirsa police station led by officer in charge Jitendra Kumar which reached the site after getting information from the local residents at around 11 am and informed Bharat Coking Coal Limited authorities which launched the rescue work by removing the debris with the help of heavy earth movers but no one has been rescued till the time of filing this report.
Local residents said that around 40 persons, all residents of Nipulia area of Purulia district of Bengal besides some five six local residents were working at the site when the incident took place. They, however also expressed doubts about the reports of any causality in the incident and claimed that the mining site have multiple entry and exit points and even if any causality has taken place the family members and other co-workers might have escaped from the site along with the dead bodies or injured persons fearing legal  action against them on the charges of illegal mining.
Former Nirsa MLA, Arup Chatterji who also reached site remained there and spent several hours supervising the rescue work said " Though, there is no denying of  the fact that rampant illegal mining is taking place at several places of Nirsa but in this particular incident it is very difficult to confirm whether any person has died or injured."
"Some local residents informed us that the incident took place a few meter away from the site where illegal mining was going on so those working at the site remained unhurt and escaped from the site"further said Chatterji.
Of0ficer in charge of Nirsa Jitendra Kumar said, "We have also reached at the site this morning after getting information about subsidence but some apprehension have been expressed by a few persons lying trapped at a illegal mining site beneath the subsidence site."
"Though, there is no evidence to suggest that any person has received casualty during subsidence but we are leaving nothing by chance and debri removal work is going on with the  help of BCCL"futher said Kumar.