Security forces guide killed in Maoist blast in Jharkhand
The incident occurred a day after a CoBRA jawan was injured and a sniffer dog was killed in an IED blast in the same Marwa forest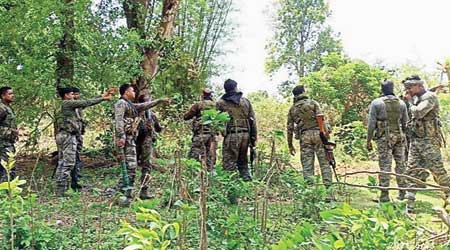 ---
Jamshedpur
|
Published 15.07.21, 01:05 AM
|
---
A 35-year-old villager guiding the security forces conducting a search operation in a dense forest in the Maoist-affected Gumla district of Jharkhand was killed in an IED blast on Wednesday morning, police said.
The incident occurred a day after a CoBRA (Commando Battalion for Resolute Action) jawan was injured and a sniffer dog was killed in an IED blast in the same Marwa forest in Karagani hills under Kurumgarh police station in Chainpur block of Gumla district, over 180km from state capital Ranchi.
According to police sources, the villager identified as Rameshwar Munda was accompanying the security forces to guide them during the search operation conducted jointly by the CRPF, CoBRA (a special unit of the CRPF which specialises in anti-Maoist operations and jungle warfare) and district police personnel when he accidentally walked over the IED. Munda succumbed to his injuries on the way to hospital, the police said.
"There are hundreds of IEDs planted by Maoist zonal commander Budheshwar Oraon in the dense forest area. A CoBRA jawan (Vishwajit Kumbhar) was injured yesterday (Monday) during the search operation and is recuperating at a private hospital in Ranchi.
"Today an IED blast killed a villager during the search operation. The injured villager was being taken to the Sadar Hospital but died on the way. We will be giving compensation according to government norms and a job to the kin of the victim," said Gumla superintendent of police H.P. Janardhanan.
Sources in the Jharkhand police headquarters said according to the central government norms, the family of any person killed in Maoist-related incident would get a compensation of Rs 3 lakh and a government job.
"The villager, Rameshwar Munda, got injured in the IED blast and was evacuated immediately from there, but succumbed to his injuries before he could be taken to a doctor. Being a local, he was taken along by the security forces to guide them in the dense forests," said Janardhanan.
The squads of Oraon, who carries a reward of Rs 15 lakh on his head, are said to have planted several IEDs in the Marwa jungles of Gumla to deter security forces from entry and they have also warned the villagers against venturing into the forest. However, the security forces use the villagers who are well-versed with the topography of the area to guide them.
In February this year, a CRPF jawan had lost his legs in a similar blast while villager Mahender Mahto was critically injured in another IED explosion that occurred in the Marwa Karagani jungles in Gumla.
"We are conducting an intensive search operation in the last few months and this will continue. We have diffused and neutralised several IEDs earlier which are used primarily to disturb the movement of our troops," said Janardhanan.