Secretary Ajoy Kumar Singh junks transfer row
No role in new posting of traffic DSP, says IAS officer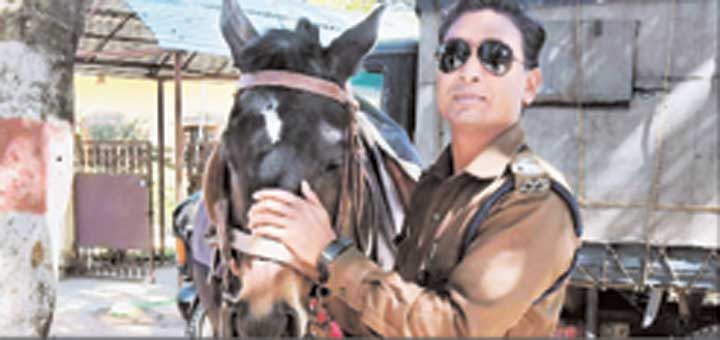 DSP Ranjit Lakra
Telegraph picture
---
Ranchi
|
Published 03.03.19, 06:42 PM
|
---
State urban development secretary Ajoy Kumar Singh on Sunday denied allegations that he punished traffic DSP Ranjit Lakra with a transfer for pulling up a car in which his wife was travelling, but conceded having approached a senior cop against Lakra's "use of unparliamentary language".
The senior IAS officer stressed that he was neither instrumental behind the transfer of Lakra, who had slapped a fine on the driver, nor did he ask the DSP to seek an apology from his wife.
"I don't wish to drag this controversy any further. I want to clarify that I had not summoned the DSP to my office (as alleged). He came on his own the next day and tendered an apology for his indecent behaviour towards my wife… I heard him patiently and told him that I could not accept an apology on behalf of someone else. I did not ask him to meet my wife. I only advised him to be courteous even while on duty," Singh told this newspaper. After Lakra was transferred last week, a section of policemen came on record to tell this newspaper that the urban development secretary had used his clout to punish the traffic DSP because the latter had hauled up for traffic violation a car in which the wife of a senior government official was travelling.
On February 5, the driver of the car in question, a Maruti Ciaz (JH-01 CF-2083), wasn't wearing a seatbelt and was talking on the mobile. He wasn't carrying his licence too. He was caught at Kutchery Chowk and fined Rs 600 after policemen, who were on duty, had an altercation with Anita Singh, the wife of the IAS officer.
"I am not part of the transfer and posting decision because this is not done by the department I head. But, I want to clarify that I shared my concern about how the DSP conducted himself on that day with SSP Anish Gupta," Singh said.
"The car was unnecessarily detained for half an hour. My wife requested them (traffic police) to complete the process (of issuing a challan) and let her go. The fine was paid then and there. Nobody is above the law, but how you deal with people speaks volumes for what kind of a person you are. The officer used objectionable language and that is not acceptable," Singh added.