School-rape cuffs on vice-principal in Dhanbad
The incident occurred around a month ago, when the girl was taken to the sick room with abdominal pain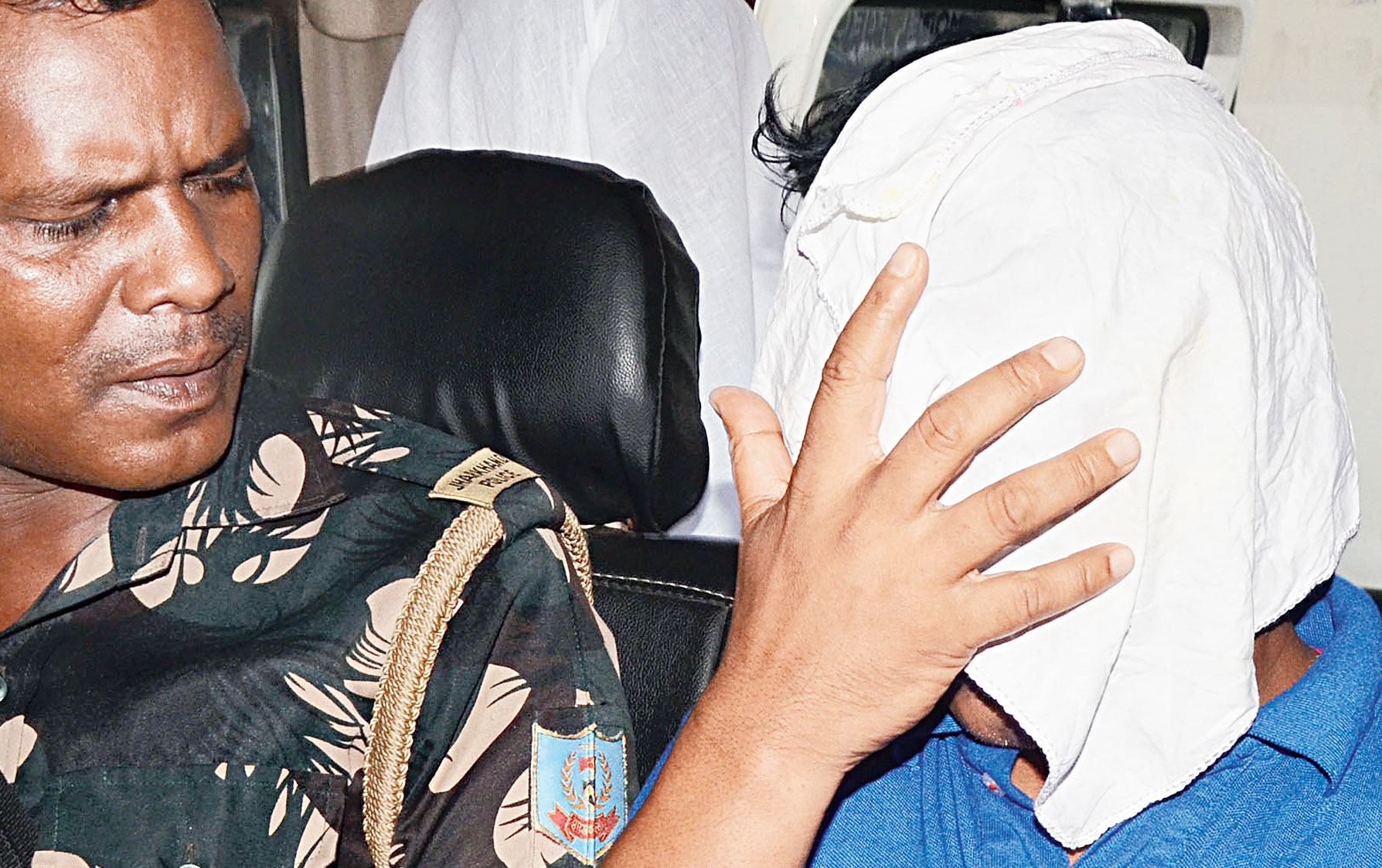 The vice-principal being taken to Dhanbad jail on Tuesday evening.
Picture by Gautam Dey
---
Dhanbad
|
Published 10.09.19, 07:10 PM
|
---
Police on Tuesday arrested the vice-principal of the private school where a Class IV student has accused the school nurse of sexual assault.
"We arrested the female nurse yesterday (Monday) and today we also arrested the vice-principal," said Dhanbad superintendent of police (rural) Aman Kumar.
"All circumstantial evidence showed his involvement in the act as both the nurse and him were present in the school sick room when the incident took place."
The incident occurred around a month ago, when the girl was taken to the sick room with abdominal pain. It came to light on Sunday, when the girl's father filed an FIR after a doctor who examined his daughter told him that the child had been sexually assaulted.
The 9-year-old girl's medical report has also confirmed the assault, sources in the police said. "In the initial questioning, the girl named only the nurse as the one who did something wrong with her. But during further questioning by members of the medical board — including a psychiatrist — as well as by members of the child welfare committee, the girl said the vice-principal was also present in the sick room," Kumar said.
"So we arrested the vice-principal also."
The girl's father, in the FIR, had also named an assistant teacher who had sent the girl to the sick room.
"Questioning of the teacher and other circumstantial evidence did not indicate his (the teacher's) involvement as anybody other than him present in the classroom would also have sent to a student to the sick room if the student fell ill," Kumar said. "There was no evidence of his conspiring to send the girl to the sick room."
The vice-principal's chamber is situated next to the sick room, the police officer said.
"Though the vice-principal didn't accept his involvement, all circumstantial evidence indicates his involvement in the case," Kumar said. "He accepted his presence in the sick room on the day of the incident and if only two people including he and nurse were present there who else other than them had committed the crime?"
Both the vice-principal and the nurse have been booked under the Protection of Children from Sexual offences Act, 2012.