Roy consults Swamy on legal battle
Kumar passed a resolution against Roy after he accused Kumar of acting against the state by suppressing facts in cases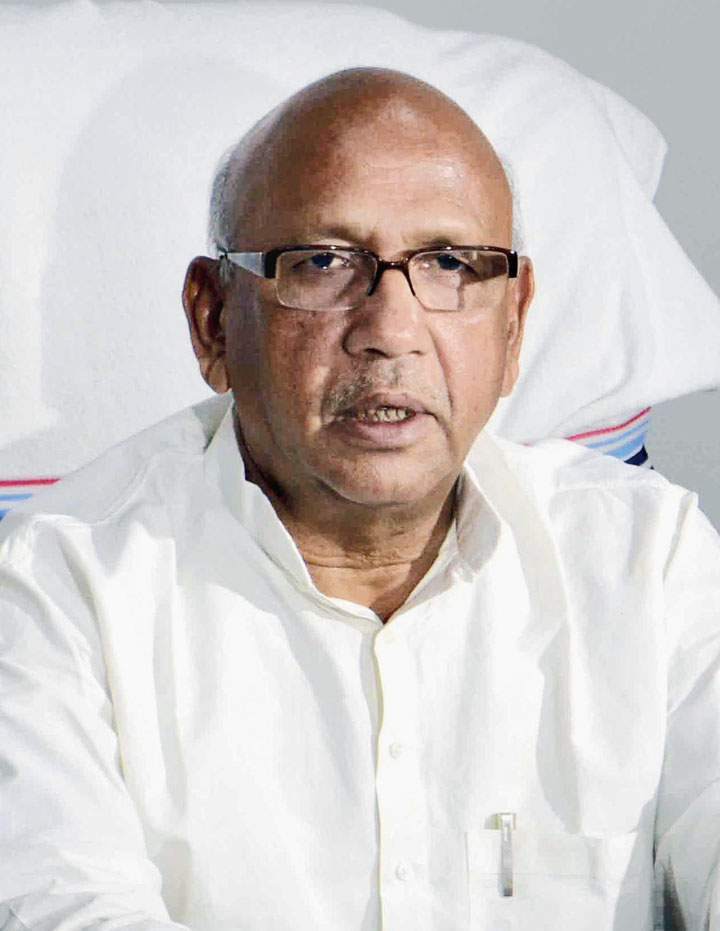 ---
|
Ranchi
|
Published 13.01.20, 08:44 PM
---
Former BJP state minister and independent MLA of Jamshedpur (East) Saryu Roy on Monday said he had talks with BJP leader Subramanian Swamy over possible legal action that Roy could take against current Jharkhand advocate-general Ajit Kumar.
As the chairman of Jharkhand State Bar Council (JSBC), Kumar on November 23, 2018, had passed a resolution against Roy, then a BJP MLA and cabinet minister in the Raghubar Das government, after Roy, in a letter to then CM Das, accused Kumar of acting against the state by suppressing facts in cases.
Kumar resigned as chairman of state bar council a fortnight back.
Das had ignored Roy's demand to remove Kumar from his post as advocate-general on the grounds that Kumar had been hired by the cabinet.
Roy's supporters pointed out the irony that Kumar was undermining the authority of a cabinet minister by passing a resolution against him.
But Kumar stayed on.
Roy, who spoke to The Telegraph over phone on Monday from Delhi, said he would fight a legal battle against Kumar and his resolution.
"In this context I met Swamy at his residence in Delhi and had fruitful talks. He introduced me to a senior Supreme Court lawyer Ishkaran Singh Bhandari and they both gave me legal advice that I will follow. I will fight till resolution against me is expunged. I will also pursue the case of professional misconduct against Kumar," Roy said.
Roy said Swamy and Bhandari advised him to move a fresh petition before the state bar council to withdraw the resolution against him within a timeframe. If state bar council fails to do so, Roy can move high court to get the resolution quashed and simultaneously approach the Bar Council of India. He can also file a defamation case against Kumar before Ranchi civil court. He can also move a petition against Kumar for professional misconduct before appropriate forums, Roy said, quoting Swami and Bhandari.
"I will explore all options at once. The chapter would have been closed had then chief minister (Das) removed Kumar from his post. Now I will take this battle to its logical conclusion," said Roy, who had stopped attending cabinet meetings when CM Das turned down his demand to remove Kumar as advocate-general of Jharkhand.
The problem started in 2018 when Roy in a letter to then CM Das alleged that Kumar as the chief law officer of Jharkhand was misguiding the government and working against state interest while representing two mining cases before the high court.
Roy had cited two instances.
In 2016 the government had cancelled 22 mining leases in Jharkhand including that of the Shah Brothers for violation of norms. Shah Brothers moved a petition before Jharkhand High Court. Roy alleged that during the hearing, Kumar who represented the state as additional solicitor general, suppressed facts before the court. Then secretary of mining, geology and environment department Uday Pratap Singh had also shot a letter to the government saying Kumar did not consult the department and acted against the state.
The second case of 2018 was also related to Shah Brothers when the state government imposed a penalty of Rs 250 crore on them. The company moved a plea before high court for judicial intervention to ensure payment of penalty in phases and got an order in its favour. Roy alleged that Kumar suppressed that fact before high court that the Supreme Court had ruled that penalty must be paid at one go.
Roy said that when he asked then CM Das to remove Kumar as advocate-general for professional misconduct, Kumar being the chairman of the state bar council called an emergent meeting of the bar council.
"He termed my initiative against him as an attack on advocates and prevailed upon the meeting to pass a resolution condemning me on November 23, 2018. The resolution was passed against me, JVM chief Babulal Marandi and then Congress chief Ajoy Kumar as they had also raised the issue of his professional misconduct. Neither Marandi nor Ajoy Kumar took any step against the resolution. But I will," Roy said.