RSS chief Mohan Bhagwat on five-day visit
He went straight to the residence of an RSS worker for his night stay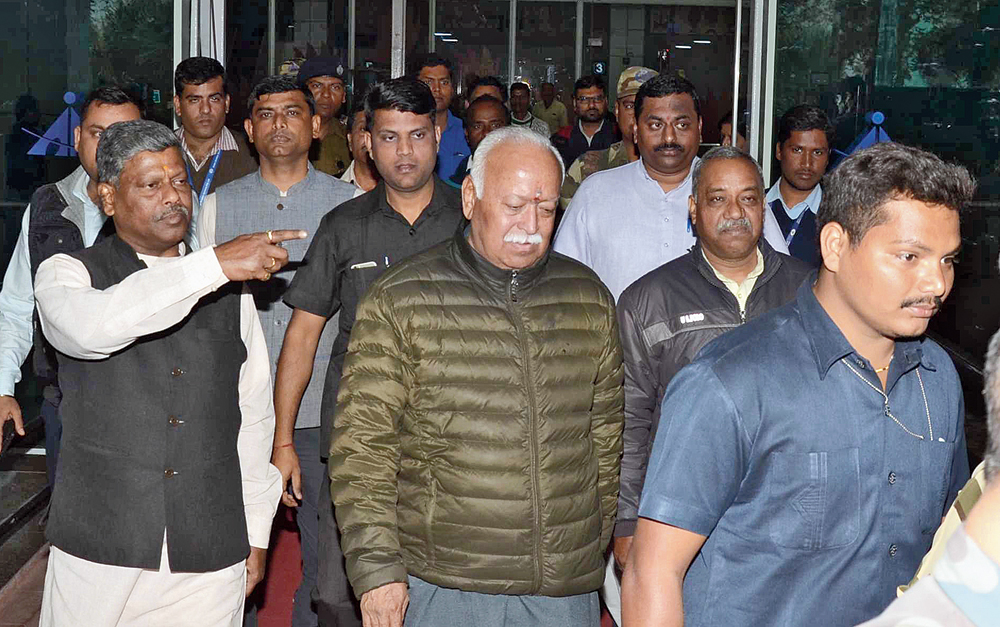 ---
|
Ranchi
|
Published 19.02.20, 06:50 PM
---
Rashtriya Swayamsevak Sangh chief Mohan Madhukar Bhagwat arrived in the state capital on Wednesday.
He is on a five-day visit to Jharkhand.
Bhagwat, who enjoys Z+ security cover by a special group of the Central Industrial Security Force (CISF) due to the threat perception against him, landed at Birsa Munda Airport on an IndiGo flight from New Delhi at around 5.25pm. He went straight to the residence of an RSS worker, Prem Agrawal, near Ranchi Lake in the city heart for his night stay.
He will participate in a gathering of RSS workers at the football ground of Dr Shyama Prasad Mookherjee University on Thursday at Morabadi from 7.30am to 9am. He is scheduled to address a meeting on the IIM campus from 11am to 12.30pm.
After that, he is to preside over a meeting of RSS workers at Maheshwari Bhawan from 3pm to 4.30pm.
From 6pm to 7.30pm, he will interact with grassroots workers of the RSS at the Darbhanga House auditorium.
On Friday, he will have meeting at the JSCA stadium in Dhruwa from 3.30pm to 5pm and then from 7pm to 8.30pm at Maheshwari Bhawan in Upper Bazar. On Saturday he will participate in another meeting at Maheswari Bhawan from 10am to 4.30pm.
The same day, he will leave the city at 5pm and reach Giridih by road via Ramgarh, Hazaribagh and Bagodar. There, he will stay the night at the residence of another RSS worker, Sanjeev Kumar.
On Sunday morning he will leave for Deoghar by road. On Monday, he will leave Deoghar for Durgapur via Sarath, Narangi Mor, Saharjori, Chitra, Jamtara, Mihimjam, Asansol, Raniganj, Andal.