Row over coal loading at BCCL's Kusunda area project site
Labourers backed by rival politicians, local land-losers cry foul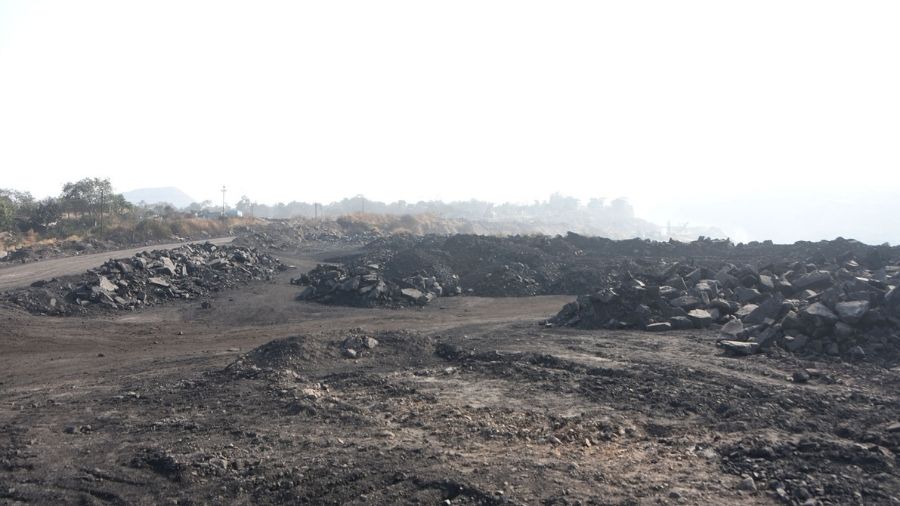 BCCL's Vishwakarma Project depot in Kusunda area of Dhanbad is deserted as coal loading operations have been suspended for a while now.
Picture by Gautam Dey
---
Dhanbad
|
Published 27.01.21, 07:33 PM
|
---
A continuing power struggle among groups of labourers supported by various politicians is affecting coal loading work at the Vishwakarma Project site of Bharat Coking Coal (BCCL) in the Kusunda area.
A group of project-affected people who were hit by disruption of manual coal loading since January 18, 2016, staged a demonstration at the site demanding resumption of the process on Wednesday. They have the support of former Nirsa MLA Arup Chatterjee.
Those opposing the resumption of coal loading work are supported by Guddu Singh, a nephew Dhanbad MP P.N. Singh, who is in favour of engaging outsiders.
Satyendra Chauhan, a local resident who took part in Wednesday's demonstration at the project site, said, "We have been working at coal loading sites of the project ever since its establishment in 2008. We were engaged by BCCL as project-affected people on account of land lost. But, we are sitting idle since manual loading was discontinued in 2018."
Chauhan, who is among those who parted with land for the project,  alleged that "muscleman" under the leadership of a local contractor were creating trouble at the site and demanding that outsiders loyal to them be engaged for loading work.
He said they have requested BCCL and the district administration to resume manual loading work several times.
"Although BCCL announced resumption of coal loading work from January 25, it was rescheduled to January 27. But it could not begin today (Wednesday) due to the lack of security arrangements. We expect to start work from Thursday," said Chauhan.
Suman Hansda, another local resident who took part in Wednesday's agitation, said, "We had given our land (to the project) hoping for a better future. But now we are caught between the devil and the deep sea… neither are we earning a livelihood now, nor are going to get back our land."
Dharm Kumar Roy, another protester, said they wanted immediate resumption of coal loading work.
Efforts to contact the GM of Kusunda area, V.K. Goel, failed as he did not answer his phone.