Robotics corner to pep up science centre in Ranchi
Ranchi Science Centre will soon boast of simulators, a robotics corner and open labs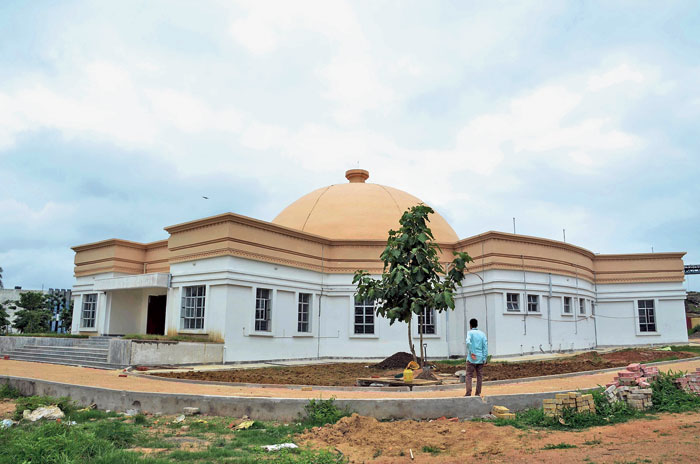 The planetarium at Chiroundi in Morabadi, Ranchi
Picture by Manob Chowdhary
---
Ranchi
|
Published 08.08.19, 08:57 PM
|
---
Ranchi Science Centre will soon boast of simulators, a robotics corner and open labs with the Union culture ministry having agreed in principle to help with major upgrades.

"We had a meeting with officials of National Council of Science Museums (NCSM), which is under the Union culture ministry. They have agreed in principle to upgrade and modernise the centre," said its director GSP Gupta.
The meeting comes in the wake of the state higher and technical education department writing to NCSM in Calcutta about upgrading Ranchi Science City at Chiroundi in the Morabadi area of the state capital.
The department will now have to submit a concept letter with modernisation plans to NCSM along with Rs 10 lakh. Thereafter, NCSM will start preparing a detailed project report (DPR).
Spread over 13 acres within the science city, Ranchi Science Centre was built at a cost of Rs 12.2 crore. It already has three permanent thematic galleries, a science park with several interactive exhibits on simple machines, sound, optics, pendulum and static models of prehistoric animals, a 3-D projector, auditorium, conference room and a science library.
It also houses a planetarium which is scheduled to be inaugurated later this month.
Science centre director Gupta explained that as per norms, a state science centre was eligible for upgrades if it has completed close to 10 years. "We are eligible as the Ranchi centre has been operational since November 2010," he said.
Ranchi Science Centre, designated category-I based on the city's population, is eligible for upgrades to the tune of Rs 5 crore.
Gupta said they were in the process of sending a concept letter to NCSM along with the requisite fee of Rs 10 lakh. "After getting the concept letter, NCSM will prepare a DPR about the upgrades. The cost would be shared 50:50 by the state and Union governments," he said.
The upgrades mean Ranchi Science Centre would be able to display digital panoramic thematic presentations based on scientific topics. It would also be able to host open labs on science and technology for residents and students to experience. It would have more exhibits, an outdoor amphitheatre, digitally recreated archaeological sites, simulators and interpretation centres with 3-D facility.
These additions, coupled with the planetarium that is coming up, is sure to make the centre a lively and interesting place for lovers of science to visit.
"The planetarium was completed last month by NCSM. It has a projector that uses latest hybrid technology for better viewing of planets in the solar system, galaxies, stars, nebulae and the Milky Way in the outer space. It will be inaugurated any day in August once state education minister Neera Yadav gives us time," said a senior official of the centre.
Gupta claimed that work on the upgrades would start in a few months but refused to provide a timeline.
"We are determined to push things from our end. It won't take much time for NCSM to prepare a DPR since it already has formats. We expect things to start soon," he said.