Ranchi mayor stages protest against water tax hike
Federation of Jharkhand Chambers of Commerce backs demand to withdraw govt order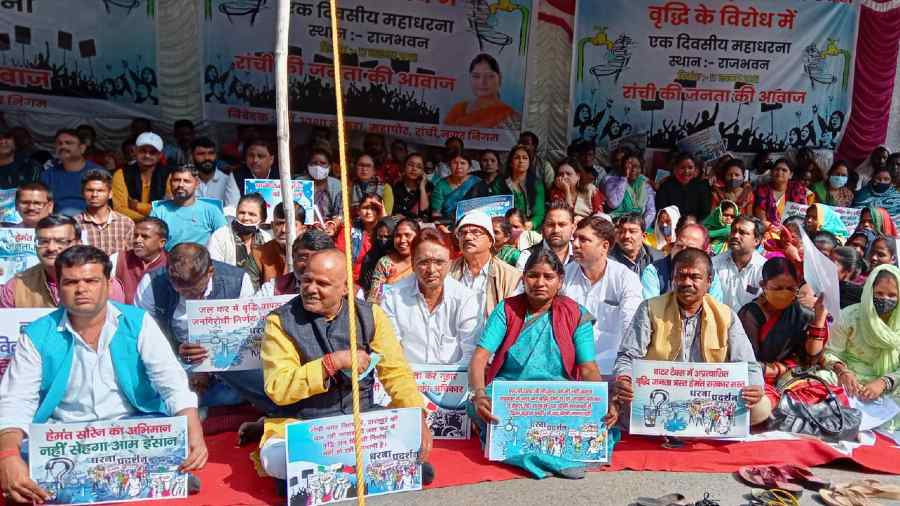 Ranchi Mayor Asha Lakra, ward councillors and BJP workers protest against the hike in water tax and connection charges near Raj Bhawan in Ranchi on Wednesday.
Sourced by the correspondent
---
Ranchi
|
Published 17.11.21, 08:43 PM
|
---
Ranchi Mayor Asha Lakra and several civic body representatives of Ranchi staged a protest near Raj Bhawan on Wednesday against a hike in water tax and water connection charges imposed by the Hemant Soren-led coalition government in Jharkhand.
Lakra accused the government of hiking water tax despite the Ranchi Municipal Corporation (RMC) unanimously deciding against it. She handed over a memorandum to Governor Ramesh Bais demanding withdrawal of the changed water tax and water connection rates at the earliest. 
"The government went ahead with revising water tax and water connection charges despite RMC representatives deciding against it. The government should withdraw its orders related to water tax hike at the earliest or be ready for a mass movement against its dictatorial policy," said Lakra, urging Ranchi residents to protest against the government's decision and refrain from paying additional charges.
According to the latest decision, water connection charges have been hiked by about 14 times, while water tax has been increased by 50 per cent. Residential consumers will have to pay Rs 7,000 for a water connection. Earlier, the water connection charge was Rs 500 across Jharkhand, said Lakra.
Lakra said that earlier residential consumers had to pay Rs 6 per kilolitre of drinking water, and now, people would have to pay Rs 9 per kilolitre. For the use of more than 50,000 litres  of water, the rate of Rs 10.80 per kilolitre will have to be paid.
Ranchi MLA C.P. Singh (BJP) also extended his support to the protest, and termed the hike in water tax "anti-people". Water, he said, was the right of all the residents of Jharkhand, and charging such "exorbitant" money from local residents was unbecoming of the government.
"Many households in the state do not even have water connection. At a time when the government should focus on ensuring water supply to every household, it is mounting pressure on the residents to pay extra tax for using water," said Singh.
He said protest against the government's decicion woudl escalate and urged residents to join the fight and force the government to withdraw its decision.
Jharkhand's largest trade body, the Federation of Jharkhand Chamber of Commerce and Industries (FJCCI), also questioned the decision of the state government. "The water supply infrastructure in the state is weak. The government should first take steps to expand the water supply lines and improve its infrastructure," a statement from the trade body said.