Ranchi mayor launches two buses for women only
Pink buses to ply between Kutchery Chowk via Main Road to Birsa Chowk for now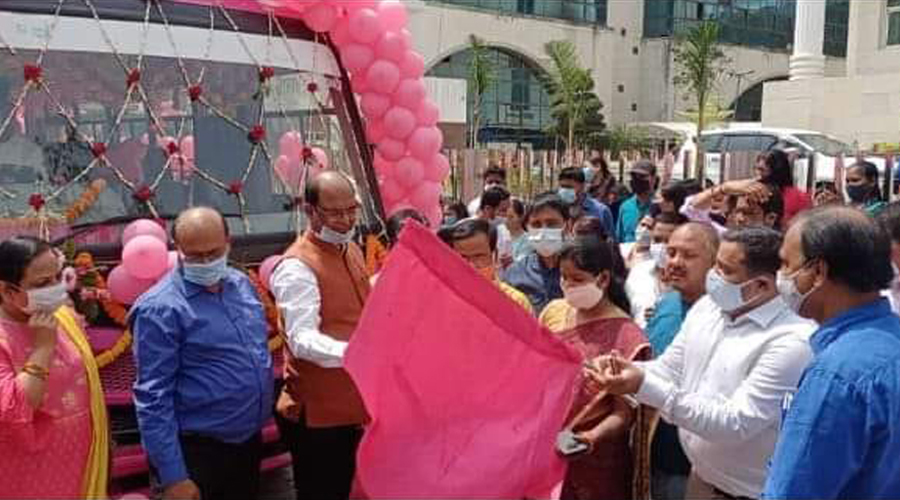 ---
|
Ranchi
|
Published 19.03.21, 04:43 PM
---
Ranchi mayor Asha Lakra flagged off a pair of buses meant for women commuters only on Friday in the presence of a host of officials, including deputy mayor Sanjeev Vijayvargia and town commissioner Mukesh Kumar, at the municipal corporation headquarters on Kutchery Road.
Speaking on the occasion, Lakra said that while RMC had launched similar services about two years back, it di not succeed due to various issues. But the latest fleet of "Pink buses" was here to stay this time, she promised.
"Today, we are launching two buses that will be reserved exclusively for women passengers. Unlike the last time, we have made certain changes in the mode of operations to run the service. This time, except the driver, all other staffers on the bus will be women. Since pink represents women, we have painted the bus with this colour. Bus personnel too will be dressed in uniform of the same colour," said Lakra.
The two buses will initially run between Kutchery Chowk via Main Road to Birsa Chowk, a distance of about 10 km. Tickets cost Rs 5 only. Lakra asked RMC officials to ensure that the bus service did not face any trouble and that the women-nly rule was enforced strictly.
"Earlier, this service failed to evoke much response because bus personnel often allowed men to board the bus to make extra money. As a result, many women were put of. Such problems won't occur this time," she said, adding that the RMC had plans to increase the fleet of pink buses to 10 in the coming days.
A few women passengers who took the bus on Thursday hailed the decision. "Rs 5 from Birsa Chowk to Kutchery or visa-versa is very economical as neither e-rickshaws or autos can offer such cheap rates. Students will find it a safe travel option too," said Rakhi Murmu, a first-year intermediate student of Ranchi Women's College.