Ranchi man's petrol bunk plea to minister Dharmendra Pradhan
Union petroleum minister 'noted the suggestion' to 'make petrol pumps cyclist-friendly and to make a cycling conducive ecosystem in India'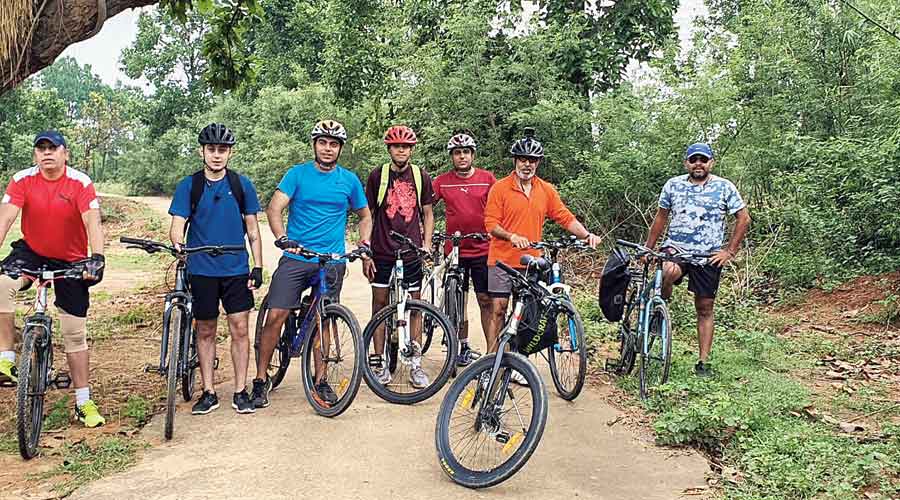 Participants of a cycling event organised by cyclists' club in and around Ranchi
Manob Chowdhary
---
Ranchi
|
Published 17.05.21, 12:13 AM
|
---
The petrol bunks of the country that facilitate filling air in the tyres of two and four-wheelers free of cost at present may also offer the same facility to cycles soon.
This became a possibility when Union petroleum minister Dharmendra Pradhan, in a tweet on Friday evening, "noted the suggestion" of a Ranchi man and also assured that "we are committed to make an infrastructure inclusive and accessible to all".
The minister was replying to a tweet of Kanishka Poddar of Ranchi who had urged the minister on May 12 "to make petrol pumps cyclist-friendly and to make a cycling conducive ecosystem in India" and also attached an open letter addressed to him.
Poddar, 38, was appointed the cycle mayor of Ranchi by BYCS, an Amsterdam based organisation that promotes cycling, in 2019.
In his letter to the minister,  Poddar pointed out that people across the globe find solace in cycling during the Covid-induced pandemic as it helps avoid crowded transport systems and, as such, cycles are found in more number on roads these days.
Even WHO recommends use of cycles to commute as it also ensures social distancing, he added in his letter addressed to the minister.  
"Petrol pumps across India have mandatory air-filling stations where people can drive in with their vehicles and get air filled free of cost," Poddar wrote to the minister, urging him to make petrol pumps cyclist-friendly also.
There is, however, a little problem but that can also be solved easily, Poddar argued.
For filling air in the tyres of cycles that are used in India, three different kinds of nozzle — Dunlop, Presta and Schrader — are used. Petrol pumps of the country normally use Schrader nozzles, he informed, adding the problem can easily be solved by using a converter that is available in the market at a very nominal cost.
Many including Lt-Gen H.S. Panag, an avid cyclist, Bhairrvi Joshi, BYCS CEO in India and Santhana Selvan and Akhtar Arshie, cycle mayors of Hyderabad and Guwahati respectively, also supported Poddar's claim.
"I'm hopeful something would be done as the minister assured they wanted to make the infrastructure inclusive and accessible to all," Poddar told this newspaper when asked about the minister's reply.