The anti-terrorist squad (ATS) of Jharkhand police have detained three persons for questioning after joint raids with city cops on Tuesday night unearthed 10,000 SIM cards, besides a number of SIM boxes, from two houses in Kantatoli and Kanke.
A SIM box — also called a SIM bank — is a device used as part of voice communication (VoIP) gateway installation. It contains a number of SIM cards that are linked to the gateway, but housed separately. A SIM box can have SIM cards of different mobile operators installed, permitting it to operate with several GSM gateways in different places.
In other words, SIM boxes come in handy for sending bulk messages or committing cyber fraud. It can camouflage international calls as local ones to cheat service providers.
Sources in ATS said the SIM cards were all issued in the name of one Javed Ahmed based in Delhi. According to police insiders, 90 per cent of the SIMs belong to Airtel. They were procured through two employees of the service provider, named by those detained as Abdul Jamid and Purushottam. The SIMs were apparently activated from Airtel's Patna office. They may have been used in rumour-mongering.
City SP Aman Kumar, who was part of the crackdown, said the raids started around 9.30pm from a flat at Hasiba Enclave in Kantatoli and covered another at Bhitha locality in Kanke. Owner of the Kantatoli flat said he had rented it out to one Ashraf.
The trio being grilled are in the age group of 25 to 35 years and are said to be employed by Javed Ahmed. They have claimed that they were not doing anything illegal and that their company was registered. Police have refused to divulge their names and other details for the sake of investigations.
"I am not sure what the three were doing with such a huge number of SIMs and SIM boxes. They claim to be employees of a company called One Excel, which works for business promotion of shops and brands by sending bulk messages. Ranchi police were part of the raid, but the case is being investigated by the ATS," said SP Kumar.
Superintendent of ATS P. Murugan said they were probing how an individual was issued so many SIMs.
"We are quizzing three persons who have been detained. They insist that they run an authorised bulk messaging service. That means their company must be registered with TRAI. But, they have failed to produce any document so far," Murugan said.
Airtel nodal head (Bihar-Jharkhand) Sandeep Sahay said they came to know of the raids through newspapers on Wednesday. "I am not aware of the exact nature of the case and can't give any conclusive statement. The matter will be looked into by the marketing department. We have not received any communication from police seeking any details or documents so far. We will extend all co-operation needed," he added.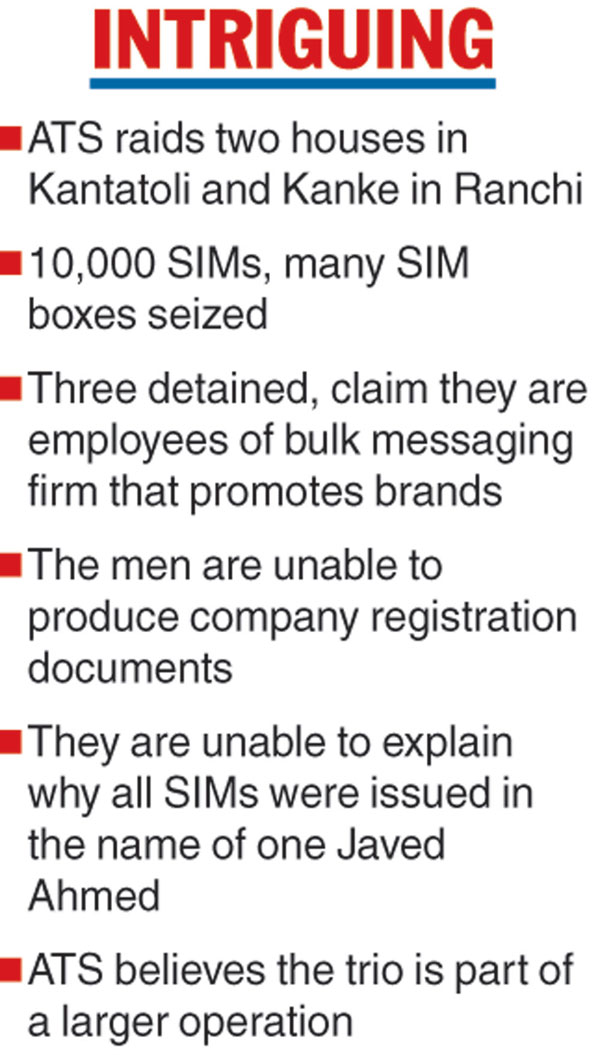 The Telegraph