Outdoor patients in the capital suffered on Wednesday as OPD services at private and government hospitals stayed suspended due to the doctors' nationwide strike against the National Medical Commission Bill 2019 passed in the Lok Sabha on Monday, which doctors claim will legitimise quacks in the country.
The 24-hour national protest, called by the apex body representing the country's medical fraternity Indian Medical Association, started from 6am on Wednesday with the withdrawal of non-essential services. Emergency, trauma, ICU and related services were outside the ambit of the strike.
In Ranchi, as well as elsewhere in the country, poor patients seeking OPD services at government hospitals faced the brunt of the strike.
At the state's largest government-run Rajendra Institute of Medical Sciences, nearly 200 poor patients, many from outside Ranchi and districts of Jharkhand, had come on Wednesday. They did not know anything about the strike. On an average, over 500 people come to RIMS OPD every day.
Amar Nath Dubey, 62, who came from Baijnathpur in Deoghar to get his post-surgical check-up, said the strike was a big financial blow. "I met with an accident on February 7 and had a surgery at RIMS the same month. My doctor called me a month ago and again today (Wednesday) to the OPD for post-surgical check-up. I've come spending Rs 16,000 on a private vehicle as I am in no position to take buses or trains, but the OPD is closed. It means I have to stay in Ranchi, an added expense," Dubey said.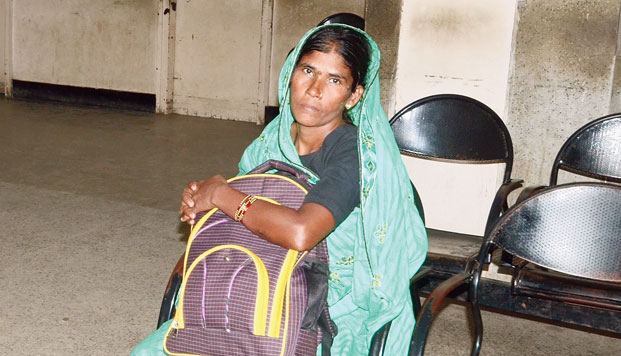 Malti Devi, a patient from Gumla, waits for a doctor. Picture by Prashant Mitra
Four-year-old TB patient Arvind from Chandankyari in Bokaro, who came for a consult at RIMS with his grandparents, slept outside the OPD, as the elderly couple worried about where to stay the night.
At Sadar Hospital, poor people from across the capital and nearby localities who turned up for free treatment at the OPD, had to leave. "I am suffering from toothache," said Salia Khatoon, who came from Brambe to Sadar Hospital. "I was asked to come tomorrow (Thursday)." Usha Devi from Hatma, who came for a pregnancy-related test, said the same. Seven-year-old deaf-mute Raja from Dhanbad came with his grandparents to obtain a disability certificate. His grandfather, mason Ramchandra Sah rued he did not know about Wednesday's strike.
District civil surgeon Dr Vijay Bihari Singh said outdoor patients at Sadar Hospital needing immediate attention were treated at the emergency ward that was open.
RIMS director Dr D.K. Singh did not reply to calls. President of RIMS Junior Doctors' Association Dr Ajit Kumar said they were compelled to strike work to "save medical science." Through the National Medical Commission Bill, the central government is taking a step that will transfer medical science in the hands of those who have not studied medical science. The new system will promote quacks. This will affect the poor the most," Dr Kumar said. "However, all emergency services were exempt from the strike."
On its website, the IMA has alleged that "Section 32 of the NMC Bill provides for licensing of 3.5 lakh unqualified non medical persons to practise modern medicine".
It claimed the new bill vaguely defined the term "community health provider", thereby allowing persons without medical training to practise and prescribe independently. If the bill comes in force, the quality of healthcare services will fall drastically, the doctors fear, calling the bill "draconian", "anti-people", "anti-poor" and "anti-students".
OPD open
Dhanbad: OPD services largely stayed open at state-run Patliputra Medical College and Hospital on Wednesday. IMA state president, Dr A.K. Singh said they were "totally against the National Medical Commission Bill" but decided to let OPD services function to help the poor.