Ranchi district hospital to get 200 special O2 masks for children
Jharkhand govt setting up ICU beds for kids in apprehension of a third wave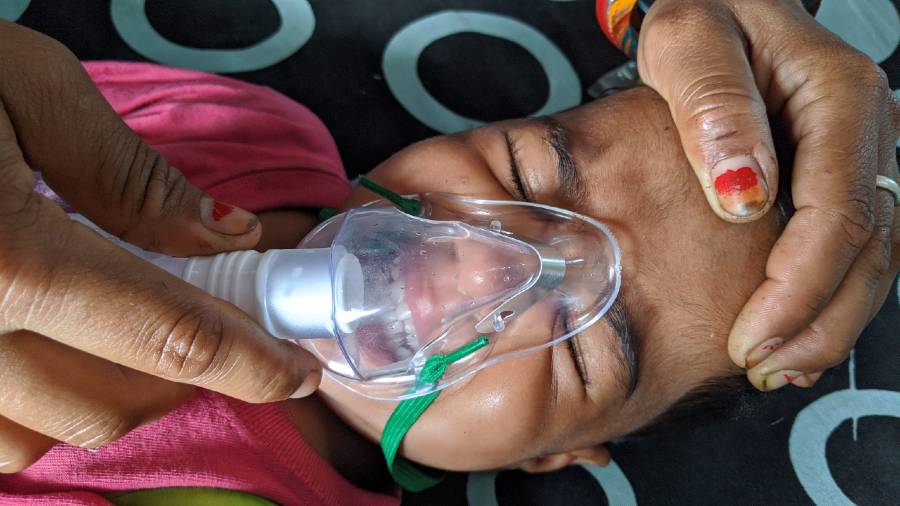 ---
Ranchi
|
Published 05.07.21, 06:08 PM
|
---
The Ranchi district administration has placed an order for 200 special oxygen masks for infants and children in a bid to be ready for a third wave of Covid-19 and provide timely breathing assistance to patients who suffer from Covid-induced hypoxia, health officials said on Monday.
Ranchi civil surgeon Dr Vinod Kumar said that the oxygen masks ordered were smaller in size and had smaller nasal cannula. Each oxygen mask also had a different cuff for monitoring blood pressure and heart rate of the patient, he added.
"Infants and young children have smaller faces than adults, so we cannot use the usual oxygen masks available in the hospital in case a child needs breathing assistance," said Dr Kumar, adding that the freshly-procured oxygen masks will be used in the Paediatric Intensive Care Unit (PICU) and Neonatal Intensive Care Unit (NICU) of Sadar Hospital in the state capital.
These oxygen masks would be used for children in the age bracket of zero to eight years, said the civil surgeon, claiming that children older than eight years may require oxygen masks used for adults depending on various factors. 
This development comes close on the heels of an infant's death, reportedly triggered by Covid-19. Sources in the department said that a five-month-old baby died of SARS-CoV-2 infection in Ranchi on Sunday. However, there was no official confirmation of the death by the time this report was filed.
An expert committee of doctors constituted by the state government has predicted that around 7 lakh of the 1.43 crore population in the age bracket of 0 to 18 years may get affected by Covid-19 in the third wave. While 2.86 lakh of the patients are feared to be symptomatic, about 8,610 of them may show severe symptoms and need intensive care, the committee has predicted on the basis of trends across the world and in India.
The Hemant Soren-led government in Jharkhand has also started the process of setting up 1,000 ICU beds for children in a bid to prepare for a third wave of Covid-19. At least 500 of these ICU beds would be set up in private hospitals and the remaining 500 in government healthcare facilities.
The state has been seeking guidance from experts in India and abroad to prepare a roadmap for tacking a third wave of Covid-19 and strengthen the health infrastructure for the same. So far, the state has held virtual meetings with doctors from the USA, World Health Organisation (WHO) members, health experts from reputed Indian institutions and various other stakeholders.