Rakhi pledge to protect trees in East Singhbhum
Jamuna Tudu organised the programme with over 1,000 members, mostly tribal women, of the Van Suraksha Samity at the forest in Chakulia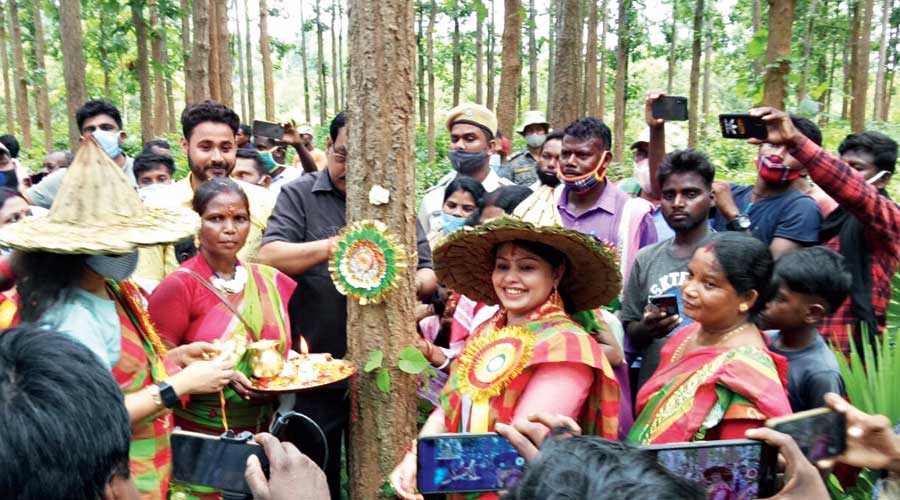 DFO Jamshedpur Mamta Priyadarshi (wearing a hat made from sal leaves) and Van Suraksha Samity groups tie rakhis on a Sal tree at Sunsunia forest in Chakulia, East Singhbhum, on Saturday
Bhola Prasad
---
Jamshedpur
|
Published 23.08.21, 12:52 AM
|
---
Environmentalist Jamuna Tudu and members of the forest security committee formed by her tied rakhis to over 1,000 sal trees at Sunsunia forest in East Singhbhum district of Jharkhand and took a pledge to protect them from the timber mafia on Saturday.
Tudu, 40, who received the Padma Shri in 2019, had organised the programme with over 1,000 members, mostly tribal women, of the Van Suraksha Samity at the forest in Chakulia, nearly 200km from capital Ranchi and bordering West Midnapore district of Bengal.
"We have been organising a similar programme in the forest for the last few years. But this year we had the highest turnout of samity members as they came from all the six Assembly constituencies of East Singhbhum district and took a pledge to protect the trees from being felled by the timber mafia," said Tudu, who was also selected among 100 women achievers by the President and felicitated at Rashtrapati Bhavan in 2017.
The Assembly constituencies — Jamshedpur East, Jamshedpur West, Bahargora, Ghatshila, Potka and Jugsalai — fall under East Singhbhum which has over 30 per cent area under forest cover, according to a forest survey report of 2019.
The Van Suraksha Samity formed in 1998 in Chakulia by Tudu now has over 400 women members in the district, including from Bahargora, Ghatshila, Potka, Patamda and Dhalbhumgarh. Similar samitis have been also formed in other districts like Dumka, Giridih, Godda and Pakur  also.
Born in Odisha, Tudu settled in Muturkham area under Chakulia block of East Singhbhum district after marriage. Surrounded by 50 hectares of forest land, Muturkham was plagued by the forest mafia and poachers before she decided to take up the cause of protecting the natural wealth.
"In the initial days the members had to do patrolling from morning to late evening in the forest areas of Beladih, Madhupur, Laubera, Dhalukdingha, Baraghat and Muhulbera. However, with the passage of time and continuous efforts on the part of our samity to educate villagers about the importance of forests and resisting the timber mafia, tree felling has almost stopped in the area. But we still carry out random patrolling in the area," said Tudu.
Jamshedpur divisional forest officer Mamta Priyadarshi, who was the chief guest during the programme and also tied rakhis to sal trees, appreciated the efforts of the forest security committees.
"The samitis are doing a good job in stopping tree felling and also preventing forest fires. We would continue to extend our cooperation to the samity members for their effort," said Priyadarshi.