Pollution funds go waste, machines lie unused as air turns foul in Dhanbad
Dust sweeper lies idle, not used for days; authorities claim devices need servicing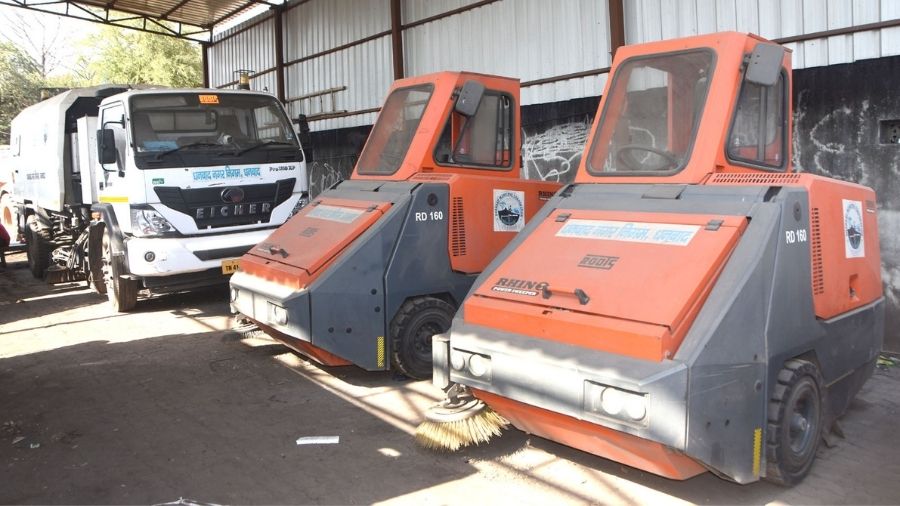 Dust sweeping machines lie unused at the Dhanbad Municipal Corporation's Hirapur Compactor Station on Thursday.
Picture by Gautam Dey
---
Dhanbad
|
Published 04.03.21, 06:28 PM
|
---
Dust sweeping machines and other existing resources of Dhanbad are lying unused even at a time when residents of the district are facing acute pollution due to rising PM 10 levels in the air.
Funds worth Rs 10 crore, provided under the National Clean Air Programme (NCAP) in 2019 to procure machinery for controlling air pollution, are also lying unutilised. Nothing has been done with this money apart from buying two water sprinklers worth Rs 50 lakh each in February.
The Central Pollution Control Board has also sanctioned an additional fund worth Rs 50 crore so that the Dhanbad Municipal Corporation can buy other machines like the Continuous Ambient Air Quality Monitoring System.
Meanwhile, the DMC has been sending utilisation certificates of old machines purchased under some other fund in the name of the NCAP allocation.
Process to start paver blocking of roadsides, procure other devices has not yet been initiated as per plans of the district environment management committee. Hubban Mallick, Director of Pay and Clean service, which is looking after the operation and maintenance of the five dust sweeping machines, said that they have been operated for less than seven months over the last one and half years.
"We had resumed their operation in November after eight months, but in February we were asked to stop carrying out the process. No official reason was given for this. Any halt in work requires a lot of investment as the machines develop technical problems. We have also received only Rs 30 lakh out of the total bill of Rs 60 lakh from November to February."
Assistant engineer of DMC Uday Kumar Kachhap said the process has been stopped for servicing of the machines.
"We purchased two water sprinkler vehicles and will be procuring other machines when more funds arrive," he added.
Jharkhand State Pollution Control Board member Rajiv Sharma accused the concerned authorities of lacking vision in controlling pollution.
"A proper road map for improving the pollution scenario should be prepared in order to make best utilisation of funds and resources. Innovative steps like installation of air filtration plants as done in Shanghai in China should be taken. I will write a letter or two to the JSPCB regarding this," he said.