Police action ensures compliance in Dhanbad
The proper lockdown came into effect around 11am after police swung into action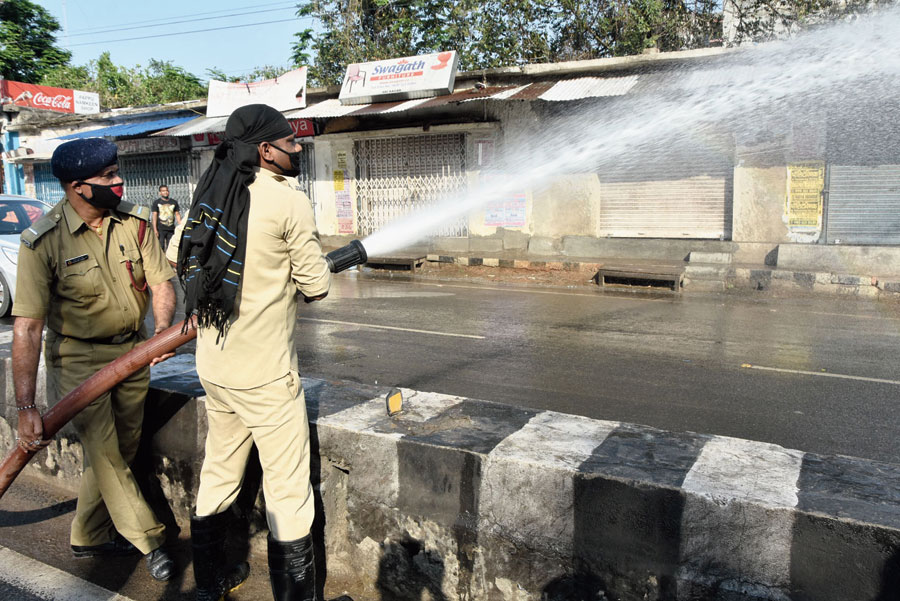 A sanitisation drive underway at Bartand in Dhanbad
Picture by Gautam Dey
---
Dhanbad
|
Published 23.03.20, 08:39 PM
|
---
Residents of the coal town have gradually started abiding by the lockdown norms, after the cops tightened screws.
On Monday morning, people came out of their homes in large numbers after Sunday's Janata Curfew as many of them were unaware about the lockdown imposed by the state government. Public transport like auto-rickshaws also plied on the roads.
The proper lockdown came into effect around 11am after police swung into action. Auto-rickshaw drivers were forced to stop plying with strict instructions.
The police also carried out announcements over microphone at various places, apprising people about the details of the lockdown and instructing them to remain indoors as much as possible and venture out only for purchasing essential items and emergencies.
Panic buying also led to shortage and prices of several items, including vegetables, shot up. Potatoes were selling at Rs 26 per kg, up from Rs 16.
Dhanbad sub-divisional officer Raj Maheshwaram visited vegetable markets including Bartand, Hirapur, Police Line, Purana Bazar and warned vendors that strict action would be taken against if they not charge higher rates than usual from customers.
Maheshwaram also a held meeting with the members of Chemist and Druggist Association and instructed them to ensure supply of all medicines, masks and sanitizers.
Members of the association assured that they would ensure regular supply of medicines if vehicles carrying the medicines are allowed unhindered entry by police.
'We will not allow any hoarding of essential items and food products and strict action would be taken against those resorting to hoarding," said Maheshwaram.
Deputy Commissioner Amit Kumar held a meeting with senior officials of district administration and police, senior superintendent of police Kishore Kaushal, after which the DC said magistrates will be deputed across the district to ensure proper implementation of lockdown rules.