Pay up if caught in the jungles
State's own lady Tarzan takes fine route to save trees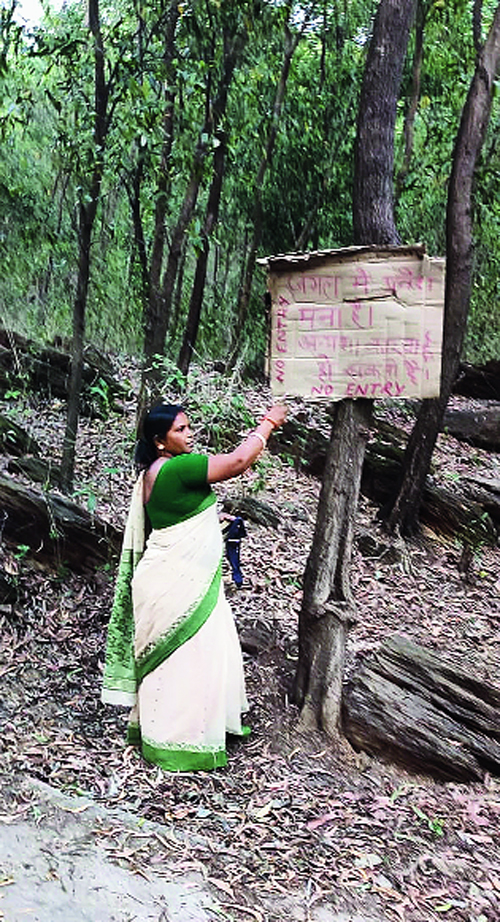 ---
---
Venture out into the jungles and be ready to cough up a fine of Rs 5,001.
That's the idea green crusader and Padma Shri recipient Jamuna Tudu — or Lady Tarzan as she is famously known — has come up with to prevent tree felling in the jungles under Chakulia forest range in East Singhbhum.
Posters informing villagers about the fine have come up at different jungles, including the ones at Sunsunia, Beladih, Madhupur, Laubera, Dhalukdingha, Baraghat and Muhulbera.
Jamuna said over phone from Muturkham in Sonahatu panchayat that tree felling has somewhat stopped in Laubera, Sunsunia and Madhupur as villagers now fear venturing into the jungles.
The menace of tree felling has stopped for the past three days since villagers don't want to pay fine, she said.
The villagers are aware that entry to jungles is prohibited. However, the illegal act is going on in some other jungles. But tree felling would stop in other jungles as well, she hoped.
"Fear of paying fine would deter villagers to enter the jungles," she said.
On what step they would take if a villager doesn't pay the fine, the environmentalist said the person will be handed over to the forest patrol.
"We are determined to prevent jungles from losing the green cover.
The jungles under Chakulia are sal-rich and it is our duty to save them from getting robbed," Jamuna said.
Women members of the Van Suraksha Samity led by Jamuna roam the jungles, armed with sticks, to keep a watch on tree felling.
The women are fearless and don't hesitate to chase men who are found cutting trees. However, even women are often involved in tree felling.
The Samity members caught two persons involved in tree felling before handing them over to foresters last week.
According to Jamuna, the nationwide lockdown has made villagers jobless, compelling them to target trees for livelihood.
"The Samity understands the compulsion of villagers. But that does not mean you target trees," she said.
She said members of the Samity in other districts, including Dumka, are also keeping vigil in forests to stop tree felling.