12-year-old girl found pregnant in Palamau district
She was rescued in February along with nine others from the group in Garhwa after a raid by district childline representatives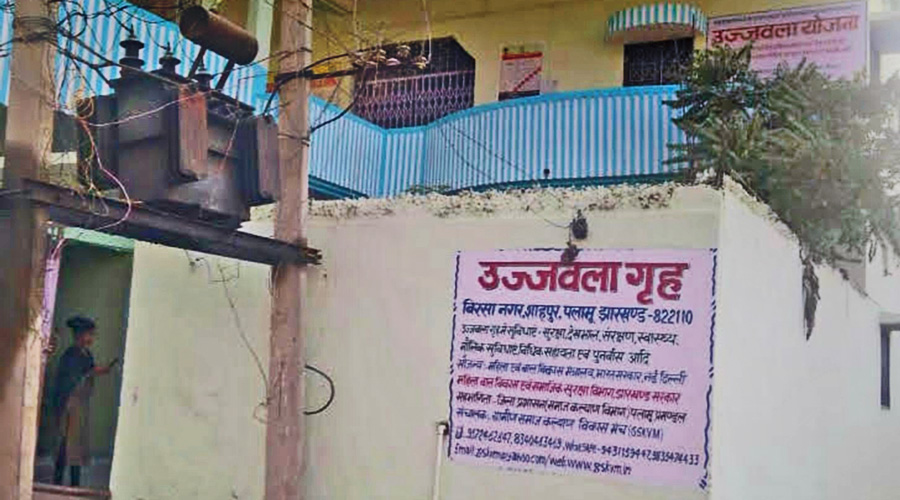 The Ujjwala Griha where the minor pregnant girl was being kept at Palamau.
Shabbir Hussain
---
Jamshedpur
|
Published 06.03.21, 12:21 AM
|
---
Rescue of a 12-year-old girl of Jharkhand's Palamau district with two-month pregnancy working in an orchestra unit at neighbouring district of Garhwa in February has exposed the sexual exploitation of minor girls in the garb of performance during public and private functions through the orchestra groups in the state.
The 12-year-old girl was rescued in February along with nine others from an orchestra group in Garhwa after a raid by the district childline representatives — Roma Keshri and Rahul Kumar — and district child protection officer Ashok Nayak. But after a medical test of the girls, the 12-year-old girl was found pregnant.
"We have found during questioning and counselling of the girls that the orchestra group was run by two partners Upendra Choudhary (from Palamau) and Gorelal Choudhary (from Garhwa). They used to employ mostly orphan girls and widows in their orchestra group.
"We were surprised at the medical report of the girl in which she was found to be pregnant. We have submitted a report to the Garhwa deputy commissioner Rajesh Kumar Pathak for necessary action. We have sent the girl to the shelter house in Palamau as she was a native of that district," said chairperson of child welfare committee, Garhwa, Upendra Nath Prasad.
The girl is at present staying at the Ujjwala Griha (a state-owned shelter house for girls and women in distress) in Palamau. Surprisingly, even after so many days the proprietor of the orchestra group are still scot-free.
"We are providing legal aid and counselling to the girl at the Ujjwala griha. Since the Garhwa district does not have any such shelter house they have transferred the girl to us. It is for the Garhwa district administration to initiate legal action against the culprits and owners of the orchestra group," said Palamau deputy commissioner Shashi Ranjan. Garhwa deputy commissioner Rajesh Kumar Pathak promised action.
"We have got the report and will take statements of the victim girl before magistrate as per legal norms and then take action against the culprits. We will not spare anyone who is involved in such activities," said Rajesh Kumar Pathak.
Upendra Nath Prasad said that the arrest of the two partners of the orchestra group would reveal the kingpin involved in the activities.
"It is only after the arrest of the two can we know the real kingpin behind such activities forcing minor girls in flesh trade," said Upendra Nath Prasad.
Palamau district child protection officer Prakash Kumar said that a total of five girls, all minors have been kept in the Ujjwala Griha in Palamau.
"There are five girls kept in the Ujjwala Griha, out of which three are from Palamau and two are from Garhwa. Only one girl is pregnant," said Prakash Kumar.