Opposition grills Jharkhand govt over hunger "deaths"
Govt claims to have sanctioned Rs 10,000 to all mukhiyas as contingency fund to help deal with hunger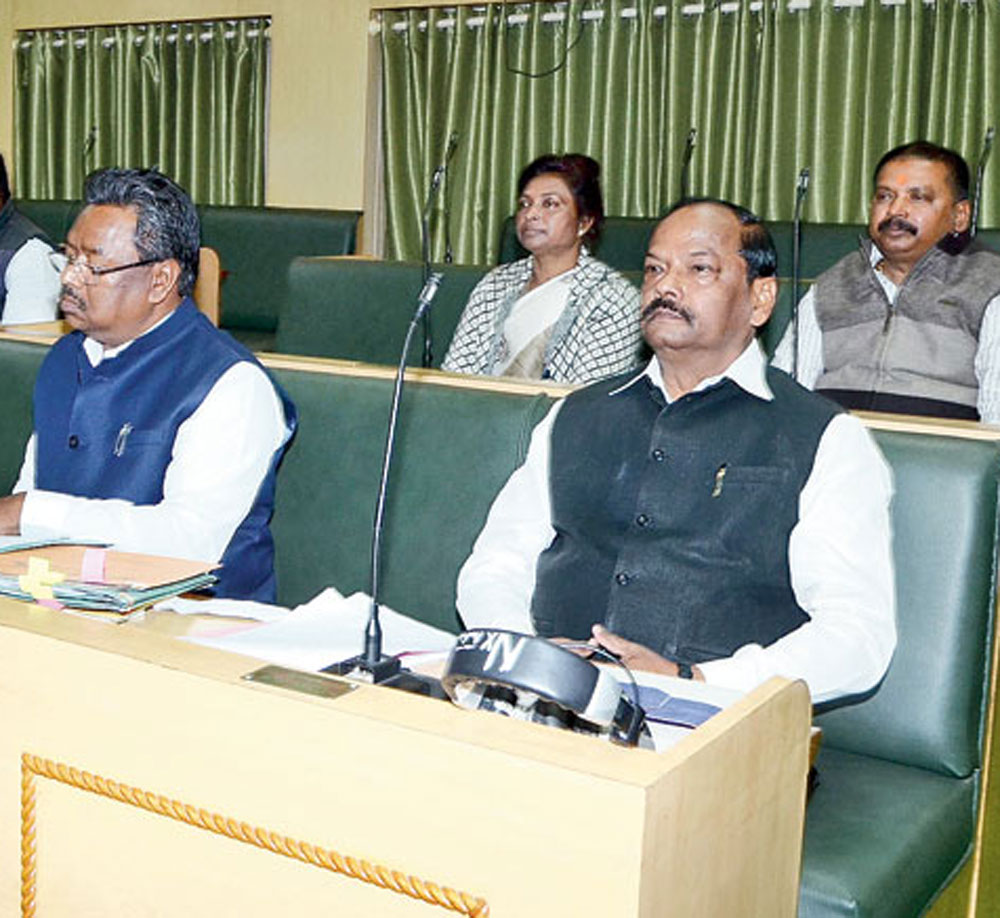 ---
|
Ranchi
|
Published 04.02.19, 06:34 PM
---
Opposition members, including those from the Congress and JVM, grilled the government in the Assembly on Monday on poor health indices and sought details on steps taken to prevent hunger deaths.
"Jharkhand holds 29th rank among states and Union territories in poverty eradication and the fight against hunger. On the good health index, Jharkhand is in 23rd position," said Congress MLA Sukhdeo Bhagat, who was backed by the JVM's Pradeep Yadav.
Bhagat claimed the state government was running away from its responsibilities when land and revenue minister Amar Kumar Bauri sought to explain the government's position.
"We accept the fact (about poor rank). But at the same time, I want to say that the government has been taking several initiatives. So far, 86 per cent of the population of Jharkhand has been covered under the Food Security Act. But some people politicise deaths and term them as hunger deaths. They cry only after death takes place which they call hunger death," Bauri said, alluding to food activists who have been aggressively following the issue.
The minister, who was explaining the government's reply that had come from the planning and finance department, said the government had sanctioned Rs 10,000 to all mukhiyas as contingency fund to help such persons and/or families.
"A hunger death is one of the most painful things for a government when there is no scarcity of food grains," he said.
JVM MLA Yadav supported Bhagat and raised the issue of Mahendra Besra, an under-trial in Godda district, who died in October last year while being treated.
The MLA demanded compensation for his family and said that since Besra died an unnatural death there should be a high level inquiry.
The state government noted it was seriously considering legislation to ensure protection of journalists.
"We are contacting the Maharashtra government to provide us copy of the act it has formulated. We are concerned about safety and security of journalists," said parliamentary affairs minister Neelkanth Singh Munda in response to an appeal by BJP MLA (Bokaro) Biranchi Narayan.
Noting that journalists were vulnerable owing to the inherent risks of the profession, the MLA told the Assembly that last year, as many as five journalists had been murdered in Jharkhand.
"They are the fourth pillar of democracy. They work with full dedication to serve society and expose corruption. They always face adversities. So, they need protection," he said, and referred to the murder of a journalist in Chatra last year.
"The government took quick action and arrested all the accused. It paid compensation to the family of deceased.
But there must be a law for journalists protection," Narayan said.
He pointed out that Maharashtra, Haryana, Kerala and Chhattisgarh already had a law for the protection of journalists. And till such time the Jharkhand government was able to get a copy of the act from the Maharashtra government, it should form a committee to prepare a draft law on the issue.
Others also raised issues during Question Hour.
JMM's Seema Devi demanded reservations for SC, ST, OBC and others in private sector jobs which chief minister Raghubar Das turned down.
Congress' Geeta Koda sought to know about pending proposals concerning police reforms.