Norm-flout slur during Dhanbad slipper distribution
National Commission for Protection of Child Rights seeks probe into alleged lack of social distancing in presence of kids and elders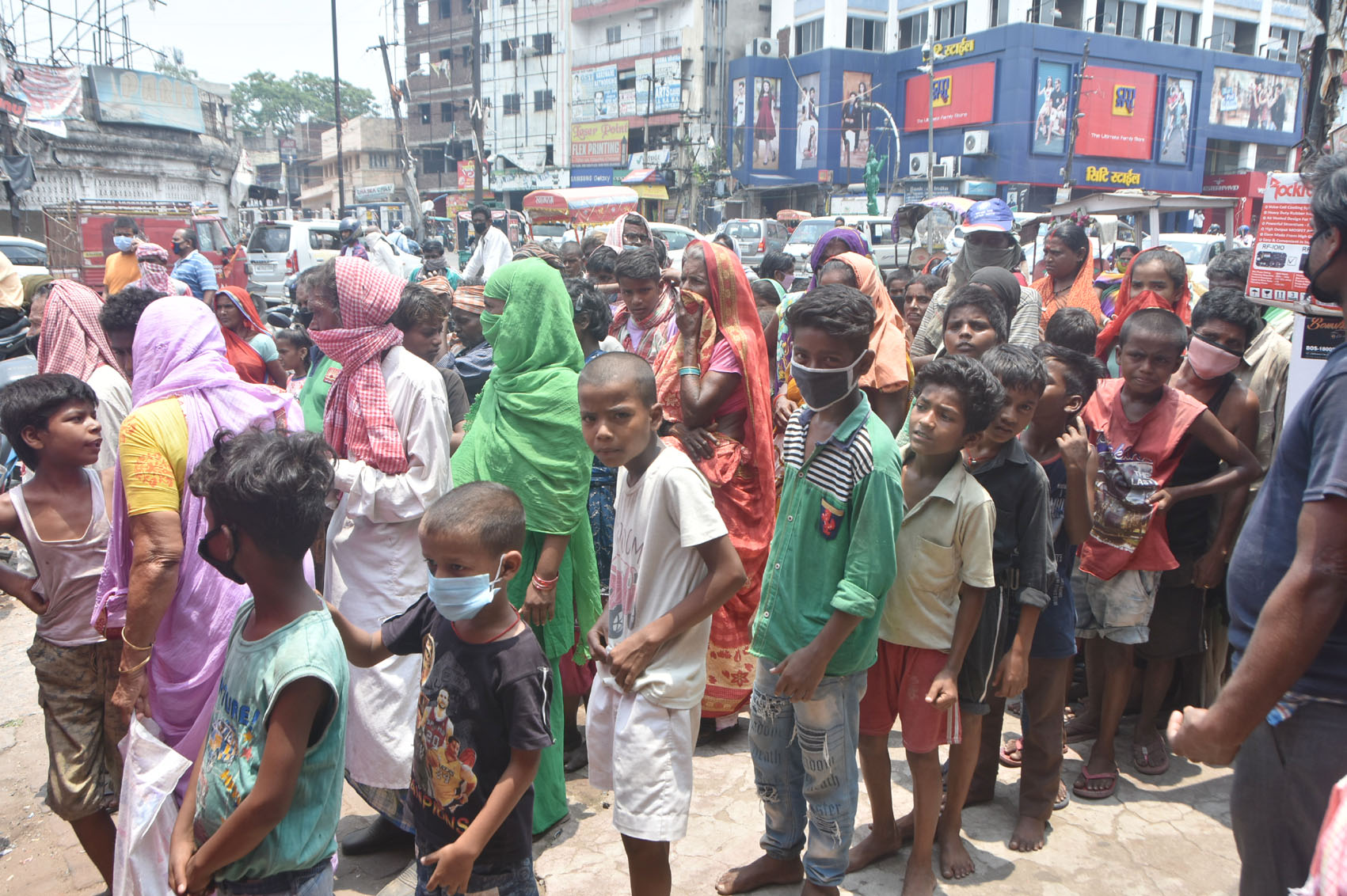 People violate social-distancing norms during the distribution of slippers in Dhanbad on Monday
Gautam Dey
---
Dhanbad
|
Published 12.06.20, 04:00 PM
|
---
The National Commission for Protection of Child Rights took note of a complaint of violation of social-distancing norms during the inauguration of a Chappal Bank in the district and sought a report from the Dhanbad deputy commissioner Amit Kumar.
The distribution was organised by the Federation of Dhanbad Zila Chamber of Commerce and Industry at Bank Mor on June 8.
The complaint was lodged by Madhuredra Singh, a retail shop owner of Bartand and former President of Bartand Chamber of Commerce, and a child rights activist.
Singh told The Telegraph Online on Friday, "Though the concept of the Chappal Bank was admirable, due to lack of proper planning and gross mismanagement of the event, a large of children gathered at the site and were compelled to stand in long queues along with elders and women, flouting social-distancing norms."
"Many of the people standing in the queue weren't wearing masks and jostling each other during the distribution," Singh alleged.
The Chappal Bank was launched by the Federation in association with the district administration, according to a project envisaged by Dhanbad sub-divisional officer, Raj Maheshwaram, to provide free slippers to migrant workers and other daily wage earners who were compelled to walk barefoot due to penury.
Altogether 500 pairs of slippers were provided on June 8. Maheshwaram was present as chief guest during the function, along with office-bearers of the federation.
The president of the Federation, Chetan Goenka, said, "Despite our best efforts, some violation of social-distancing norms took place as the number of people who turned up exceeded our expectations. The site at Birsa Munda Chowk was slightly congested leading to overcrowding."
"We had procured sufficient stock of slippers for men and women as we wanted the drive to continue," said Goenka.
He added that they have suspended the drive but are mulling the possibilities of relaunching the chappal bank in a more spacious venue and with full observance of social-distancing norms.