Steel city landmark Aambagan is a garbage dump that is riddled with illegal settlements, residents of which use the ground for open defecation, a cause of serious worry for Bengal Club Puja organisers since the venue is one of the most popular adda destinations of the festival.
Members of the Jamshedpur Sarbajanin Durga Puja committee, that organises the puja at Aambagan in Sakchi, have already aired the concerns before Jamshedpur Durga Puja Kendriya Samity that coordinates the organisation of major festivals in the steel city and its outskirts.
They are also planning to submit a memorandum before East Singhbhum deputy commissioner Amit Kumar this week.
"Encroachment is gradually robbing the puja venue of its sheen. It used to be a major attraction for pandal hoppers. Last year, the administration had cleared illegal hutments a fortnight before pujas. But this year, no initiative has been taken to clear the settlements," said president of Jamshedpur Sarbajanin Durga Puja Tapas Mitra, a notable advocate of the city.
Mitra said open defecation was rampant in the area which was almost always littered with garbage. "If steps are not taken immediately then this will be a major embarrassment not only for the puja organisers but also for pandal hoppers."
The Jamshedpur Sarbajanin Durga Puja committee has been using Aambagan for the annual celebrations since 1974. For this puja, the idol of Goddess Durga is usually dressed in traditional "daaker saaj" by artisans from Calcutta.
The puja is a particularly popular draw for residents as there is an accompanying fair with over 100 stalls that sell a variety of goodies and eatables through the five-day festival. The puja also serves as a meeting point for pandal hoppers.
"But this year, we are yet to begin construction of a pandal. We might have to go for canopy pandal," rued committee general secretary Debasish Naha.
"Aambagan is the adda destination for pandal hoppers. Many people choose to unwind there after a long day of visiting various pujas. Every year, we see daily footfall of nearly a lakh people," he added with air of concern about how things would pan out this year.
Over 10 rickety huts made of bamboo and tarpaulin have come up at Aambagan for more than a year now. These house families of vendors, rag pickers and rickshaw pullers. But the shanties aren't the only source of garbage. Eateries, nearby residential complexes also contribute to the garbage.
This apart, people also park their vehicles on the ground which adds to the problem.
At the southern end of Aambagan there is a mosque while on the opposite side, on the northern end, is a state-run school, Rajasthan Vidya Mandir. There is a bust of Netaji Subhas Bose at the south central portion of the ground.
The ground is the chosen venue of more than half a dozen fairs, exhibitions and political rallies round the year.
Newly-appointed SDO of Dhalbhum Chandan Kumar promised to look into the issue. "I joined on Saturday and will be visiting the spot soon I will take measures to clear the ground and also ask civic bodies to clean the garbage before pujas," he said.
Jamshedpur City SP Prabhat Kumar said they would depute policemen who would accompany officials of the district administration to clear encroachments.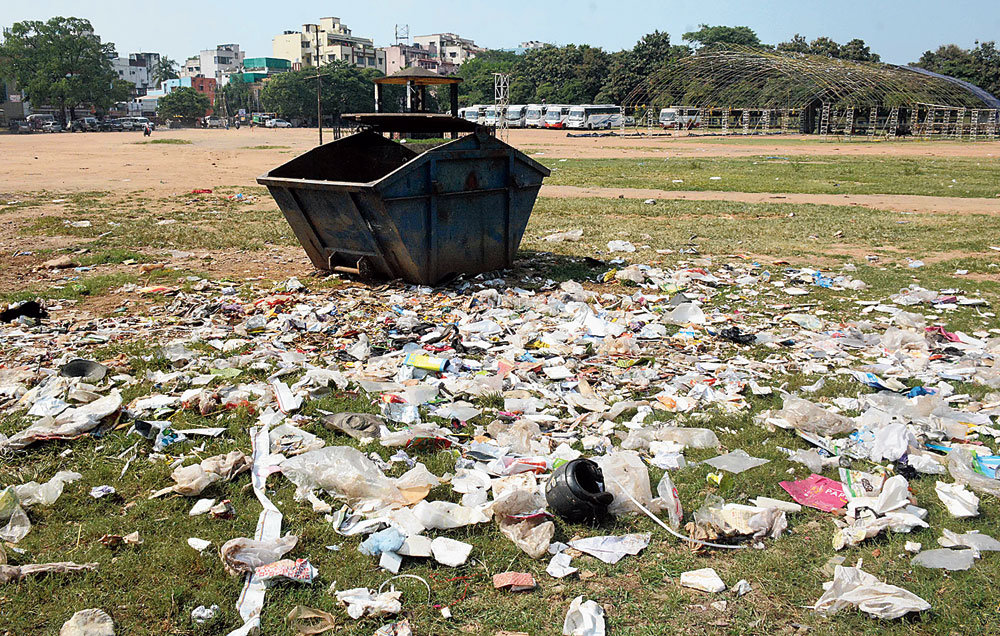 Garbage lies unattended on Tuesday at Aambagan grounds that will host the Jamshedpur Sarbojanin Durga Puja Picture by Bhola Prasad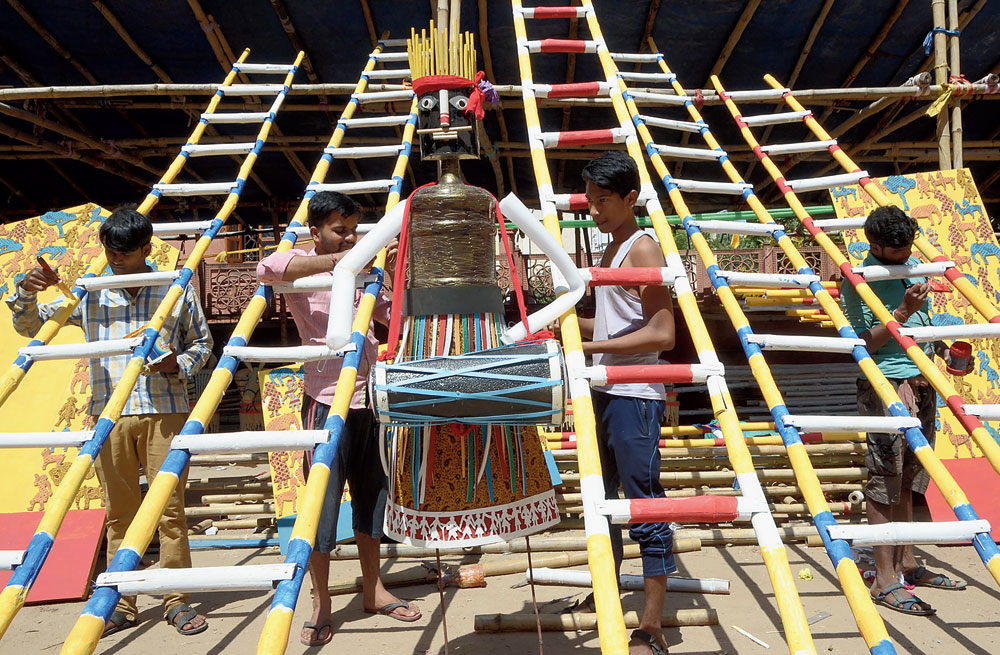 Artisans from Midnapore, Bengal, recreate a tribal village at RR Sporting Durga Puja pandal in Ranchi. Picture by Prashant Mitra