New traffic regulation pushes 30 auto drivers to penury
Those facing financial hardships are planning to hand over their vehicle keys to the district administration and demand for alternate employment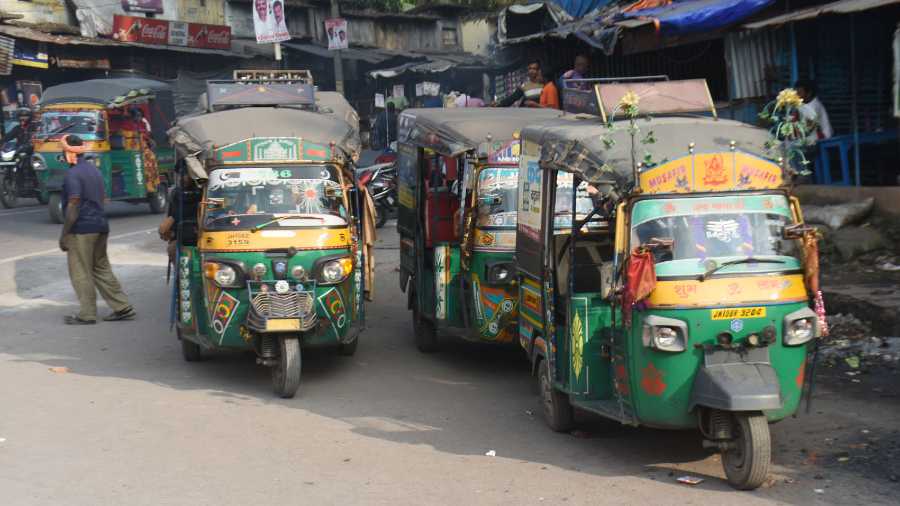 Auto rickshaws without unique code lying stand at Auto Stand in Sramik Chowk, Dhanbad on Tuesday.
Gautam Dey
---
Published 30.11.21, 08:34 PM
|
---
More than 70 days after the implementation of new regulation for auto rickshaw, over 2,000 local auto drivers who were plying vehicles in the town for a long period of time are awaiting the unique code allotment which is mandatory for operating vehicles within the town limits.
The auto drivers, who are facing financial hardships due to lack of operation of their vehicles, are planning to hand over the keys of their vehicles to district administration and seek other sources of employment.
Notably, as per the new regulation for auto rickshaw implemented since September 20, the number of auto rickshaw entering the town has been restricted to 1500 from 8000 in order to tackle the problem of traffic jams due to the presence of large number of auto rickshaws on the town roads.
The administration has allocated six routes for the entire district and each route has been divided into parts thus banning the entry of auto rickshaws plying from far off places like Tundi, Katras, Sindri, Nirsa, etc directly to the town by breaking the route into two parts .
The administration has also allocated a sticker for each of the auto rickshaw selected for operation in Dhanbad town. But many of these auto rickshaw drivers who were operating in Dhanbad town for a long time are yet to get the code despite applying with all valid documents like driving license, vehicle permit, pollution related documents within the allotted time.
Talking to The Telegraph Online today, Riyazuddin Ansari, an auto driver and resident of Barwaddah said he has been operating his vehicle in Dhanbad Barwaddah route for over 15 years. He also said, "I have applied for code allocation with valid documents in the District Transport Department office thrice but am yet to receive the code. Because of this, I am not able to ply the vehicle regularly on the route fearing police action due to lack of unique code."
"Such was the discrepancy in allotment of codes that the genuine auto rickshaw drivers like us operating on the town route have not been allotted codes and instead only those vehicle owners who were operating outside the town on suburban routes have been alloted the code," further said Ansari.
Adds Javed Ansari, another auto rickshaw driver, operating on Dhanbad Govindpur, "I have been operating my vehicle on Dhanbad Govindpur route for the last 13 years but due to the implementation of new auto regulation, the vehicle is lying idle."
Chhotan Singh, president of Jharkhand Pradesh Diesel Chalak Mahasangh, said, "We have raised the issue regarding the anomalies in distribution of codes several times. We now plan to meet the District Transport Officer, Om Prakash Yadav again to solve the issue of discrepancy in allotment of codes."