A Jharkhand village shows the way
Nameplate gesture to fight skewed sex ratio in Jharkhand
Sixty families at Bharatia village will have nameplates with names of their daughters installed on September 21 in the presence of local MLA Mithilesh Thakur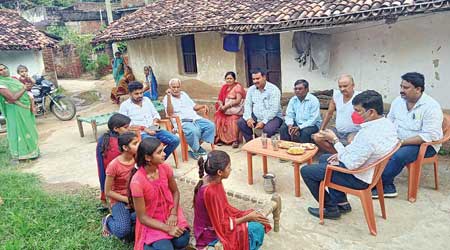 Education officer Sanjay Kumar Pandey (wearing red mask) interacts with villagers on installing nameplates
Bhola Prasad
---
Jamshedpur
|
Published 20.09.21, 02:47 AM
|
---
Residents of a Jharkhand village with a skewed sex ratio have decided to install house nameplates carrying the names of their daughters to promote gender equality.
Sixty families at Bharatia village in Garhwa district, around 215km from Ranchi, will have the nameplates installed on September 21 in the presence of the local MLA and state drinking water and sanitation minister, Mithilesh Thakur.
Efforts will continue to persuade the rest of the families — the 2011 census had counted 113 households in the village — to follow the example, said village mukhiya Bindu Devi.
She said the move had been inspired by the deputy collector-cum-district education officer, Sanjay Kumar Pandey.
"Pandey regularly interacted with us and inspired us to promote gender equality as our village has one of the worst sex ratios in the state," Devi said.
"Unfortunately, several families in our village still consider it unlucky to have a girl child. The nameplates will be a small step towards encouraging men and women to change their attitudes."
Devi had organised a survey and handed Pandey a list of the names of daughters or other women of the households so that the nameplates could be prepared.
Devi said Pandey would be paying for the nameplates, to be inscribed in Hindi, out of his own pocket
"Some people had objected to the idea as they felt it would mean passing on the ownership of their houses to their daughters," Devi said.
"But we are trying to educate them about the objective behind this symbolic gesture. We also plan to plant a sapling of a fruit-bearing tree at each house, which will be named after a daughter of the household (complete with a name tag)."
Bharatia, 7km from Garhwa town, is a village of the Other Backward Classes and tribal families.
"The sex ratio here is 740 females per 1,000 males, which is much lower than the national average of 943 and state average of 948," Pandey said.
"That apart, the child sex ratio in this village is only 658 girls per 1,000 boys. I found it alarming and held several rounds of discussion with progressive-minded villagers with the mukhiya's support and managed to convince them about this symbolic (nameplate) gesture."
Pandey said the nameplate campaign was "only a beginning".
"The village women will be encouraged to start a series of campaigns aimed at changing the mentality of the men towards the girl child," he said.