MGM unable to rid premises of rats
The issue came to light last week when the body of a patient left unattended was nibbled by the rodents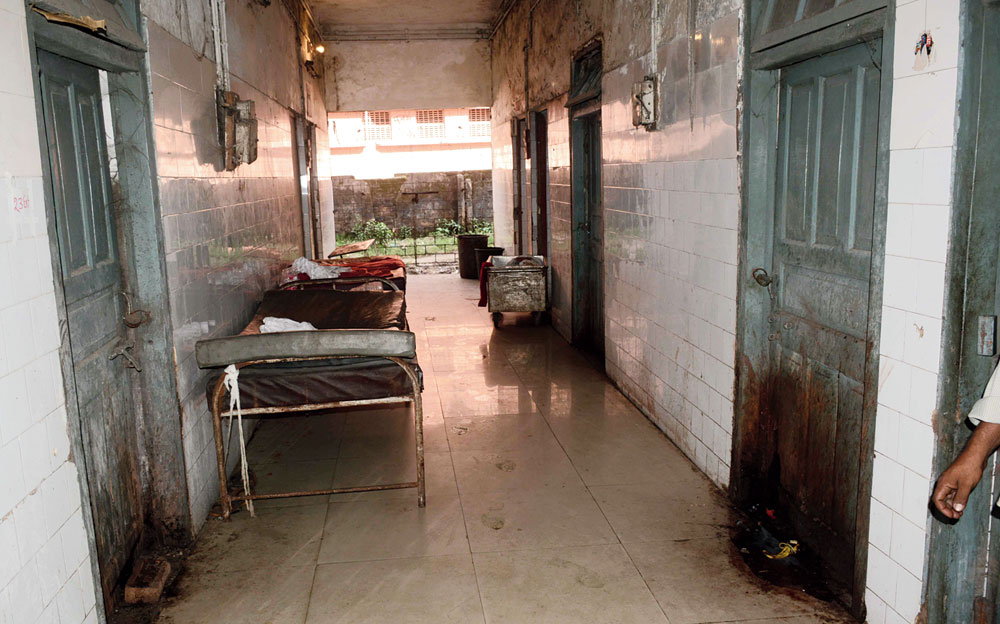 The dirty corridor near the toilet of the emergency unit of MGM Medical College and Hospital in Sakchi, Jamshedpur, on Monday
Picture by Bhola Prasad
---
Jamshedpur
|
Published 01.10.18, 08:01 PM
|
---
MGM Medical College and Hospital in Sakchi, the state-run referral hospital of the Kolhan region, is yet to figure out how to rid its premises of rats, which had nibbled at a body.
Hospital superintendent Dr S. N Jha admitted they were yet to put in place a mechanism to end the rodent menace at the emergency unit of the over 500-bed hospital that is the largest in Kolhan.
"There are rats roaming about freely not only in the emergency which is closest to the boundary walls,' he said, but did not specify the other areas where rodents were running around.
The issue came to light once again last week when the body of a patient that had been left unattended near the toilet at the emergency was nibbled by rats. Hospital staff were alerted by the stench, emanating from the area, since the body had been lying there for over 10 hours. Later, the body was removed to the mortuary.
On the intervention of principal health secretary Nidhi Khare, MGM authorities began an inquiry in to the negligence and slapped showcause notices on two nurses who were duty in the morning and afternoon shifts.
"For now, we have asked the private agency entrusted with housekeeping to keep the floors of the emergency unit clean by ensuring that they removed left over food usually brought in by patient relatives. However, we know that it is not a sustainable mechanism against such a large number of rats," Dr Jha admitted.
He said they would talk to private agencies for undertaking a thorough clean-up. "We will hold talks with specialised agencies like Pest Control of India for a full-scale cleaning exercise after sealing entry points used by rodents," he added.
A 50-year-old unidentified man with serious injuries was admitted to the emergency by Tatanagar railway police on Wednesday, September 26. He died next morning while being treated. But the emergency staff let his body lie unattended near a toilet for over 10 hours when rats nibbled the face.
It was only after patient attendants raised an alarm about stench coming from the area that the body was noticed and arrangements were made to shift it to the morgue late on Thursday, September 27.
Principal health secretary Khare asked the hospital to conduct a probe after which two nurses, Sarojoni Kumari (morning shift) and Poonam Kumari (afternoon shift), who were on duty at the emergency on September 27, were issued showcause notice.
"We have got a reply from Poonam. We expect to get Sarojini's reply today (Monday), as she was on leave for two days (since Saturday). We will be sending the probe report, along with nurses' replies, to the health department at the earliest," Dr Jha said, but refused to elaborate.
Significantly, the 40-bed emergency unit of MGM Hospital witnesses daily footfall of over 200 patients. Food leftovers and waste, collected by employees of a private firm entrusted with housekeeping responsibilities, are usually kept nearby. This attracts rats.