Massive anti-encroachment drive held near Court Road in Dhanbad
New parking zone earmarked at Kohinoor Ground to ease traffic congestion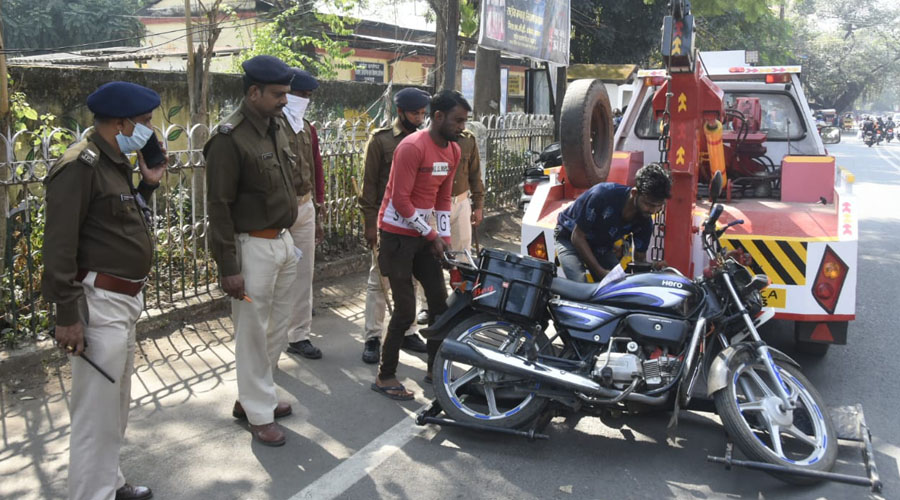 Traffic police seizing a motorbike during the anti-encroachment drive at Court Road in Dhanbad on Tuesday.
Picture by Shabbir Hussain
---
Dhanbad
|
Published 24.11.20, 09:57 PM
|
---
In an attempt to solve the perennial issue of traffic congestion at the Court Road of Dhanbad, the district administration has made a permanent parking arrangement at Kohinoor Ground adjacent to the road.  
Announcements were made on a loudspeaker in this regard at Court Road of Dhanbad by a joint team of district administration and traffic police led by sub-divisional officer of Dhanbad Surendra Prasad during the morning hours at around 10.30 am, which was followed by a drive to impose fines on those parking their vehicles in the non-parking area.
The team comprising of traffic DSP Rajesh Kumar Yadava, and traffic inspector Rajeshwar Verma also carried out an anti-encroachment drive in the same place during which around half a dozen street vendors putting their stalls beside the road were removed.
Notably, Court Road, situated in the heart of town, is one of the busiest places of the district as it houses a large number of important government offices like the district collectorate, the office of the superintendent of police, sub-divisional officers' (SDO) office, the office of divisional railway manager (DRM) of Dhanbad division of East Central Railway (ECR), Jharkhand Tourism Development Corporation (JTDC) office, Hirapur division office of Jharkhand State Electricity Board, Drinking Water and Sanitation Department' Office, District Treasury office, district transport officer's office, besides the civil court and criminal court of Dhanbad, registry office, and sale tax office.
Talking to The Telegraph Online on Tuesday, Rajeshwar Verma said, "No vehicle of anybody, be it a car or bike will be allowed to be parked on the Court Road as it causes heavy traffic congestion and resultantly all the vehicles including the ambulances carrying serious patients sometimes get stuck."
"We have made the arrangement of parking of all vehicles at Kohinoor Ground situated adjacent to the Court Road, where the vehicles will be safe and the problem of traffic congestion will also be solved," said Verma and added their drive will continue tomorrow and onwards to enforce to new parking arrangement.
Notably, ever since the joining of the new Dhanbad traffic DSP, Rajesh Kumar Yadav has taken a host of steps to regulate the traffic of the district in a better manner and also initiated steps to minimise the causes of accidents in the district.
Yadav also held meeting with officials of different road construction agency including Road Construction Department (RCD), State Highway Authority of Jharkhand (SHAJ), National Highway Authority of India (NHAI), Rural Engineering Works (REO) and discussed the steps required to minimise accident at accident-prone places and particularly on black spots.
He also instructed the officials to put signage, speed restriction boards, blinkers, etc. at strategic places on the roads to minimise the possibility of accidents.