March debut for Jamshedpur's new blood bank
Spread over 2000sqft, the blood bank at Sadar Hospital will be equipped with a component separator facility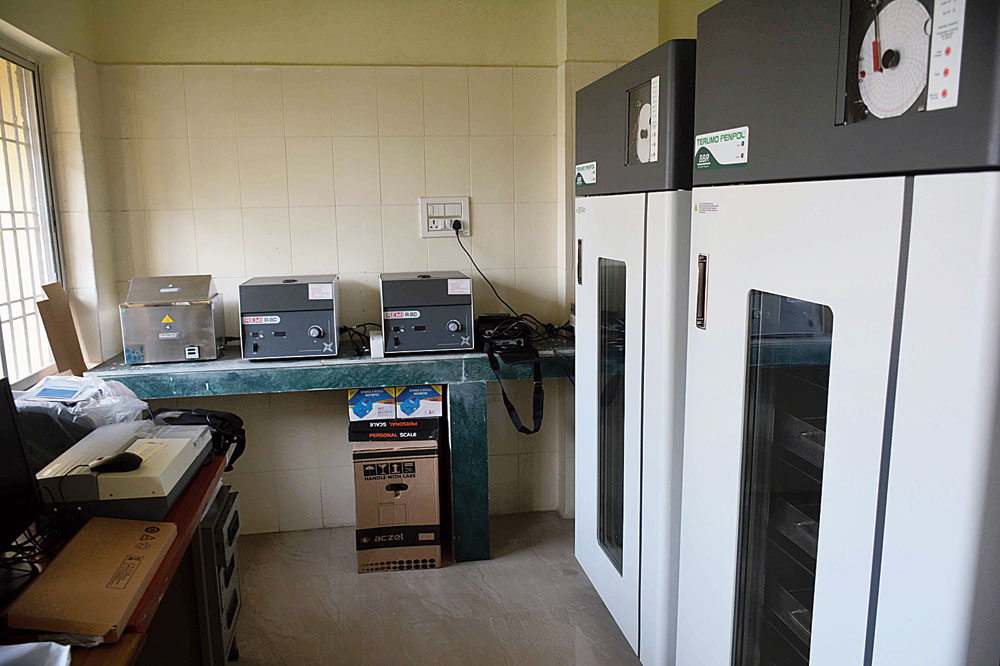 Care and cure: Refrigerators and other equipment at the blood bank at Khasmahal Sadar Hospital near Jamshedpur on Wednesday.
Picture by Bhola Prasad
---
Jamshedpur
|
Published 02.01.19, 06:36 PM
|
---
A new blood bank with component separator facility is all set to debut at Khasmahal Sadar Hospital, around 5km from the steel city, by March-end.
According to East Singhbhum district civil surgeon Dr Maheshwar Prasad, a team from drug controller general of India, regional unit in Calcutta, will come to Sadar Hospital to inspect the blood bank facility anytime this month.
"We have received almost 95 per cent of the necessary equipment from the state health department and few of them will be installed in the next few days. There is a generator for both power and water supply. We expect to get a nod from the licensing authority team from Calcutta in a couple of months. The blood bank should start functioning from March," said Dr Prasad.
Spread over 2000sqft, the fully air-conditioned blood bank at Sadar Hospital will be equipped with modern refrigerators, serum analyser laboratory, sterilisation-cum-washing room, refreshment room and blood component room.
The new blood bank at Sadar Hospital will reduce the dependency on blood units seekers from Jamshedpur Blood Bank in Bistupur, the only blood bank in the district to have component separator facility. The other blood bank in state-owned MGM hospital in Sakchi is yet to get a licence for component separator.
Sources in Jamshedpur Blood Bank confirmed that almost 95 per cent of the requirement of blood units are met through blood donation camps that reduces by nearly 50 per cent during summer season.
"On an average we require around 200 units of blood units daily. However, less number of blood donation camps are held during summer that further leads to crisis," said a senior official at Jamshedpur Blood Bank.
Nodal officer at the blood bank facility in MGM Hospital Dr V.B. Choudhary also agreed about crisis of bloods during summer season.
"In monsoon the demand for platelets increases due to rise in dengue cases. However, we are yet to get licence for blood component separator that is required for platelets.As of now we are dependent on Jamshedpur Blood Bank for platelets requirement," said Dr Choudhary.