Maoists, security forces exchange fire
At least 50 rounds were fired from both sides in just 25 minutes from 9.30am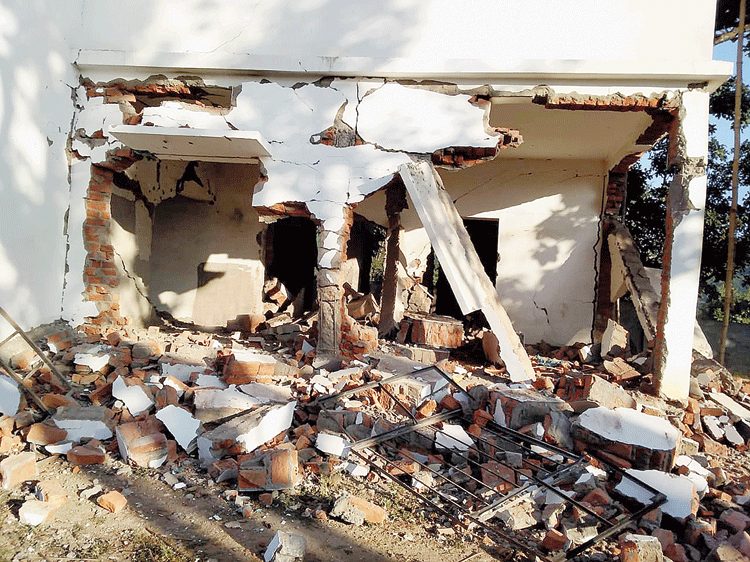 The health sub-centre that Maoists blew up in Khunti on Monday.
Picture by Prashant Mitra
---
Ranchi
|
Published 30.12.19, 07:10 PM
|
---
Security personnel — the CRPF, RAF, SSB and state police deployed in anti-Maoist operations — exchanged fire with the rebels on Monday morning at Leteburu, some 50km from district headquarters.
Though no one suffered injuries, at least 50 rounds were fired from both sides in just 25 minutes from 9.30am, sending a clear message that Maoists had once again become active in Khunti, the constituency of Union tribal affairs minister Arjun Munda of the BJP and the epicentre of the pathalgadi movement in Jharkhand.
The gun battle took place when security personnel were busy in a search operation a day after a health sub-centre was blown up by Maoists in Selda, around 3km from Leteburu in Arki police station area, to protest against using schools to house personnel.
A villager said on December 17, Maoists had blown up a community centre at Etkedih, 12km from the district headquarters under Murhu police station area. "This is the native village of freedom fighter Gaya Munda. During the Assembly polls in the district on December 7, rebels had an encounter with security personnel at Marangburu, 14km from district headquarters, under Arki police," the villager said.
SP Ashutosh Shekhar admitted an exchange of fire did happen but downplayed the incident saying there was no casualty.
Deputy inspector-general A.V. Homkar said security personnel are on the job. "Regular search operations are on in the area in the wake of recent activities," Homkar said, without going into details.
A villager said the modus operandi suggests that Maoists want to stall development work in villages associated with freedom fighters.
"All the places where Maoists have made their presence felt are close to Ulihatu, the village of tribal icon Birsa Munda and Etkedih, the village of Birsa's most important lieutenant Gaya Munda. The community centre, blown up on December 17, was adjacent to the statue of Gaya Munda," the villager said.
Friend's killer
Jamshedpur: Police on Monday arrested Raja Singh, Shankar Mahto and Kailash Mahto for allegedly killing Mohit Kumar, 25, at a dhaba in Chandil on December 24. Raja killed Mohit, who had been his friend, over a row.