Mango sales in steel city hit by Covid curbs
Markets closing by 2pm, fruit sells for as low as 120 per kg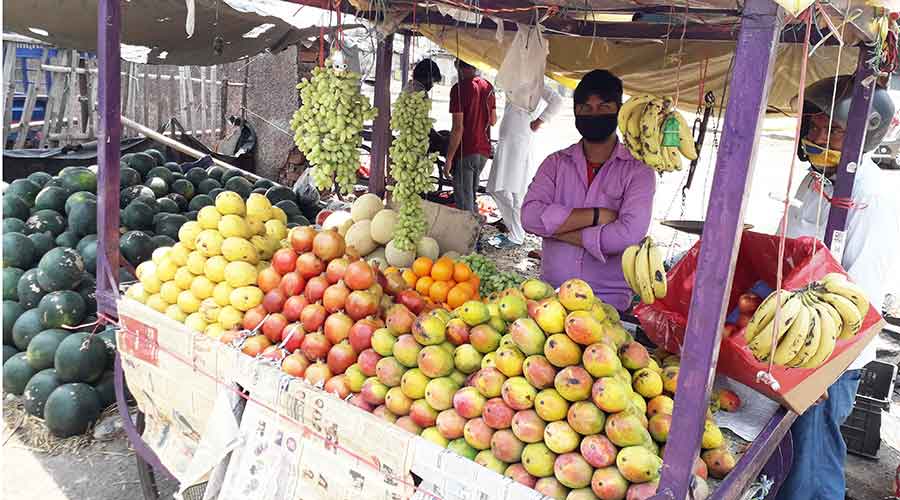 ---
---
Mango, popularly known as the king of fruits, has few takers during its peak season with the restrictions imposed across the state during `health safety week' till May 6.
The streets wear a deserted look with very few out on the streets as the movement of people and operation of markets are following strict norms with Covid cases surging across the state.
As a result of the lockdown, the sale of mangoes has nosedived much to the chagrin of fruit sellers who had stocked up Banginapalli and Ghulab Khas or Sindhura in large quantities.
"I used to sell mangoes ranging from Rs 7,000 to 8,000 earlier. The sale proceeds should have been more or less similar during this peak season. But now the sale has come down to Rs 1,000 to 1,500 daily. Very few people are coming out of their homes in view of the lockdown and fear of infection," rued Md. Afroz, a fruit seller in Bistupur.
Roshan Kumar, a fruit seller in Sakchi, said during summer people generally prefer venturing to the markets in the evening but the prevailing situation has confined them indoors. "Moreover, we have to wind up our operations by 2 pm. My sale has dropped and I am incurring losses," he added.
At present, two varieties of mango – Banginapalli and Ghulab Khas – are available in steel city markets. Both are selling at Rs 120 a kg.
Fruit sellers complained that they have to make payments to the wholesalers but the drop in sales is making things difficult. "There has been bumper harvesting of mangoes this season. However, the fruit is not attracting customers in view of the prevailing situation. It is very difficult to sustain in these uncertain times," said Shaqueel Ahmed, a fruit seller in Golmuri.
"Covid infection is not getting contained. I am quite sure the lockdown will get extended, which will compound our woes," said Md. Aftab, a fruit seller in Ranikudar.
"I love mangoes but am yet to get a taste of it this time. I have stopped going to the market for buying essentials. It would be a risky affair to go out in the open, especially markets. I am sure the lockdown would get further extended since the Covid situation is still not in control," said Mrityunjay Singh, a resident of Sakchi.