Leaders in the making
Gorthi Shanmukha Vishnu of Little Flower School emerges as the winner at the Leadership Challenge
---
---
A boy from Little Flower School, Telco, won the honours at the ninth edition of Leadership Challenge on Friday, organised by the Hill Top School here in collaboration with Greycaps. The Telegraph was the media partner for the event.
Winner Gorthi Shanmukha Vishnu walked home with the winner's trophy and a cheque of Rs 15,000.
Rupika Sinha of Carmel Junior College, Sonari, finished as the first runner-up. Aditya Kumar Singh of Rajendra Vidyalaya, Sakchi, became second runner-up. Rupika and Aditya received trophies and cheques of Rs 10,000 and Rs 7,500, respectively.
The two-day inter-school event aimed at identifying leadership qualities in students ended with gruelling rounds on Hill Top campus.
On Friday, five rounds that began with an introductory round, Tweet Reality, had the audience saw participants introducing themselves with precision and wit. This was followed by First Punch, in which the students had to express themselves on a topic.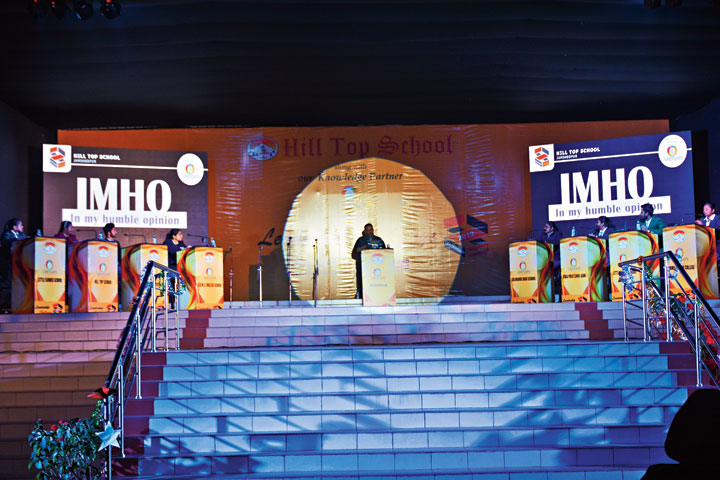 Think Aloud saw participants taking part in a group discussion and In My Humble Opinion had students taking part in a mock UN session representing different countries and discussing current issues.
The challenge concluded with Jury Time in which students had one-on-one discussions with their fellow participants.
The final super 8 who had qualified for the finale on Thursday were Ayati Mishra and Mondrita Chatterjee of Hill Top School, Rupika Sinha of Carmel Junior College, Khushi Gandhi of DBMS English School, Himpriya Kumari of Gulmohur High School, Anwesha Dutta of Kerala Public School, Kadma, Gorthi Shanmukha Vishnu and Sanjali Brahma of Little Flower School and Aditya Kumar Singh of Rajendra Vidyalaya. They had been selected amongst 44 students from 22 city schools.
Kolhan University vice-chancellor Shukla Mohanty, as the chief guest for the event, spoke on the traits of a good leader.
The jury members of the Leadership Challenge included Brigadier Ranvijay Singh, well-known physician Dr Sunil Nandwani, and Jiju Thomas, the coordinator of Jusco Schools.
The event was presented by Giri Balasubramaniam of the Greycaps team.