Law college clerk held for lewd message to kin of JMM founder
Manoj Singh threatened Vinita Singh and her son of dire consequences if she complained to police in Dhanbad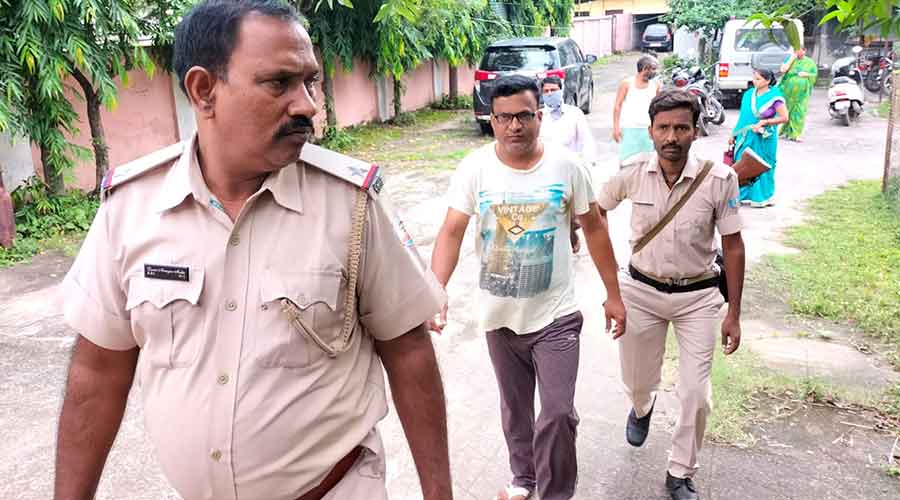 ---
Dhanbad
|
Published 24.09.21, 06:59 PM
|
---
Dhanbad police today arrested Manoj Singh a clerk of Dhanbad Law college  in connection with sending vulgar messages to Vinita Singh granddaughter in law of JMM founder and renowned social activist and educationist, Late Binod Bihari Mahto.
The arrest was made this morning on the complaint of Vinita Singh, who also charged Kumar of threatening her with dire consequences.
The incident took place merely a day after the death of Harsh Mahto, the nephew of Late Rajnish Mahto alias Bablu Mahto husband of  Vinita Singh who sustained injuries during the course of an accident in Tetulia area of Nirsa about a  week ago.   
Incidentally, the birth anniversary of  Late Binod Bihari Mahto was also celebrated yesterday.
Vinita Singh who recently announced to donate 11 acres of land to district administration at Baliapur for development of Cricket Stadium in  Dhanbad   while talking to media this morning said that Manoj sent a vulgar message last night at around 9.30 pm  on her mobile phone after which they called on his mobile phone several times but he blocked their mobile phone and arrived this morning at their home to threaten her and her son of dire consequences.
She further said when they took tough stand against him and threatened to lodge a complaint with the police he accepted that somebody else has sent the message from his mobile phone.
Singh further said "Manoj has also been named in sending vulgar message to a girl student of Law college about four five months ago and he managed the case by offering Rs 5 lakh to vicitm."
"We are deeply hurt with the death of our family member Harsh Kumar Mahto and but the incident took place at the same time causing a lot of mental agony to our family members," said Singh.
"Some of our own family members including, Rajesh Mahto and Rahul Mahto, younger brothers of my husband, Lat Rajnish Mahto who are unnerved over my announcement to join politics and contest election for post of mayor are instigating people like Manoj to disturb us"  said Singh.
Accused Manoj Singh meanwhile talking to media said, "Though the message has been sent last night from my mobile phone but it was not me who sent message instead somebody else demanded the message last night during the night when we were in the crematorium for the cremation  of Harsh who sought the mobile phone to be used as torch"
He also denied threatening Vinita Singh and her son and said " how anybody will threaten somebody coming alone at their house" said Manoj Singh.
Effort to contact, Vinay Kumar Officer in charge of Dhanbad Sadar Police station failed as he didn't pick up the phone (9431706386)