Lady Tarzan & team to take on timber mafia operating in Dalma sanctuary
Jamuna Tudu to hold meeting with eco development committee members of Haludbani in East Singhbhum to discuss the issues of tree felling and illegal liquor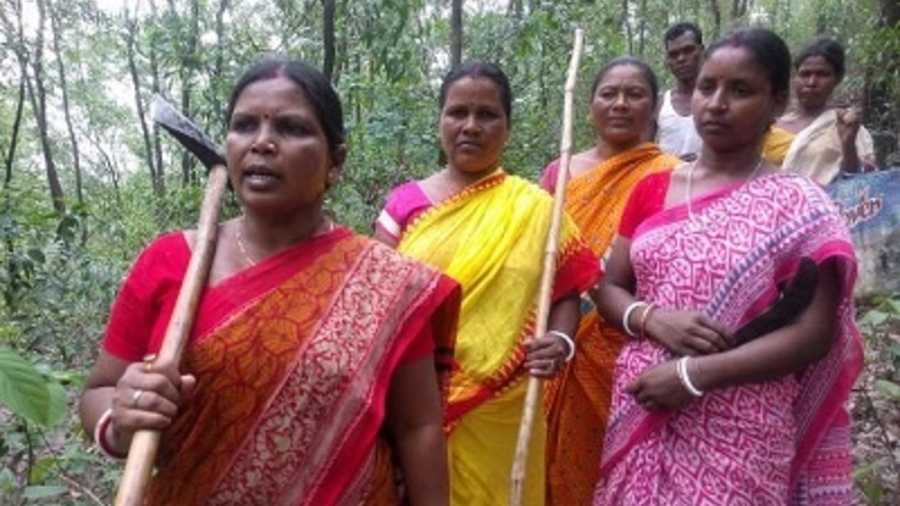 Jamuna Tudu (with axe) and her team patrol the jungles of Chakulia block in East Singhbhum.
File Picture
---
Jamshedpur
|
Published 02.09.21, 08:31 PM
|
---
Environmentalist and Padma Shri awardee Jamuna Tudu and her team from Van Suraksha Samity (VSS) have shifted their focus to Dalma wildlife sanctuary which is witnessing incidents of tree felling and running of illegal liquor producing units.
Jamuna, who heads the VSS, will shortly hold a meeting with members of the eco development committee of Haludbani (in East Singhbhum) to discuss the issues of tree felling and illegal liquor producing units. Women members of VSS (Haludbani) will also attend the meeting.
"I have spoken to eco development committee members of Haludbani about felling of trees and illegal liquor producing units inside Dalma sanctuary. It's a serious issue which will affect the ecological balance of the sanctuary. I have decided to visit Haludbani to hold a meeting with members of eco development committee as well as VSS," said Jamuna over phone from her village Maturkham in Chakulia block of East Singhbhum.
Villagers of Haludbani had recently razed a liquor producing unit within the sanctuary. The villagers had been alerted by a guard of the sanctuary. They also recovered timber which was stored near the unit and was being used as firewood.
"We will discuss the incident and also chart out plans to patrol the sanctuary for preventing tree felling. Separate team will patrol the Dalma sanctuary on rotation basis. The logistics will be worked out and a team will be formed during the meeting," she said.
According to the green crusader, there may be more liquor units operating inside the sanctuary. Members of VSS and eco development committee have been asked to keep a vigil. "I also tour the jungles on periodical intervals," she said, while adding that there were 12 women members in the VSS Haludbani unit.
I love Dalma sanctuary from the core of my heart. It is important to protect it from timber and liquor mafia. I would also like to motivate villagers living inside the sanctuary to fight them," she added.
VSS, formed in 1998, has been actively protecting the forests from timber mafia. It also has committees in Dumka, Giridih, Pakur and Godda.
Lady Tarzan is known for the ferocity with which she fights the timber mafia. She had launched an awareness campaign against the futility of killing innocent animals in the name of Bishu Shikar, the annual hunting festival of tribals inside Dalma sanctuary as well as forests of Chakulia earlier this year.
Thanks to her efforts, incidents of tree felling have come down in Chakulia jungles.