Keeping green cover intact while carrying out road project in steel city
What makes the step interesting is that utility company ensured that each and every felled tree is replanted at a convenient place along the road side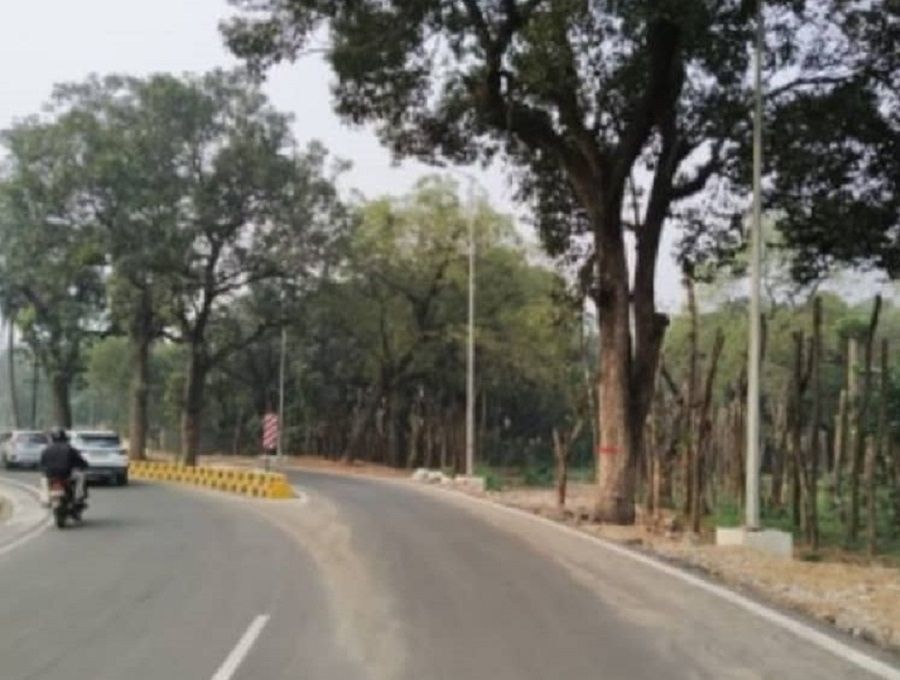 Dozens of trees replanted along the newly-built Ajay Road in Sakchi.
Animesh Sengupta
---
Jamshedpur
|
Published 06.01.22, 07:29 PM
|
---
Jamshedpur is known to be an environment-friendly city with greenery everywhere, but not many do know exactly how is the lush greenery maintained here. 
The green cover is intact despite industrial activity in around the steel city because Tata Steel Utilities and Infrastructure Services Ltd (TSUISL) which looks after the maintenance of the city pays attention to each and every tree exists whether it is inside the steel plant premises or in the township, not to speak about the parks. 
How is such greenery maintained in the city can be understood from a recently-constructed road at the heart of the city. 
A subsidiary of Tata Steel, TSUISL set up a new road linking Kalimati Road near Dimond Shoe shop to Masjid Road. For setting up the road, which is about one kilometre long, the utility company had to fell dozens of trees. 
But what makes the step of tree-felling for road construction an altogether different story is that the utility company ensured that each and every felled tree is replanted at a convenient place along the road side. 
"We know the value of trees for maintaining environment of the city. We do, therefore, take care of the trees even if we have to fell them in pursuance any development project," said a senior official of TSUISL while talking to The Telegraph Online. 
The official pointed out that they have replanted all the felled trees along the new road, named Ajay Road in Sakchi. 
"With the support of Tata Steel's Horticulture department, the felled trees have been replanted and the trees are in process of regaining their aliveness. Like happened at several other venues earlier, the places on either side of Ajay Road will be filled with greenery shortly," said the official.