JPSC chairperson at Raj Bhavan, hints at releasing cut-offs on Thursday
All queries will be answered, promises Amitabh Chaudhary after meeting Governor Ramesh Bais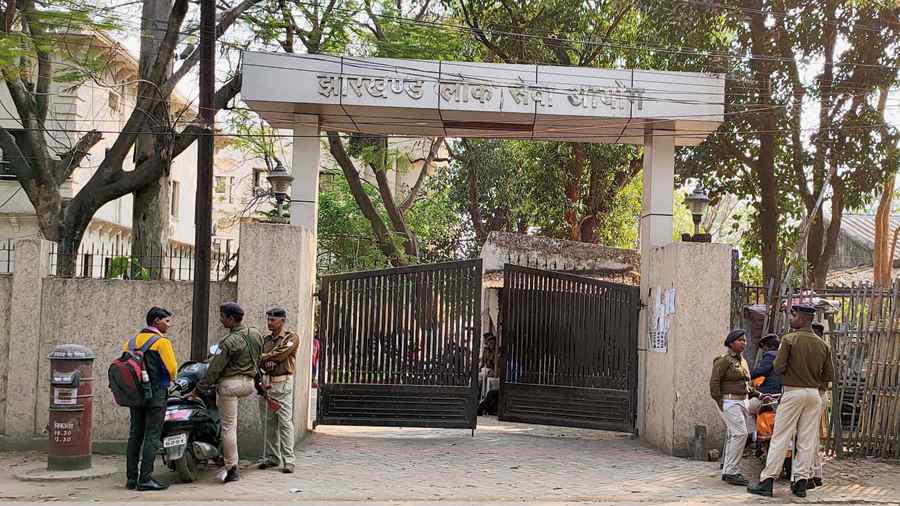 ---
Ranchi
|
Published 24.11.21, 06:44 PM
|
---
Jharkhand Public Service Commission chairperson Amitabh Chaudhary hinted on Wednesday that JPSC may release cut-off marks for the recently held preliminary exams on its official website by the end of Thursday, agreeing to a key demand of aggrieved aspirants.
Summoned by Jharkhand Governor Ramesh Bais over the recent protests by students against alleged anomalies in the exams conducted for JPSC 7,8,9 and 10, Chaudhary was at Raj Bhavan on Wednesday. He assured the governor that the JPSC would take necessary action to address all concerns of aspirants.
Talking to media persons outside Raj Bhawan, Chaudhary said that JPSC would clear all doubts and come out clean. "You can make out by the expression on my face that everything is fine. Please check the official website of JPSC tomorrow (Thursday), and all your queries will be answered," he said.
Several thousand JPSC aspirants have been demanding cancellation of the recently conducted preliminary tests for JPSC 7 to 10 citing favouritism and anomalies in the system. Students have alleged that the JPSC has not issued a cut-off for the exams, and demanded re-examination.
The aspirants have gained the support of some political parties too. On Tuesday, police had to lathicharge protesting students and a few BJP leaders while they were on their way to meet the JPSC chief. The incident hogged the attention of higher authorities and also led to the Governor summoning the JPSC chairperson.
The protesting aspirants have alleged that several aspirants whose roll numbers fell in sequence cleared the tests, while no aspirant under the specially-abled category made it to the list of successful candidates. Besides, some aspirants did not clear the exam despite scoring more than other candidates who cleared the test.
JPSC exams have been riddled with controversies since 2016. The prelims test for JPSC 6 was conducted way back on December 18, 2016 and its result was declared in February 2017. On June 7, 2021, Jharkhand High Court cancelled the merit list of the 6th JPSC after years of protests by aspirants. The court also directed the state government to identify officials responsible for the mistake in the merit list and take action against them.