Jharkhand to resume serving mid day meals in schools soon
Rs 200cr to be disbursed to districts to be given to eligible students as daily cooking cost for the period of the lockdown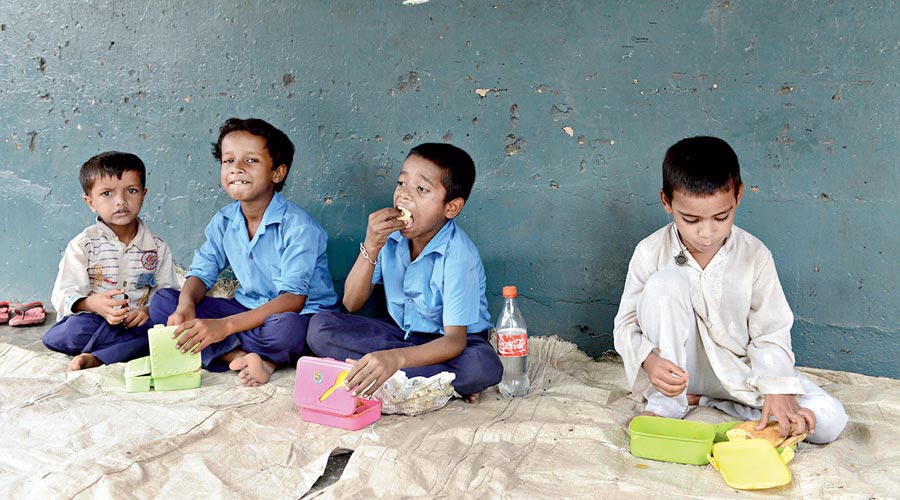 Representational file image
---
Ranchi
|
Published 02.12.21, 06:37 PM
|
---
Jharkhand is likely to resume providing cooked meals to government school students of classes 6 to 8 under the Mid-Day Meal (MDM) scheme after a gap of almost two years, sources in the School Education and Literacy Department said on Thursday.
The state education department had recently sought a go-ahead from the State Disaster Management Authority (SDMA) for resuming the regular practice of providing cooked meals to eligible students at government schools under MDM, an official said. The officials, he added, had verbally agreed to this request.
"If the Covid situation remains under control, we might start serving cooked meals under MDM soon," said the official, requesting not to be named as an official decision has not been made yet in this regard.
At least 32 lakh students, studying in classes 1 to 8 of government schools, are eligible for daily one-time-meal under the MDM scheme in Jharkhand. While in-person classes for students of class 1 to 5 are yet to resume, eligible beneficiaries of class 6 to 8 are likely to get cooked meals in school soon.
Also, Jharkhand is likely to disburse over Rs 200 crore to districts for distribution among eligible MDM beneficiaries as daily cooking cost for the period between October 1, 2020 to March 31, 2021 following questions raised by the Jharkhand State Food Commission on the non-payment of daily cooking cost to students during the lockdown.
During the Covid-induced lockdown and closure of schools, the state government was directed to send the cooking costs of mid-day meals to the accounts of eligible beneficiaries in the form of direct benefit transfer. Children in classes 1 to 5 were supposed to get Rs 4.97 per day, while those in classes 6 to 8 were supposed to get Rs 7.45 per day as cooking cost.
Schools have not served cooked meals under MDM to students since the imposition of the lockdown in March 2020. Students are also provided eggs and fruits under this scheme in a bid to combat malnutrition, which is a major concern in Jharkhand.
Right to Food activists in the state have also raised questions on the lack of efforts made by the government to ensure nutritional meals to MDM beneficiaries during the lockdown. 
In all, around 120 million students in the country are served food under the Sarva Siksha Abhiyan's Mid-Day Meal scheme, said to be the biggest such government-sponsored programme in the world.