Jharkhand to have new pharma policy and develop a pharma park
The park will be equipped with necessary infrastructure facilities, effluent treatment plant, a road network, drainage system, bridges, street lights and many more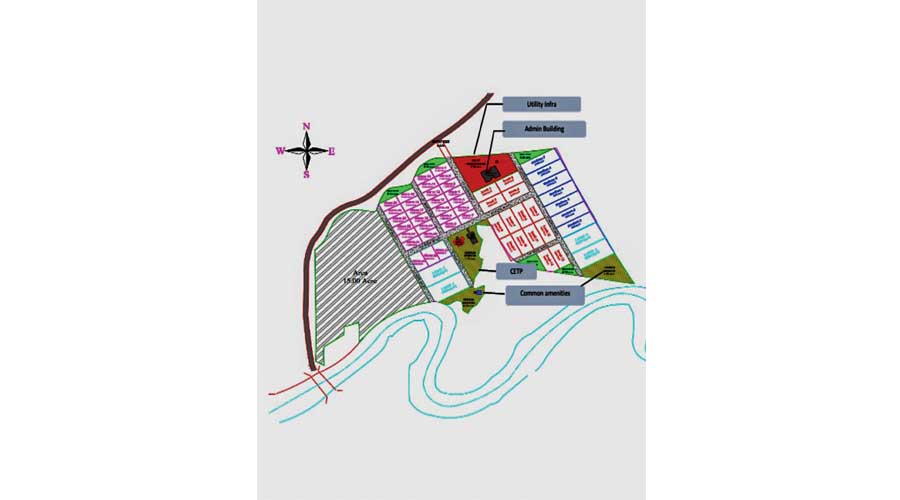 The layout of the Pharma Park Chango in Ranchi.
Manob Chowdhary
---
Jamshdepur
|
Published 14.09.21, 12:50 AM
|
---
Jharkhand will soon have its new pharma policy and develop a pharma park, around 50km from Ranchi.
"We are drafting a dedicated pharma policy with necessary incentive provisions for medical equipment manufacturers. Chief minister Hemant Soren has directed the industry department to ready the dedicated pharma policy at the earliest. The officials have been directed to include provisions for plot allocation for medical equipment manufacturers in the upcoming pharma park," said a close aide of the chief minister.
The industry department has identified area for the pharma park.
"We have identified site for developing a pharma park and a food processing park in the Barhe village in Chanho Block of Ranchi. The department has reserved an open area of 35 acres for the creation of pharma park. As per the plan, the government has reserved 55 plots for allocation to micro, small, medium and large-scale pharma industries. Out of these 55 plots, 30 plots are reserved for the micro pharma industry, 14 plots for small units, 7 plots for medium units and 4 plots are reserved for large scale pharma production units," the aide added.
The park will be equipped with all the necessary infrastructure facilities, including an administrative building, a canteen, utility centre, effluent treatment plant, a road network, drainage system, bridges, street lights and many more.
Sources in the industry department informed that during the recent Investors' Meet held in Delhi for the launch of the Jharkhand Industrial Investment Promotion Policy (JIIPP-2021), interested investors raised their concern about the lack of provisions for medical equipment manufacturers in the old pharma policy.
"Chief minister Shri Soren assured them of solution and directed officials to work on drafting a dedicated pharma policy and include necessary incentive provisions for medical equipment manufacturers," said a source in the industry department.
The pharma park will be built at an estimated cost of Rs 34.94 crore. Of this amount, the state government will give Rs 13.47 crore. Spread across 50 acres of land, the pharma park will increase Jharkhand's share in the pharmaceutical business in the country. It currently stands at just one per cent.
Jharkhand's share in the pharmaceutical sector across eastern India is five per cent. Companies that are interested in investing in the upcoming facility can also avail several government benefits.
The state government has made a provision of up to 20 per cent subsidy on project investment while giving 100 per cent exemption on stamp duty and registration. Companies can also get the assistance of up to Rs 10 lakh on quality certification. A rebate of Rs 10 lakh on patent registration is also being offered.
At present, Jharkhand depends on Sikkim, Gujarat and West Bengal for a major part of its medicinal requirements.
The state has about 80 pharma manufacturing units, but all of them are operating in small-scale sector with not much high profile products. But the government wants to establish a pharma park and attract big players from Mumbai, Ahmedabad and Hyderabad to invest in Jharkhand.